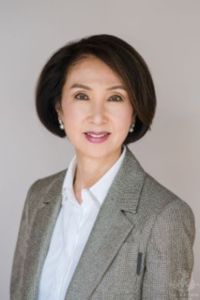 Julia Kim
Chair Emerita for SFU Board of Governors and former Vice President & Investment Counsellor at RBC Phillips, Hager & North Investment Counsel
Julia Kim retired in 2017 from a successful career in financial industry and investment counselling that spanned over 25 years. 
At the time of her retirement, she held the position of Vice President & Investment Counsellor at RBC Phillips, Hager & North Investment Counsel. In this role she provided investment counselling and individualized investment management services to diverse clientele including individuals, foundations and non-profit organizations for 21 years. She also held senior management roles in the company and served on the Women Advisory Board. She joined Phillips, Hager & North Investment Management Ltd. in 1996 and became a partner in 1999.  Prior to that, she worked as a private banker for RBC. 
With a long history of volunteering within her community, Julia's current volunteer work includes serving as Chair of the BC Children's Hospital Foundation and Vice Chair of Mothers Matter Centre. She is Chair Emerita for SFU Board of Governors, past chair of the Minerva Foundation and International Women's Forum BC. She has also served on the board for the Vancouver Opera, YWCA Vancouver and Family Services of Greater Vancouver. 
Julia is 2019 Harvard Advanced Leadership Initiative (ALI) Fellow. She completed a yearlong fellowship through Harvard University's Advanced Leadership Initiative, a program which enables leaders develop the skills to tackle new challenges in the social sector. 
Julia graduated from the University of Calgary with a Bachelor of Commerce degree, and received her Chartered Financial Analyst (CFA) designation in 1997. She is a 2022 recipient of Lifetime Achievement PEAK Award from the Association of Women in Finance.