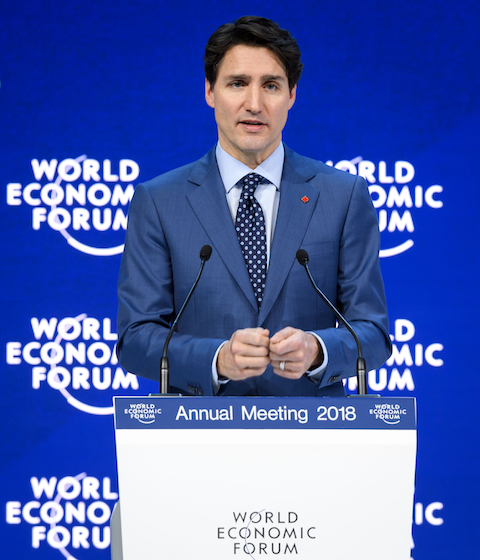 Prime Minister Justin Trudeau used his speech at the World Economic Forum 2018 annual meeting in Davos, eastern Switzerland on January 23, 2018 to reaffirm Canada's leadership on the issue of gender equality, both at home and at the upcoming G7 meeting, which Canada will chair.  |  Photo: Fabrice Coffrini/AFP/Getty Images 
After Xi Jinping's victory lap at last year's World Economic Forum annual meeting, it was the man whose unlikely ascension to the White House fuelled the Chinese president's triumphalism in the headliner slot this year. While a surge in global growth and Donald Trump's tax policies buoyed markets and the people who move them, fears of complacency were commonplace. BMO Financial Group Vice-Chair and APF Canada Director Kevin Lynch conjures Allan Greenspan and warns against irrational exuberance in his 2018 'Letter from Davos' that originally appeared in Policy magazine's March/April issue.
Click here to download the PDF.