The Asia Pacific Foundation of Canada is proud to present its 7th online Asia Leaders Speaker Series webinar entitled India-China Relations: A Contemporary Paradigm and featuring Sujan R. Chinoy, Director General, Manohar Parrikar Institute for Defence Studies and Analyses in New Delhi, India.
The India-China bilateral relationship is at a decidedly low ebb, with a long-standing border dispute recently escalating in an incident in the remote Galwan Valley that saw casualties on both sides. Public sentiment in India is very strongly against China, and the country's response to the border incident included the banning of Chinese travellers by a hotel chain in Delhi and a host of Chinese apps, including the popular WeChat and TikTok platforms.
In this webinar, recorded on July 14, 2020, Sujan R. Chinoy, Director General of the New Delhi-based Manohar Parrikar Institute for Defence Studies and Analyses think-tank and former Indian Ambassador to Japan, addresses the contemporary state of India-China relations; India's border disputes, including with China and Pakistan; and, a vision for Asian prosperity grounded in the principles of pluralism, coexistence, and dialogue.
About the Speaker:
Ambassador Sujan R. Chinoy, a specialist on China and national security issues, is a career diplomat who served in the Indian Foreign Service from 1981-2018. He was India's Ambassador to Mexico and High Commissioner to Belize before serving as Ambassador to Japan and the Republic of the Marshall Islands from 2015-2018.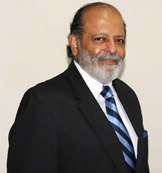 Ambassador Chinoy has more than 25 years of expertise on China, East Asia and the Asia Pacific, having served in Indian Missions in Hong Kong and Beijing and as Consul General in Shanghai and Sydney. He also served as India's representative to the First Committee at the United Nations in New York dealing with Disarmament & International Security Affairs, and as Political Counsellor in the Indian Mission in Riyadh.
At Headquarters, in the Ministry of External Affairs, he was Director (China) as well as Head of the Expert Group of Diplomatic & Military Officials tasked with CBMs and boundary-related issues with China for four years. He was also the desk officer for the U.S. and Canada, and Officer on Special Duty in charge of press relations in the External Publicity Division.
On deputation for four years with the National Security Council Secretariat under the Prime Minister's Office, Ambassador Chinoy worked on internal and external national security policy and anchored strategic dialogues with key interlocutors around the world. He is currently Director General of the Manohar Parrikar Institute for Defence Studies and Analyses (Manohar Parrikar IDSA) in New Delhi.