The Asia Pacific Foundation of Canada is proud to present its 6th online Asia Leaders Speaker Series webinar entitled Vietnam's Post-Pandemic Economic Acceleration and featuring our Asia Business Leaders' Advisory Council member representing Vietnam, Dr. Cong Phan, Chairman of UniBrands Corporation, Saigon Foods, and Wakamono Group.
Vietnam's efforts to contain COVID-19 have been highly successful with the country reporting only 349 cases as of June 23, 2020 and zero deaths out of a population of 96 million. Implementing an early lockdown, aggressive testing and contact tracing, as well as effective public communications campaigns, have allowed the country to re-open early and its economic prospects post-pandemic are promising.
Even amid a global economic crisis, in which the country's quickly-growing manufacturing sector suffered a serious slowdown, Vietnam is poised to rebound rapidly and to benefit from a spike in foreign investment as large multinationals seek to diversify their manufacturing bases and build more resilient supply chains. 
Learn more about Vietnam's remarkable story in this webinar, recorded June 30, 2020.
 About the Presenter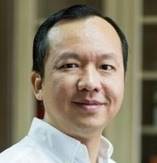 Dr. Cong Phan is a serial entrepreneur focused in daily consumer businesses such as food, health and beauty, and technology. Dr. Phan is Chairman of UniBrands Corp., a group of private companies in the fields of natural personal care, cosmetics, and quick-service restaurants, as well as Chairman of Saigon Food, a manufacturer of frozen food for 7-Eleven in Vietnam and for the Japanese market. He is also Chairman of the Wakamono Group, a nanotech firm producing non-woven and antimicrobial fabrics used in the production of face masks, which aims to help Vietnam become a major global supplier of face masks in the COVID-19 era.
Currently, Dr. Phan serves on the Board of the Vietnam ventures of two large global organizations providing strategic support to emerging entrepreneurial leaders: Endeavor Vietnam, part of the Global Endeavor network, and Zone Startups Vietnam. Zone Startups is a Toronto-based start-up accelerator operated by Ryerson Futures Inc., a for-profit entity connected to Ryerson University assisting early stage technology companies as they grow and scale their businesses.
Prior to joining UniBrands, Dr. Phan was Co-Founder and CEO of International Consumer Products (ICP), a start-up that grew to become the number one local personal care company in Vietnam. After ICP's acquisition by Marico Ltd. in 2011, he continued to serve as Executive Vice President and Head of Southeast Asia for Marico Group until the end of 2014.
Dr. Phan has served as a Board Member for several major companies including private equity firm Mekong Capital; Traphaco, Vietnam's largest herbal pharmaceutical company; MobiWorld, Vietnam's largest mobile phone retailer; and leading jewellery retailer PNJ.
Dr. Phan is an Eisenhower Fellow and serves on the Eisenhower Fellowships President's Advisory Council. In 2014, he was awarded Ernst & Young's Vietnam EY Entrepreneur of the Year Award. He is a member of the Chief Executives Organization (CEO) and the Young Presidents Organization (YPO) and is a member of the Asia Pacific Foundation of Canada's Asia Business Leaders' Advisory Council (ABLAC).