Since May, media headlines have captured snapshots of the ethnic violence, provoked by longstanding tribal tensions, unfolding in India's northeastern state of Manipur. In many ways, the situation in Manipur reflects the complex entanglements between tribal tensions, ecological damage, and development goals in India's six other northeastern states: Arunachal Pradesh, Assam, Meghalaya, Mizoram, Nagaland, and Tripura. These states have a unique combination of identity politics – each state has a significant Indigenous, or tribal, population – and ongoing insurgencies and environmental vulnerabilities.
Collectively, these states comprise less than four per cent of India's population and only eight per cent of its geographical area. But they play a pivotal role in the Indian government's focus on expanding into regional markets – such as Bangladesh and mainland Southeast Asia – for trade and improving overall economic and cultural relations, as articulated in India's 2014 Act East Policy.
To date, the lack of physical connectivity between India and Southeast Asia has been a significant roadblock to development. The ruling Bharatiya Janata Party (BJP) has announced a series of development projects and initiatives to transform the regional economic landscape and expand national connectivity via these seven states. However, these projects often favour immediate economic growth and ignore this region's unique topographical vulnerabilities and environmental challenges. For development to continue sustainably, the Indian and state governments must prioritize climate resilience, local livelihood preservation, and environmental protection.
Northeast India as a gateway to Southeast Asia
India is connected to its northeastern states through a very narrow land strip called the Siliguri Corridor, known colloquially as the 'Chicken's Neck,' which borders Nepal, Bangladesh, and Bhutan. While its proximity to China makes it vulnerable to security threats, the corridor has long been the only connection between northeast India and the rest of the country. The Act East Policy's focus on developing northeast India as a trade gateway with Southeast Asia is dependent on expanding connectivity through alternative routes beyond the Siliguri Corridor, which could offer not only economic but potential security benefits.
These development plans are not without challenges. For example, the hilly state of Tripura, termed the "Gateway of Northeast" by the Indian government, has become the focus of several connectivity projects due to its porous border with Bangladesh. In December 2022, the BJP inaugurated the Grih Pravesh (loosely translated to "housewarming") program to improve housing infrastructure in Tripura's urban areas. Similarly, in the state of Meghalaya, the BJP-allied National People's Party-led (NPP) government increased financial aid for rural agricultural development. In nearby Nagaland, the BJP's election manifesto proposed a special assistance package for the state's historically underdeveloped eastern region.
There are several other projects aimed at building connectivity infrastructure, and all of them underscore the problems that arise from pursuing unsustainable development projects that ignore topographical and environmental threats.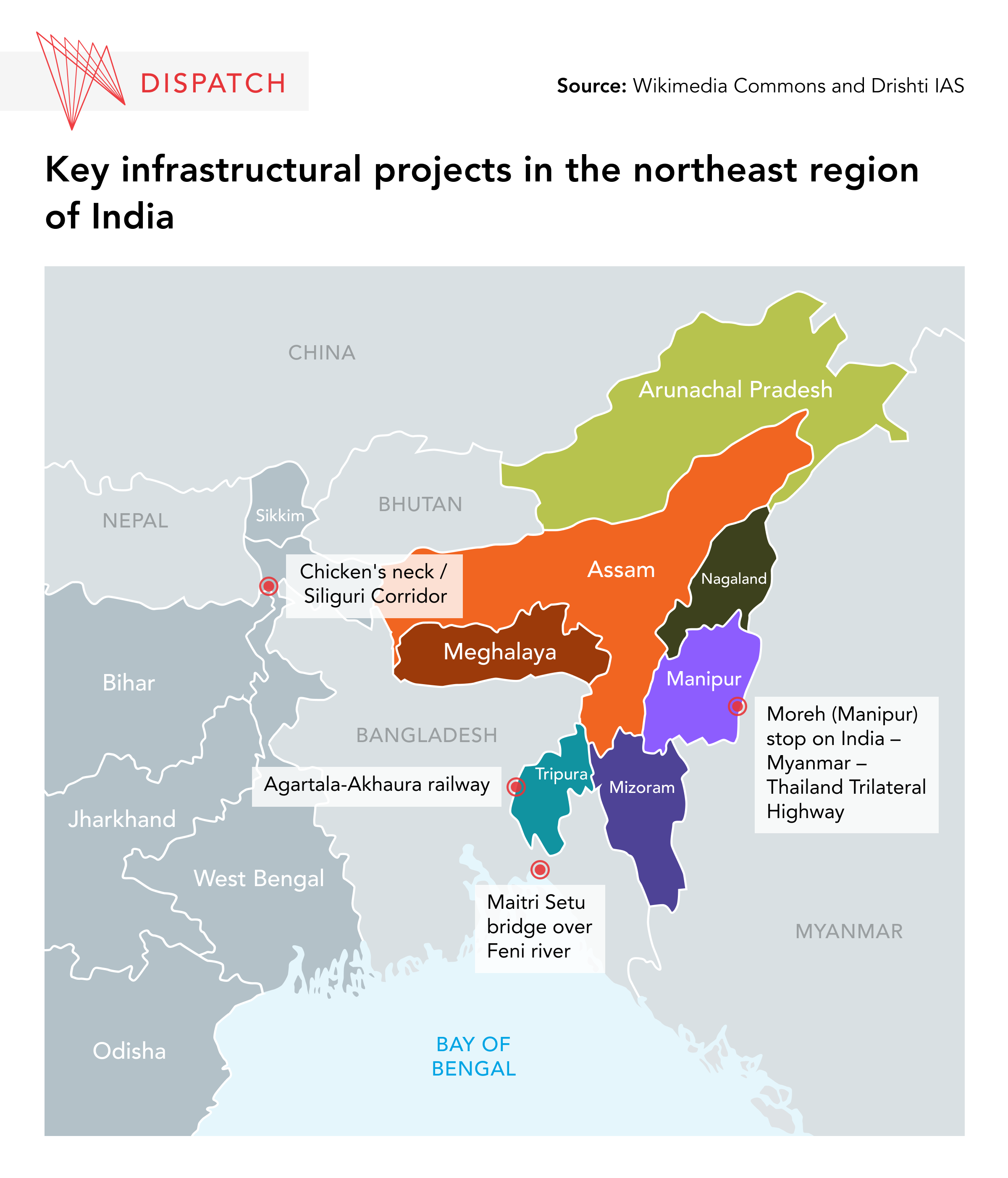 For example, the Maitri Setu bridge over the Feni River in Tripura is strategically important as it links to Chittagong Port in Bangladesh while providing an alternative route (beyond the Siliguri Corridor) to connect the northeast Indian states to the rest of India. But several construction and water drainage issues have been reportedly linked to this project, and river erosion has harmed local livelihoods. To move forward sustainably, water drainage must be addressed in consideration of the Feni River's frequent flooding.
The Agartala–Akhaura railway line in Tripura, an expansion project to promote economic development, is expected to be operational by the end of 2023. This passenger and goods railway line will connect Tripura with the port city of Chittagong, reducing travel time from 31 hours to 10 hours. The movement of cargo via rail, however, is expected to result in significant fuel combustion, carbon emissions, and soil contamination, along with frequent petroleum leakages posing potentially serious threats to local water sources. This rapid industrialization may also result in a loss of biodiversity in Tripura, impacting local tribes who depend on the local vegetation.
The India–Myanmar–Thailand Trilateral Highway connects Manipur to Myanmar and Thailand with planned expansions to Thailand and China, as well as proposed expansions to Cambodia, Laos, and Vietnam, supporting the Indian government's vision of strengthening bilateral relations with all of these states. Manipur's history of insurgencies, however, makes the underdeveloped state extremely volatile, and the recent escalation in violence brought the state to the brink of civil war, significantly delaying efforts to develop roadway connectivity. Illegal migration into Manipur from Myanmar due to the latter's brutal military coup and ensuing civil war has heightened tensions among the already volatile tribal communities on the Manipur side of the border. The Indian government must prioritize meeting tribal demands before progressing with infrastructural development, since bilateral co-operation with countries in the Indo-Pacific region is integral to the Act East Policy.
Tribal politics and ethnic conflicts
Building trade routes and infrastructure projects in northeast India means working with the more than 100 tribes in the region. The tribes collectively make up one of India's largest Indigenous populations, and navigating their long history of ethnic conflict is a unique challenge. This history is intertwined with the colonial-era migration of labourers from neighbouring Bangladesh (then East Bengal) and Nepal to fill the growing workforce needs in the northeast. This migration created a complex set of ethnic disputes over land rights and resources — conflicts that have worsened in recent years, particularly in Tripura and Assam. After the 1947 Partition of India, three states were created in the northeast: Assam, Manipur, and Tripura. Later, the states of Arunachal Pradesh, Meghalaya, Mizoram, and Nagaland were carved out of Assam, leading to further inter-ethnic conflicts over statehood, belonging, and borders.
Ethno-national identity has been a longstanding issue in the northeast since the colonial period. But it was brought to the fore during recent legislative elections in Meghalaya, Nagaland, and Tripura due to the BJP's renewed proposal for a Uniform Civil Code (UCC), which calls for one system of laws to govern all religious and ethnic communities throughout India. Several tribal communities view the UCC as conflicting with tribal practices and customs. Additionally, calls for 'Garoland' (in Meghalaya), 'Frontier Nagaland' (in Nagaland), and 'Greater Tipraland' (in Tripura), all demands for autonomous statehood for the regions' respective tribal groups, have existed for decades, but resurfaced during recent state elections. Garoland's demand revolves around alleged discrimination and uneven resource distribution; the formation of Frontier Nagaland is based on protests over government negligence and a lack of socioeconomic development in the region; and, Greater Tipraland's demand for autonomy stems from feelings of marginalization by Tripura's majority non-tribal Bengali-speaking population.
While their specific demands differ, all these tribal groups share common complaints about a history of neglect of their communities by the Indian government, particularly in the form of infrastructural shortfalls, unsustainable development amid unique environmental challenges, and insufficient connectivity.
Vulnerable ecologies and the need for sustainable development
India's northeast is known for its diversity of natural resources, abundance of forests, and proximity to bodies of water and the Himalayan mountains. This unique topographical combination makes the ecology of the northeast Indian states particularly fragile and vulnerable to regular floods, earthquakes, and erosion.
The natural resources of the region, however, also make it an attractive trade and investment destination. Assam and Meghalaya, for example, contain large deposits of limestone. Used for manufacturing cement, limestone contributes to the industrial and economic development of the northeast. However, limestone extraction causes acid drainage into nearby bodies of water, impacting the livelihoods of the local tribal populations who rely on the rivers for irrigation, fishing, and clean drinking water. Similarly, the BJP government's national mission to expand palm oil production in the northeast poses significant threats to the region's biodiversity and water resources.
Considering the fragile state of both communal relations and the ecology in the northeast, compounded by recent environmental disasters, future infrastructure development needs to happen in a more sustainable manner that preserves the region's ecology and respects the local communities and their livelihoods. According to a 2022 report by the Indian national public policy organization NITI Aayog, only Mizoram and Tripura have performed above average in nearly all of the UN's Sustainable Development Goals, while the other five states are falling short. Notably, all seven states underperformed in the category of "industry, innovation and infrastructure," mainly due to challenges posed by environmental obstacles.
It is therefore essential to include environmental protection, flood and earthquake mitigation, and disaster management within India's Act East Policy to accommodate a more sustainable, community-focused approach to connectivity and infrastructure development — one that prioritizes the preservation of the northeast's water bodies, forests, and local populations.
In the context of Canada's 2022 Indo-Pacific Strategy (IPS) — which focuses on expanding trade and connectivity and building a sustainable future — the Indian government's Act East Policy marks an important space for research and collaboration. The northeast Indian states offer investment opportunities for Canadian stakeholders in development and infrastructure projects, as well as connectivity to Southeast Asia. However, it will also be key for Canadian investors to prioritize sustainable, holistic, and resilient infrastructure that considers the livelihoods of local communities and the northeast's unique ecology, all of which align with Canadian values outlined in the IPS.