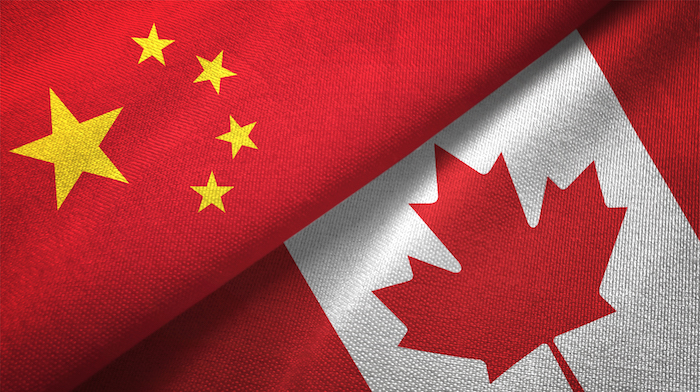 October 13th marked the 50th anniversary of official relations between Canada and the Peoples Republic of China (PRC). Although Canada and China have been interacting for much longer, official diplomatic relations with the PRC began on October 13, 1970. Both countries exchanged ambassadors in 1971, and Prime Minister Pierre Elliott Trudeau visited China in 1973. The relationship developed slowly, facilitated by an initial Canadian bipartisan consensus on the need to participate in opening China to the world – while at the same time benefiting from trade opportunities. Canada-China relations then suffered after the Tiananmen Square events of June 1989, when the Chinese Communist Party violently cracked down on student protesters. But the many 'Team Canada' trade missions that began in 1994 quickly put amicable relations back on track.
This consensus held until the early 2000s when disagreements started to surface in Canada about the lack of progress made with China, especially on trade and human rights issues. As China was rising in the early 2000s, the consensus in Canada on the need to engage China began to fade. The Conservative government of Stephen Harper, elected for the first time in 2006, initially held a 'principled' approach toward China before reversing this stance and emphasizing economics over moralism. The Liberal government of Justin Trudeau has also favoured the focus on trade and economics. But the hopes for stronger ties with Beijing were subsequently dashed by an increasingly assertive and confrontational China and its clash with the U.S.
On the 50th anniversary of Canada-China relations, this Special Edition of Asia Watch examines the challenges ahead in the bilateral relationship, trade opportunities, China's role in global governance, and Canada's way forward in its relations with China.
2018 a turning point . . . 
It is by now a familiar observation that Canada-China relations are at their worst point in decades. According to a recent Pew Research poll, only 23 per cent of Canadians have a favourable view of China, the lowest in at least 15 years. According to the same survey, just three years ago more Canadians had a favourable than unfavourable view (48% vs. 40%, with the remaining undecided). Since then, a cascade of events and negative headlines have driven the 25-point drop. One significant factor was the detention of Canadian citizens Michael Kovrig and Michael Spavor in retaliation for Canada's arrest of Huawei CFO Meng Wangzhou. But there are other issues at play.
Concerns about human rights . . .
Several recent public opinion polls indicate that concerns about human rights are also shaping Canadians' increasingly negative views of China. In May, an Angus Reid poll showed that three-quarters of Canadians feel that human rights and the rule of law should be prioritized over economic issues in Canada's relationship with China. On Tuesday, Prime Minister Justin Trudeau channelled these concerns when he called out Beijing for its controversial policies in Hong Kong and Xinjiang. In response, China's ministry filed a formal complaint against Canada. It is difficult to see how the two parties will find common ground on this issue, as Beijing considers both Hong Kong and Xinjiang to be part of its "core interests," and its hardline approach to both regions is popular domestically.
Finding opportunities for engagement . . .
There are, however, potential bright spots in looking to improve the relationship. A forthcoming APF Canada National Opinion poll shows that younger Canadians tend to have warmer feelings toward China, and 80 per cent would support collaborating with China in trying to prevent another pandemic. Moreover, 65 per cent acknowledge China's continued economic importance to Canada. Similarly, the Angus Reid analysis in May notes that overall, Canadians are aware that there are consequences to having a deteriorating relationship with China and recognize that it can be challenging to strike the right balance in this difficult but extremely important relationship.
READ MORE
Bilateral trade hits record levels in 2020 . . .
China's proportion of bilateral Canadian trade has risen to record levels, as the impact of COVID-19 roils two-way commerce with the U.S. And Canada's top diplomat in China is calling for even greater ties, stating, "The weight of the world is shifting and has shifted toward Asia, so we need to do more in China." The remarks made by Canadian Ambassador to China Dominic Barton come as we mark close to two years in a series of bilateral spats. Indeed, Canada has shelved the idea of a free-trade agreement with China, with Foreign Affairs Minister François-Philippe Champagne recently opining that it is not worth pursuing. Canada is now at a crossroads in its growing trade relationship.
During the pandemic, China's economy grows . . .
Yesterday, the International Monetary Fund (IMF) warned of diverging paths between more affluent countries and China, which are recovering more quickly, and poorer countries. China is the only large economy expected to expand in 2020, with 1.9 per cent projected growth this year. With a projected 8.2 per cent boom in 2021, China will grow far faster than the globe's rate of growth and would be almost the sole driver of global growth next year. The IMF specifically noted China's strong trade in exports of health-care supplies and technology products needed to aid remote working elsewhere in the world.
China's policies present numerous challenges to trade . . .
New record Chinese stock market highs of C$13 trillion today also signal a strong recovery in China. However, these heady trends are vulnerable to the increasing anti-China rhetoric from Washington and U.S. sanction threats on major Chinese firms such as Tencent and Ant Financial. Challenges facing Canadian business engagement with China, other than the strained political environment, include the unpredictability of China's trade behaviour, highlighted by its various bans on agricultural imports. Further challenges and issues in trading with China range from intellectual property rights and Beijing's interventionist policies to state-owned competitors, cyber economic espionage, and discriminatory innovation policies favouring domestic firms.
READ MORE
China and geopolitics . . .
The PRC appears to be done with "hiding its strength and biding its time" in geopolitics and global governance, as famously counselled by former leader Deng Xiaoping. In recent years the PRC has pursued a more assertive foreign policy, which has shaken the pillars of the postwar rules-based order from which Canada has benefited. Meanwhile, the U.S. is retreating from its postwar global leadership role, accelerating the power shift from the U.S. and the "West" to China and Asia. China has continued to modernize its military and expand its presence around the world. In response, the U.S. and other regional powers have begun to co-ordinate and promote a new alternative vision to stabilize the region – a Free and Open Indo-Pacific, a 'containment' vision currently exclusive of diversity and inclusiveness.
China and multilateral organizations . . .
China has re-emerged as a significant global player, impacting every corner of the globe, influencing major issues, and gaining an unprecedented voice in multilateral organizations. At the U.N., for example, China was re-elected yesterday to the United Nations Human Rights Council, but with 41 fewer votes than in 2016, highlighting a growing opposition to its dismal human rights record. While China maintains that its goals in the U.N. are altruistic, its efforts to play a larger role in some international organizations have generated questions about its ambitions and reach within the U.N. While China's position and influence in the U.N. remain, for now, second to the U.S., China will keep assuming a larger role within this central organization, a reality for which Canadians need to prepare.
China and global governance . . .
China has adopted a multifaceted global governance strategy. It supports international institutions aligned with its goals while creating new ones or working with other "like-minded" partners to develop new standards closer to its interests. According to the Council of Foreign Relations, a U.S. think-tank focusing on foreign policy and international affairs, China's global governance strategy has four distinct focus areas: global health, internet governance, climate change, and development finance. In global health, for example, Beijing recently announced that it was joining the COVID-19 Vaccines Global Access Facility (COVAX). The COVAX is an international effort of 150 countries aiming to develop and distribute two billion doses of vaccine by the end of next year, a partnership the U.S. has refused to join. These four focus areas are also of significant interest to Canada, and China's role here highlights the need to engage Beijing on these issues, despite questionable behaviour in other areas.
READ MORE
A new Canadian assessment of China?
The first 50 years of Canada's relationship with China was based on engagement. It is unknown how the next 50 years will unfold, especially as it appears the confrontation between the world's two superpowers will continue for the foreseeable future. With public opinion on China at a record low and with the 'two Michaels' unjustly jailed, it isn't easy to imagine the diplomatic relationship improving significantly anytime soon. Both Prime Minister Justin Trudeau and Minister of Defence Harjit Sajjan recently referred to those detentions as coercive and hostage diplomacy. Canada's ambassador to the U.N., Bob Rae, has also rebuked China for its treatment of the two Michaels. And in light of new Conservative leader Erin O'Toole's tough stance on China, it is hard not to expect a new and more realist assessment of China in Ottawa that will guide Canada's China policy in the years to come.
Canadian institutions and expertise . . .
To deal with China effectively, Canada must expand the space for a healthy and nonpartisan debate. In that sense, the restart of the Special Committee on Canada-China relations, whose work led to 48 experts' testimony before Parliament prorogued it in August, is welcome. Other initiatives, such as Canada West Foundation's China Brief, APF Canada's upcoming webinar on how other states are viewing and approaching China, and the Canadian International Council's new series on Canada-China relations will enrich not only our understanding of China but will also foster constructive debates. More than ever, Canada needs to up its game on China and chart a strategy to move ahead.
Finding the right balance . . .
Finding the right balance in confronting China on issues significant to Canada's values and co-operating with Beijing when it serves Canadian interests will not be an easy task. The last three decades of Canada's approach to China have too often oscillated between admiration and criticism and too often focused on the trade versus human rights debate at the exclusion of other issues. As recently argued, narrowly focusing on either approach doesn't serve Canada's multifaceted interests. And as several experts have highlighted, effectively dealing with China involves competing and confronting China on some issues and working with it on others. For this endeavour, collaborating with other "like-minded" countries facing similar challenges with China will be key.
READ MORE
This Special Edition of Asia Watch was brought to you by APF Canada research analysts Scott Harrison, Charles Labrecque, Kai Valdez Bettcher, and Erin Williams.
Remember to Subscribe to Asia Watch to keep up-to-date on news and issues in Asia impacting Canada.