Today, on the eve of both India and Pakistan's independence, Asia Watch is focusing exclusively on unfolding events in the disputed region of Kashmir in the northern part of the Indian subcontinent. Given last week's astonishing changes to the Indian Constitution impacting Kashmir, the simmering geopolitical tensions between multiple governments in the region, and the scope of human rights violations being committed against Kashmiris, this is arguably the most far-reaching political issue in the region in seven decades.
Sparking conflict
On August 5, the Government of India issued a presidential decree that revoked Article 370 and Article 35A of the Indian Constitution, which granted special rights to the Muslim-majority state of Jammu and Kashmir in Northern India. The major consequence of this change is that Jammu and Kashmir will no longer be governed as a semi-autonomous state, but rather as a Union Territory with less autonomy and closer ties to New Delhi. In the weeks leading up to this move by Prime Minister Narendra Modi's BJP government, India sent more than 35,000 troops to the region, imposed communications and media blackouts, arrested key political leaders, and imposed a mandatory 5 p.m. curfew across a region with seven million people, raising tensions in the Indo-Pakistani relationship.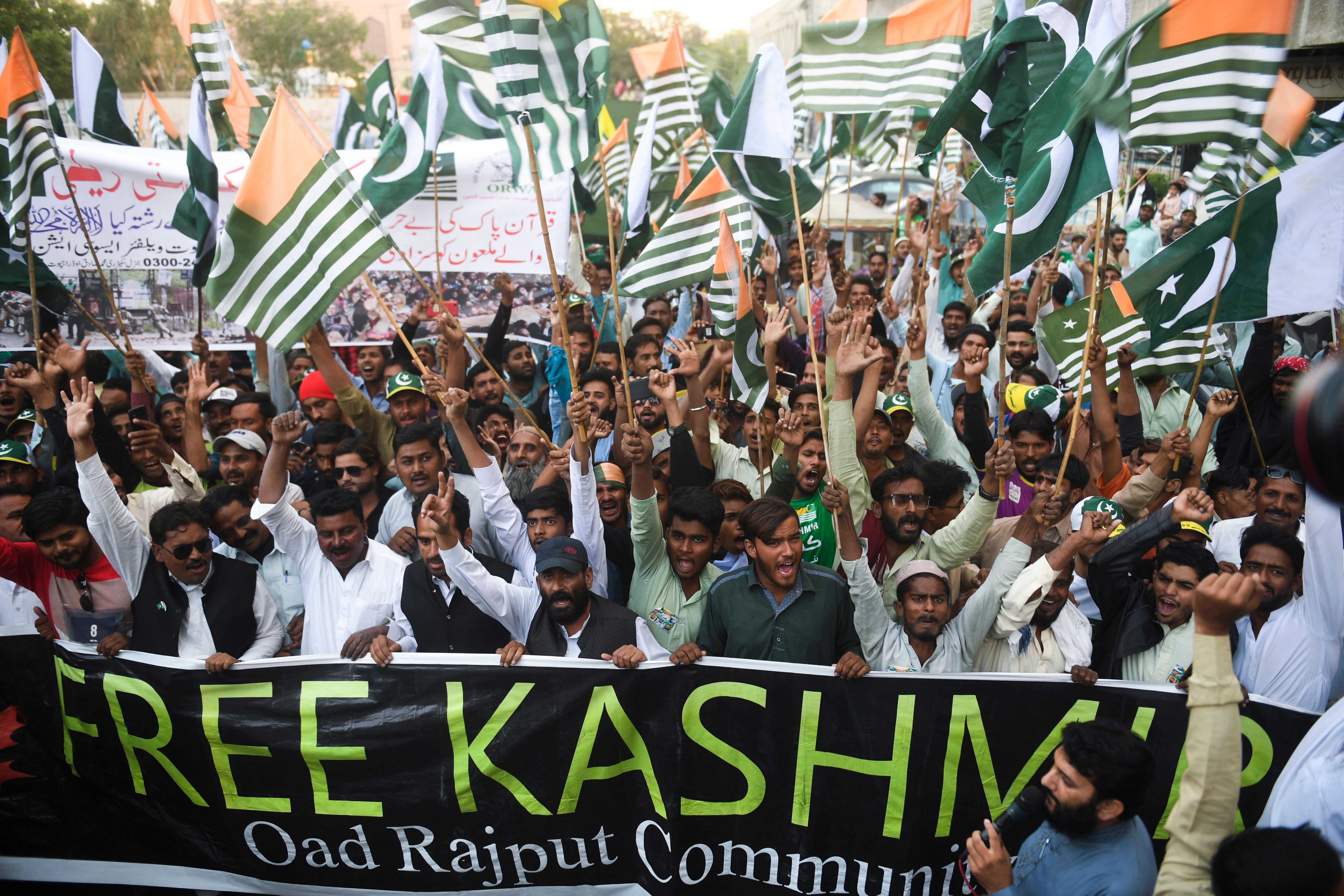 Given the widespread communications blackout that has been imposed over the past 11 days, it is difficult to fully assess the implications on the ground in Kashmir. Available reports indicate Kashmiris are living under a form of imposed martial law, with Indian army personnel patrolling the streets and a strict curfew in effect. The major Islamic festival of Eid took place over the weekend, and the Indian Government banned large-scale assemblies in an attempt to avoid anti-India protests – with the continued communications blackout leaving Kashmiris outside of the region unable to contact their families. Basic services such as access to banks/ATMS, medical support and hospitals, and even garbage collection have come to a complete halt in major cities like Srinagar. Last week the Indian Army reportedly opened fire and used tear gas to break up 10,000 protesters in Srinagar, an act denied by the Indian Home Affairs Ministry but backed up by a BBC video.
In an attempt to control the media narrative and demonstrate that violence has been minimal , the Indian Government has been sending prominent journalists on organized "fact-finding" missions to the region. Journalists describe these trips as restricted and heavily controlled by the Indian Army. As a result, wide scale public opinion is being shaped largely by a pro-India discourse that is framing these actions in Kashmir as a "solution" and a way to resolve nuclear tensions in the region. The mixed reaction to popular Bollywood actor Priyanka Chopra's pro-Indian Army remarks to a protester at an event in Los Angeles over the weekend exemplifies this type of unilateral discourse.
Pakistan's reaction
Throughout the events surrounding the revocation of Articles 370 and 35A, the Pakistani government and Pakistani Prime Minister Imran Khan have been actively vocal in the press and in social media over the actions of the Indian Government. The Kashmir region was split between India and Pakistan during the 1947 Partition of India and has been separated by a de facto border known as the line of control, despite both India and Pakistan laying claim to the entirety of the region. Since then, the region has been host both to intermittent wars between the two nuclear-armed nations and to continued, deadly civil unrest.
PM Khan, who campaigned on countering rising Hindu nationalism in India prior to becoming prime minister a year ago, condemned the actions of the Indian Government while suspending all trade with India and downgrading its diplomatic relations with New Delhi. On Twitter, Khan has also likened the actions made by the Indian government to that of Hitler and Nazi Germany, alleging that India has opened the door for ethnic cleansing in the Muslim-majority state. The leader of Pakistan-controlled Kashmir today also announced that his state will now recognize the line of control as a cease-fire line, while PM Khan visited the region and announced that the Pakistani army stands ready to fight back against India if the line is breached.
While Pakistan has quickly attempted to internationalize the actions by the Indian Government in the Kashmir region, issues regarding terrorism and insurgency from Afghanistan, along with weak macroeconomic stability, continue to remain major domestic issues that Khan has to simultaneously address. Given India's large and growing economic influence throughout the world, Pakistan faces an uphill battle in drumming up support from allies, with one major, notable exception: China.
Wider geopolitical implications
Pakistan wasn't the only neighbour provoked by India's latest moves in Kashmir: it also hit a nerve in Beijing. China administers part of the Kashmiri territory through its control over a 38,000-square-km area of Aksai Chin, which is also claimed by India. Aksai Chin straddles the region where Xinjiang Province and Tibet meet on China's far western border, and lies to the immediate east of the northernmost area of Jammu and Kashmir – an area now under the direct control of New Delhi. Beijing referred to Kashmir's loss off special status as a "unilateral" challenge to the status quo along the border, calling it "unacceptable," as it could lead to an escalation of tensions. New Delhi replied that China should not comment on something that is strictly an Indian internal matter.
India is one of the few countries with which China has unresolved land borders. It is now unclear if Beijing and New Delhi's ongoing discussions will be derailed regarding both Aksai Chin and their other disputed territory further east: India-controlled Arunachal Pradesh, which China claims as 'South Tibet.' One expert, writing in Lawfare, suggests that unlike the ideologically-charged border issues between Pakistan and India, China-India border issues are fundamentally not of an ideological nature, and, recent Chinese statements notwithstanding, may still be resolvable. However, The Diplomat projects that India's moves might push China to take a harder and "more uncompromising" stance on both border issues.
Another major geopolitical factor complicating the China-India-Pakistan relationship is that the Trump Administration is seeking to expedite the U.S.'s withdrawal from Afghanistan. That might exacerbate the security and governance vacuum in Afghanistan, which could in turn have spillover effects in the form of an escalation of extremism, something China is extremely wary of. Washington will need to secure Pakistan's co-operation in trying to manage this transition, helping to boost Pakistan's otherwise weak hand.
International response
In a letter to the United Nations, Pakistani Foreign Minister Shah Mahmood Quereshi has asked the UN Security Council to meet and discuss the crisis, saying it "willfully undermines the internationally recognized disputed status of Jammu and Kashmir," and that the UN has an obligation to act. The Security Council has adopted several resolutions in the past over the contested region, calling for both sides to refrain from aggravating the situation. It is unclear at this point if the Security Council will respond to Pakistan's request, as both the Council President and the UN Secretary General have so far remained evasive in their statements.
On Tuesday, Canadian Minister of Foreign Affairs Chrystia Freeland released a somewhat timid 81-word statement expressing Canada's concerns over the "risk of escalation, infringements on civil rights and reports of detentions" and encouraging meaningful discussion and consultation. Global Affairs Canada has issued a travel advisory cautioning Canadians against travel to the contested region and advising the 12 registered Canadians currently in the area to follow local authorities' instructions. One Kashmiri-Canadian interviewed welcomed Canada's statement but was disappointed by its hollowness, hoping for more forceful condemnations of ethnic and religious discrimination in the contested area.
Since India's August 5 move to shut down communications in Kashmir, it has been extremely hard for the world to accurately follow the unfolding situation. Confusion largely dominates in the social media sphere as well, with 'fake news' in abundance. As long as communications remain shut down and restrictions on movement remain in place, it will be hard to get an accurate depiction of events on the ground, leaving room for India to take a leading hand in shaping the new Kashmir narrative.