South Korea held its 21st Legislative Elections on April 15, becoming the first country to hold a nation-wide election amid the COVID-19 pandemic. The northeastern Asian country was one of the first to experience the outbreak of the new coronavirus, and despite its initial setbacks in February, South Korea has successfully flattened the curve through aggressive testing and treatment of suspected patients, quickly establishing the benchmark for other democracies embattling the disease. Experts believe that some social distancing measures will remain in place through this year, and leaders around the world are now assessing the path back to normalcy – including the carrying out of elections.
Despite concerns of a potential low turnout due to COVID-19 fears, 61.2 per cent of South Koreans voted this month – the highest voter turnout for the legislative election since 1996 – handing a landslide victory to the ruling party, which now has 180 out of 300 seats in parliament. The turnout underscores the South Korean government's effectiveness in providing a safe environment for voting amid a pandemic, as well as the public trust in the government. As Canada's election bodies mull upcoming elections, South Korea's experience provides a useful insight.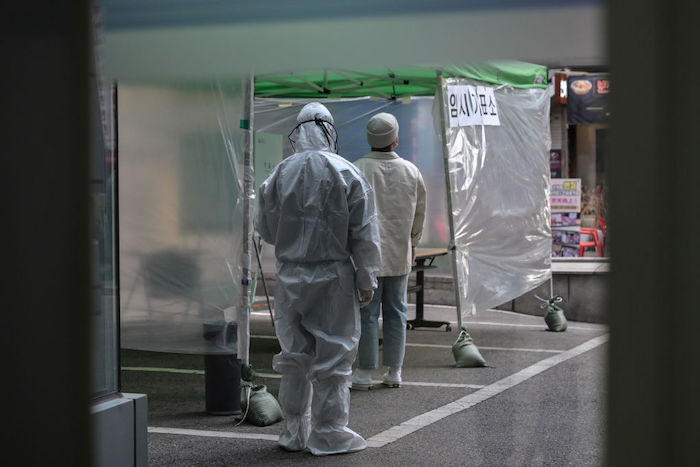 Prelude: Calls for postponing the election, colour-coded masks and online campaigns
At the height of the outbreak in February and March, the South Korean government faced the challenge of deciding whether or not to move forward with the April 15 election. There were concerns over the inability to properly conduct political campaigns with social distancing measures in place, as well as potential low voter turnout. South Korea's election law authorizes the president to postpone the election due to "natural disaster or other unavoidable reasons," but President Moon Jae-in's administration took the stance that, considering South Korea's strong public health capacity, the COVID-19 outbreak did not meet the "unavoidable" requirement. Further, South Korea does not have a precedent of election postponement, having even gone to the polls in 1952 during the Korean War.
What did voting look like at the height of COVID-19?
A large factor in this election was advance voting. Introduced for the first time in 2014, a record 26.7 per cent of voters cast their ballots through advance polls on April 10 and 11. Strict safety measures were imposed at the polling stations. For both advance and regular voting, all polling stations were disinfected the day before. On voting day, voters were required to wear masks, which were lowered only to match their faces to their identification. Elections officers checked the temperature of each voter at the entrance with contactless thermometers. All voters were also required to sanitize their hands and then wear plastic gloves and maintain a distance of at least one metre at voting stations.
The country's National Elections Commission (NEC) also enacted measures to allow confirmed COVID-19 cases and suspected patients under monitoring to cast their votes. For these voters, the NEC facilitated special voting, upon receipt of applications, between March 24 and 28. Out of 59,918 potential voters in this category, 13,642 (22.8%) submitted the application to vote in this manner.
Additionally, asymptomatic COVID-19 patients and recent returnees to the country under government-monitored self-isolation were given a specific time window on April 15 to visit polling stations, while being mandated to report their movements to the responsible local officials via phone or a mobile app. If an individual under this category showed up to a voting station without prior notice, or visited other places, they faced charges for violation of the Infectious Disease Control and Prevention Act.
At each polling station, NEC installed separate voting booths for this specific group of voters so that they would not come into contact with other virus-free voters. In addition, temperature checks were mandatory for all voters, and if a voter showed a higher than usual temperature, they were escorted to the special isolated booths and then asked to visit a clinic for testing after casting their vote. Every official in charge in these booths was required to wear full-body protective gear.
For confirmed COVID-19 patients with more serious symptoms staying at hospitals or designated treatment centres and unable to visit regular polling stations, NEC facilitated voting through 'residential voting.' These COVID-19 patients had to submit an early application to receive a ballot via mail, which had to be returned to NEC.
With these multiple facets in play, the election was a success. No major incidents or safety breaches were reported, and the votes were counted, and results announced on time. The main criticism came from South Koreans living abroad, who faced challenges in casting their votes.  NEC decided to suspend voting from abroad due to the closure of consular services in South Korea's diplomatic missions in 40 countries, which prevented approximately 86,000 Koreans abroad from casting their ballots. Constituents in Canada and Germany have since filed a joint request for judicial review to the Constitutional Court, alleging a violation of their right to vote.
Why such a high turnout now?
Analysts in South Korea have expressed confusion over such a high voter turnout during a pandemic. Most explanations are premised on the polarization between the Democratic Party and the United Future Party. The impeachment of former president Park Geun-hye and progressive policies under the Moon administration created a hyper-partisan atmosphere in the lead up to the election, in which voters became sharply divided on most issues. In this context, the COVID-19 outbreak seems to have created a sense of national crisis for all voters, turning voting into an important civic duty – a nation-saving act. In the last public opinion poll before the election, 86.1 per cent of South Koreans said they were paying attention to the April 15 election, and 79 per cent said that they would "certainly vote."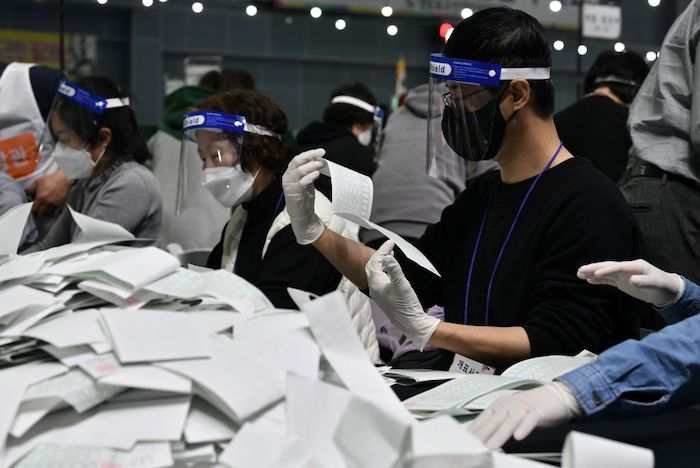 At the same time, South Korea's successful COVID-19 response and the country's strong public trust in its public health measures, must also be taken into account. The number of confirmed cases in South Korea has been in steady decline since the end of February, hovering around 30 daily on days leading up to the election.
In addition, South Korea's government was able to leverage its existing COVID-19 toolkit to ensure safety and accessibility for all voters during the election. For instance, the government had already been closely monitoring not only confirmed COVID-19 patients, but also individuals who had been in touch with confirmed patients or returned from abroad, through daily phone calls or the government's mobile tracing/tracking app. This allowed NEC to ensure accessibility for these voters while not compromising the safety of the rest of the electorate, particularly by creating separate voting spaces for the former category of voters. The election also demonstrated an effective level of co-ordination between the Ministry of Interior and Safety, the Korea Centers for Disease Control, and NEC. In this context, the government was able to conduct the elections as planned with confidence, and the public responded in kind.
Lessons for Canada
Due to the COVID-19 outbreak, several municipal and provincial elections in Canada, as well as leadership elections for the Conservative Party of Canada and the Green Party of British Columbia, have already been postponed. With COVID-19 likely to linger through the rest of the year, the general election in Saskatchewan, municipal elections in Nova Scotia, and the leadership election for the Green Party of Canada, all scheduled for the next few months, may also be compromised.
NEC's measures displayed in South Korea's April 15 election provide useful know-hows for Canadian jurisdictions assessing the feasibility of conducting their own elections this year. Certainly, the South Korean case shows that conducting an election in a safe and accessible manner in the era of COVID-19 is possible. However, the replication of South Korea's success in Canada will require not only safety measures put in place at polling stations on the voting day, but also greater co-operation with public health and safety branches of various levels of government, as well as stronger public trust – which will only be earned if Canada and its provinces and territories are able to keep the outbreak in check.