Over the past month, bilateral relations between South Korea and Japan have deteriorated after South Korea's Supreme Court ordered Korea-based Japanese firms to compensate Korean workers for their labour during Japan's colonization of Korea (1910-1945) and Tokyo's decision to implement export restrictions on materials vital to South Korea's production of semiconductor chips in response. This week, in a ratcheting up of tensions, the Japanese government announced that it will remove South Korea from its preferential trade "white list," forcing Japanese companies to get government approval to export certain goods to South Korea.
This move will push bilateral relations to their lowest point in decades, and the fallout will extend well beyond trade.
In today's Asia Watch Special Edition, we focus on the impacts of this trade dispute on not only commerce and the technology supply chain, but also regional security and possible implications for Canada. The dispute is a lose-lose scenario for both Japan and South Korea and should be addressed before more parties are dragged into the fray, either directly or indirectly.
Unresolved history of colonialism
Japan colonized the Korean peninsula between 1910 and 1945, and animosity within Korea over its actions during this period remains strong. The two countries signed a treaty normalizing their relationship in 1965, and Japan paid South Korea US$800 million (US$9 billion in 2019 dollars) in grants and loans as compensation. Despite strong security, economic, and people-to-people ties, two issues have been a constant source of tension and mistrust between the two Asian powerhouses: South Korea's position that Japan has failed to categorically claim responsibility for instituting comfort women (military sex slaves) and forced labour/conscription during the colonial period, and competing claims over the islands known as Dokdo in South Korea and Takeshima in Japan.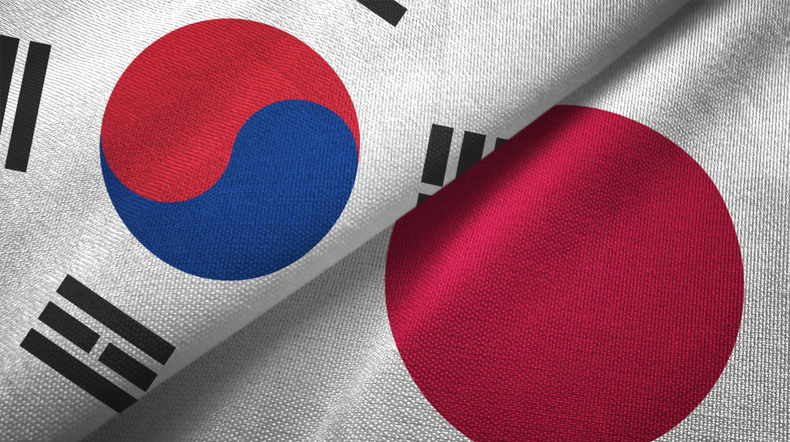 In South Korea, progressives tend to be more dovish on North Korea and hawkish on Japan, while conservatives tend to be the opposite. When South Korea's relationship with North Korea sees improvement, South Koreans tend to become more hawkish towards Japan, rallying around an 'all-of-Korea' nationalism. In recent years, several developments have deepened the political cleavages between the progressives and conservatives, including: the 2016 impeachment of conservative President Park Geun-hye, daughter of former President Park Chung-hee, who signed the 1965 treaty; the subsequent election of Moon Jae-in, a progressive; and, an improvement in relations with Pyongyang.
In Japan, there is a growing sense among the government and public that Japan has repeatedly expressed regret for its past actions and that South Korea's refusal to acknowledge its contrition is a matter of domestic politics, not foreign relations. Prime Minister Abe Shinzo, in particular, has long held that Japan is wrongly victimized for its behaviour – a position that is gaining in popularity among Japanese youth. The Abe administration announced the export restrictions and floated the idea of removing South Korea from its preferential trade "white list" prior to the House of Councillors election on July 21. Abe's party, the Liberal Democratic Party, took 71 of the 124 seats in that election, suggesting public support for his 'hardline' approach to South Korea. Furthermore, according to a July 29 poll, 58 per cent of Japanese citizens said they support the export restrictions against South Korea. The feeling that Japan has done enough to address its colonial history, combined with Abe's strong performance on economics, seems to add support to the government's current stance on South Korea.
A time-tested security apparatus may be unraveling
The U.S.-led security architecture for Japan and South Korea is under threat by the worsening state of Japan-South Korea relations. In particular, two important security mechanisms are at risk: The Trilateral Information Security Arrangement and the General Security of Military Information Agreement. The two agreements have allowed the three countries to maintain close co-ordination on security threats in East Asia and the North Pacific, especially North Korea. Without such co-ordination, the security apparatus that has kept both countries safe from North Korea's provocative missile tests could collapse.
Amid rising Japan-South Korea tensions North Korea felt emboldened to conduct another missile test last week of its new, short-range missile, the KN-23. In the same week, Chinese and Russian military aircraft violated the Korean Air Defense Information Zone (KADIZ), prompting the South Korean Air Force to respond. The skirmish occurred over islands in East Asian waters that are claimed by several regional players. All of this raises the question: where is U.S. leadership? It seems President Donald Trump has not been paying close attention to the escalating tension between America's two closest Asian allies, leaving a power vacuum that is being hastily filled by China and to a lesser extent Russia. Even North Korea opted not to appear at a negotiation meeting with a U.S. envoy in Bangkok during the annual ASEAN forum in June. Without effective U.S. leadership, the security architecture that has sustained peace in East Asia could start to unravel with alarming rapidity.
On July 31, the Government of Canada stated that it "unequivocally condemns North Korea's latest launch of short-range ballistic missiles." Canada could have offered to help mediate between its two long-time allies, Japan and South Korea, but it is focused on its own unresolved problems with another Asian giant, China, after the arrest of Huawei executive Meng Wanzhou and the detention in China of two high-profile Canadians.
Disruption in the global supply chain
Japan's restrictions last month on exports of three vital materials to South Korea, its third-largest trade partner, poses a threat to the global chip-making supply chain. South Korea accounts for 63 per cent of the global memory chip market, and it imports more than 90 per cent of its vital chip-making materials from Japan – materials that are now subject to restrictions.
South Korea's SK Hynix, the world's second-largest memory chip maker, said it is planning to cut investment and production due to possible supply disruptions. In July, the company posted its lowest quarterly earnings in three years. Industry leader Samsung, another South Korean company, reported that its net profit dropped 53 per cent in the April-to-June quarter. South Korea's removal from the "white list," meanwhile, will also directly affect an additional 159 items that South Korea imports from Japan. Analysts have warned that the global supply chain for tech equipment has already suffered due to rising U.S.-China trade tensions. Further disputes between Japan and South Korea might send the industry into a downward spiral. Last week, five of America's largest tech industry groups issued a joint letter to trade ministers in both countries urging them to refrain from further escalating the conflict. Following the news, South Korea's benchmark stock index, Kospi, fell one per cent that day, while Japan's Nikkei 225 dropped 2.1 per cent.
Northeast Asian countries have been connected by "hot economics, cold politics," which means their trade relations remain tight, even though they are sometimes overshadowed by unresolved historical issues and disputes over territory. Although economists believe the current restrictions won't have significant long-term impact on South Korea's exports, Seoul is nonetheless angry as it may add short-term pressure to its already struggling economy. There may be wider consequences, however, if the region begins moving toward "cold politics and cooling economics" in the midst of a larger disruption of the global trade order.
Impacts on global (free) trade
Donald Trump's election in the U.S. in 2016 raised concerns in the international community that a wave of populist-driven trade isolationism might be looming. The Trump Administration soon put limits on its exports to China, citing "national interest" and "national security," undercutting America's status as champion of the world's free trade regime. Tokyo seems to have borrowed a similar line from the U.S. playbook, imposing what appear to be politically-motivated restrictions on exports to South Korea. Tokyo's move, which came days after the G20 meeting in Osaka, is especially jarring as Japan has been regarded as one of the remaining international champions of free trade, along with Canada. Analysts agree that the export restrictions will damage both the Japanese and South Korean economies. For Canada, this is concerning. Japan and South Korea are two of our key economic partners (fifth- and seventh-largest trading partners, respectively). Japan is part of the CPTPP agreement, and Canada's only bilateral trade agreement in Asia is with South Korea.
Canada is not a major player in Northeast Asian security. Prime Minister Justin Trudeau, however, has indicated his interest in being more present in the region. The U.S. pivot to the 'Indo-Pacific' in response to the rise of China creates opportunities for Canada to do just that. In 2017, Trudeau was the first Canadian leader to attend the East Asia Summit, a security forum of 16 heads of state, and asked for Canada to become a member. Canada has been collaborating closely with the international community in its efforts to denuclearize North Korea. It also contributes to upholding UN sanctions against North Korea, and Minister of Foreign Affairs Chrystia Freeland hosted the Vancouver Foreign Ministers' Meeting on Security and Stability on the Korean Peninsula in 2018. The deterioration of the relationship between Japan and South Korea poses challenges for these and other multilateral projects in which Canada is active.
Tensions between Japan and South Korea are fundamentally of a political nature, and it is difficult for Canada to find the space to play a constructive role. The falling out between Tokyo and Seoul may also be indicative of a greater wave of isolationism and fragmentation in the international community, which will have more serious and long-term implications for Canada's foreign policy agenda. For the moment, Canada should continue championing the principle of free trade and the importance of partnership among like-minded countries in multilateral fora.