As leaders around the world double down on the message about social distancing and handwashing, some Asian governments have gone viral with public service campaigns aimed at flattening the curve. On the surface, the approach seems almost unconventional: comedians poking fun at COVID-19, civil servants dancing on Tik Tok, and pop stars personifying the coronavirus as a jealous lover in song. But with the help of celebrities and social media, Asian governments in Singapore, Vietnam, and the Philippines, among others, have taken the lead to reach, inform, and persuade younger audiences in the fight against the virus. For some, the results may be just as surprising: millions of views as these government campaigns have quickly exploded with quirky songs and dance routines encouraging citizens to adopt a variety of good hygiene practices.
Just a few weeks ago, the Singaporean government released its second video in its public service campaign series with local comedian Uncle Phua who, in a humourous yet informative way, encourages Singaporeans to maintain social distancing. In his messaging, Uncle Phua is distinct in his approach – rather than speaking with authority, he uses 'Singlish' (a commonly spoken language fusion in Singapore) to communicate with locals in a lighthearted and relatable way. In his rap, Phua encourages locals to "just buy what you need," to be less kiasu (a Hokkien term for selfish), and to make sure to belanja (a Malay word for treat) frontline workers to a bowl of mee rebus (a common noodle soup dish).
Despite this relatively unique campaign (at least in the North American context), this is not the first time the Singaporean government has used this strategy. Uncle Phua first became a hit in 2003 when the Singapore government collaborated with him to create a public service campaign during the SARS outbreak, where his video gained immediate popularity for his witty and relatable lyrics. To date, his two recent videos created for Gov.sg have reached a total of 1.6 million views.
Vietnam, another early adopter of this trend, was one of the first countries to take charge in late February, when the National Institute of Occupational Safety and Health worked with Vietnamese pop artists Erik and Min to rewrite the lyrics to their famous pop song Ghen (a word for jealous in Vietnamese). In their remake, named Ghen Cô Vy (which translates as jealous corona), the song personifies the virus as a jealous rival that intends to break a couple apart. The song's lyrics call on viewers to wash their hands thoroughly, avoid touching their faces, and to stay away from large crowds in order to "push back the coronavirus." But most important to the video's storyline is the united stance of the Vietnamese people against the virus, which allows the country to contain the outbreak (and the fighting couple to resolve their differences).
The song (which to date has received 36 million views on YouTube) gained further popularity when Vietnamese dancer Quang Dang choreographed a dance routine that led to a series of dance challenges on Tik Tok, with many Vietnamese youth going out and replicating the dance and posting it online. The video became so popular that it was shared by U.S.-based late-night talk show host John Oliver, who also danced along to the song and commended Vietnam's creative initiative to educate the public.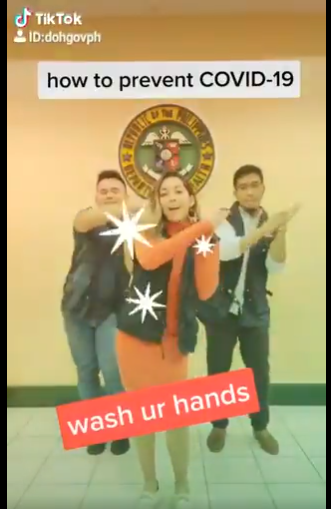 This trend has picked up quickly across the region where governments have realized the necessity of being on the right social media platforms to communicate messages. The Philippines Department of Health took the idea one step further and launched its own Tik Tok account, with civil servants creating their own #covidance challenge. Despite the lack of celebrities, the video still garnered 1.1 million views and dozens of compliments for the creativity of the participants' approach, and earned widespread approval from young Tik Tok users. Bangkok Public Transit (BTS) also created a video titled COVID-19: Dance Against the Virus,which features transit staff dancing while also taking safety measures to disinfect and keep public transit clean. The examples are countless but the lesson has been consistent: social media platforms are an effective way to spread the message to younger audiences, who receive much of their information through online sources.
Of course, these strategies are far from perfect and have received their own share of criticism. First, comments on social media in the case of the Philippines have included criticism that the government would do better to spend the money on much-needed personal protective equipment than on catchy videos. In this case, however, the benefits may outweigh the costs given that all Tik Tok posts are inexpensive and easy to produce while also acting as a direct channel of communication with digitally-connected youth who might not otherwise be reached. Other criticism has focused on the lack of seriousness in the tone of these videos. But it is precisely this point that resonates with young audiences. Positive and entertaining content is a stark and refreshing contrast to the relentless, dread-serious news on COVID-19.
Second, in the battle against misinformation, governments also face fierce competition from non-government actors – everyone from private citizens to celebrities promoting their own messages on social media, not all of them accurate or useful. Indeed, governments face fierce competition from celebrities who use their stardom to disseminate messages created in a bubble of misinformation. Although the intent may be positive, the results may not always convey the message that health authorities want people to hear. 
When looking for effective, short-term public safety campaigns that resonate with youth, governments would do well to more closely monitor the social media accounts and viral videos of online 'influencers' to find more opportunities for collaboration. Just last week, Japanese comedian Daimaou Kosaka turned his viral song PPAP (Pen-Pineapple-Apple-Pen), which has more than 319 million views, into a handwashing song. Within a few days of its release, the 2020 version of the video already had 7.3 million views, quite possibly becoming more popular than any Japanese government video related to the virus. Resharing or endorsing such videos where appropriate on Facebook, Twitter, and other platforms may be one way that governments can build audiences for their public health communication strategies. Through content curation, governments can re-share posts while also adding their own comments or reactions without repurposing the original posts as their own. Such commentary on re-shared posts can be used by governments to validate the accuracy and veracity of viral posts, which in turn can help battle disinformation. 
Rather than working against these flows of information, some governments in Asia are already showing us how collaboration and co-operation are more valuable than not when they are done in a thoughtful and creative way. While the challenges are present, the opportunities for communicating, collaborating, and sharing with our global community are so enormous that even the World Health Organization (WHO) has joined Tik Tok with over a dozen informational videos totaling 1.6 million followers and 5.1 million "likes."
In the Canadian context, public service campaigns have traditionally adopted a more buttoned-down approach, conveying information through public health experts to teach audiences about COVID-19. The Canadian government launched its own public service campaign on social distancing three weeks ago, achieving a more modest 141,000 views on YouTube. While physical separation has been a far from perfect initiative in Canada, the results thus far have been relatively effective. But as the allure of warmer weather begins to emerge, a larger effort may be required to curb our desire for closer social interaction.
Naturally, a one-size-fits-all approach to public service campaigns will not work for all countries. However, as government officials and health authorities look for ways to educate people about the virus, cultural understanding and channels of dissemination are key to reaching local audiences. While there is no perfect formula for a viral video, Asian governments have been particularly effective in reaching younger audiences by tapping into the online worlds they inhabit and share. Canada may want to look more closely at these strategies in the weeks and months ahead, especially if it wants to reach younger Canadians in the most effective ways.