Today, Asia Watch will re-visit the political unrest unfolding throughout Hong Kong, which has been ongoing since June. The large-scale demonstrations began in defiance of the Hong Kong government's intention to pass an extradition treaty with Mainland China, but have come to encompass broader fears of Beijing's increasing influence in the special administrative region. While the extradition treaty is now "dead" according to Chief Executive Carrie Lam, demonstrations still persist as activists call for stronger legal assurances beyond that statement, greater democracy, increased social equality, and formal inquiries into police brutality.
Unrest in Hong Kong continues as Beijing ramps up response
Since our last look at the situation in Hong Kong, things continue to deteriorate as demonstrations wreak ongoing havoc throughout the special administrative region. While both Canada and the U.S. were urging travellers last week to exercise a high degree of caution when visiting Hong Kong through upgraded travel advisories, protesters began targeting the Hong Kong International Airport. Demonstrations at the airport were peaceful until this past Monday, when violence erupted between activists and riot police. These violent demonstrations effectively shut down operations at the airport on Monday and Tuesday, leading to hundreds of flights being delayed or cancelled before order was restored on Wednesday.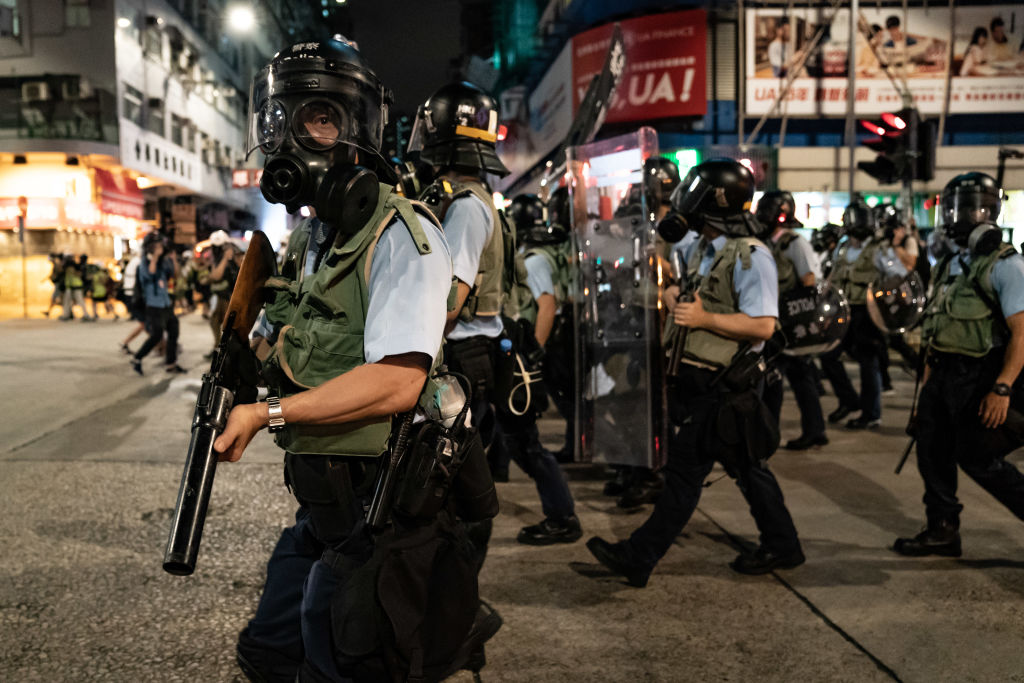 Following the airport disruption, officials in Beijing condemned the incident as "near-terrorist acts." Simultaneously, Beijing is amassing its People's Armed Police in Shenzhen, which borders Hong Kong. Recent satellite images show dozens of paramilitary police vehicles throughout Shenzhen, seemingly lying in wait at the local sports stadium. This has stoked fears of a repeat of the Tiananmen Square incident in Beijing in 1989, in which after several weeks of demonstrations Chinese troops fired on civilians, with estimates of the death toll ranging from several hundred to thousands.
As the narrative from international media has shifted from peaceful demonstrations to violent and disruptive occupations, protesters have increasingly been trying to distance themselves from outbreaks of violence. In a show of solidarity with stranded passengers, activists at the Hong Kong airport held up signs apologizing for the disruptions, while others debated a "code of conduct" over social media platforms for future demonstrations. Looking ahead, a rally is being organized for Sunday in Victoria Park after a peaceful rally took place at the Chater Garden on Friday night. While local police ruled out allowing a march on Sunday, ostensibly due to safety concerns, the organizers of Sunday's rally are appealing the police's decision. A similar planned march that would have taken place in Kowloon on Saturday has since been cancelled by police, again citing security concerns.
China's paramilitary amasses near the border
This week, thousands of China's People's Armed Police (PAP) began to assemble in the Chinese city of Shenzhen bordering Hong Kong. On August 15, soldiers were seen conducting exercises at the Shenzhen Bay Sports Centre, a sports stadium seven kilometres away from the border, in camouflage uniforms and carrying shields and batons. State-run media People's Daily and The Global Times on Monday provided coverage with videos showing troop and armoured personnel carriers rolling into Shenzhen. Hu Xijin, editor-in-chief of The Global Times, tweeted on the same day that he believes "it is a clear warning to rioters in Hong Kong."
While people are busy interpreting Beijing's motives in deploying armed forces near the special administered region's border, the distinction between the PAP and the People's Liberation Army (PLA) seems to be somewhat clouded: The PLA is China's national military force; the PAP is a paramilitary police force responsible for controlling riots and maintaining domestic security. While their operations tend to be separated, both are under the command of the Central Military Commission (CMC), and the PAP has been extensively used in other, deadly militarized operations against protesters, especially in Xinjiang and Tibet. The PLA, meanwhile, does have a 6,000-personnel garrison based in Hong Kong, present since 1997.
Speculation has emerged over the past few weeks regarding the actual deployment of mainland armed forces in Hong Kong, with analysts and watchers gauging the situation to see when, if ever, Beijing would employ mass violence as a last resort. Notably, Beijing is well aware of the implications of its use of force in Hong Kong for the "One Country, Two Systems" constitutional principle, as direct intervention would represent a massive failure of a policy that is central to local and international acceptance of Hong Kong's position within China. International repercussions at least as strong as those in the aftermath of the 1989 Tiananmen Square protests, could also be triggered by such a move. It is more likely that Beijing is aiming to use other tactics, including 'sending a message' with its increased level of PAP activity near the border, and by activating more of the mainland-origin, Cantonese-speaking policemen it deployed to Hong Kong after the Umbrella Movement in 2014.
Business community treads lightly
While some Canadian businesses feel a chill, Canada Goose stays warm . . .
With high tensions governing the discussions on banned Canadian pork and canola exports to China, Canadian businesses are keeping a close eye on the political tensions brought on by Hong Kong's popular protests. One such business is Canada Goose, whose shares fell over 6.5 per cent just two days after the popular protests began. The dip, however, has been attributed to lower profit margins as the company announced very robust sales in Q1. Canada Goose, although targeted by some boycott sentiment in China following escalating Canada-China trade tensions, noted that the company was monitoring the situation in Hong Kong closely and stated that their stores in Hong Kong and in mainland China have remained open and have continued to perform as expected.
CEO Reiss also noted that Canada Goose's China plans have not changed, even as trade tensions have begun to taint Chinese public perception of Canadian brands. Indeed, another Canadian entity still engaging successfully with China is the University of British Columbia subsidiary Paragon Testing Enterprises, which just recently signed an agreement with the National Education Examinations Authority of the Chinese Ministry of Education to deliver English language testing services in China. The test is meant to evaluate Chinese students' readiness for entry into Canadian post-secondary schools, reducing a significant hurdle for those students seeking entry to Canada's universities and colleges. The Paragon announcement demonstrates the value of long-term engagement strategies with China built on less contentious sectors.

"Hong Kong protests haven't hurt Canada Goose," Reiss proclaimed. A sentiment that unfortunately cannot be shared by Cathay Pacific's now-former CEO, Rupert Hogg, who just resigned over the handling of a situation involving Cathay employees joining the Hong Kong popular demonstrations and pressure from Beijing to address the issue. More specifically, he warned employees that their employment could be terminated if they supported or participated in illegal protests. This led protesters and supporters to start '#BoycottCathayPacific' campaigns in retaliation. Meanwhile, Hong Kong's richest man, Li Ka Shing, just published a newspaper ad with the ambiguous message: "The best intention can result in the worst outcome." Other Hong Kong billionaire tycoons, like brothers Raymond and Thomas Kwok, have come out with strong messages against "violent protesters," but are still careful not to fully alienate the local populace, as they work in their companies and live in their real estate assets.
The view from Canada
While Hong Kong capital flows to Singapore, many Hong Kong residents could move back to Canada. There are currently more than 300,000 Canadian citizens living in Hong Kong. According to Statistics Canada, the number of Hong Kong-born people living in Canada steadily declined between 1996 and 2011, but from 2011 to 2016 the number of Hong Kong-born people residing in Canada increased. Canadian academics refer to this trend as 'double-reverse migration' – Hong Kong residents who first migrated to Canada during the 1990s and later returned to Hong Kong are now moving back to Canada. They also argue that uncertainties regarding Hong Kong's political future and the desire for a comfortable retirement are likely fuelling this trend. A Vancouver immigration lawyer and other experts believe that if the political situation in Hong Kong continues to escalate, the number of returnees is likely to rise even further.
The Canadian government is preparing to address mass migration from Hong Kong, with an August 14 statement by Foreign Affairs Minister Chrystia Freeland announcing that the government is working on contingency plans to assist Canadian citizens in the embattled city. However, the Minister did not provide specifics on how Canada is preparing to absorb a mass flow of new residents, particularly pertinent given just how linked Canada and Hong Kong are: currently, there are 31 direct flights per week between Hong Kong and Vancouver alone. Moreover, Canada is obligated by both Canadian and international law to receive its citizens and asylum seekers from Hong Kong.
If mass migration from Hong Kong takes place, many of the returnees are likely to settle in Vancouver. In the 2016 Census, of the 215,750 respondents listing Hong Kong as their place of birth, 74,210 lived in B.C. A new wave of returnees from Hong Kong could well create more demand for housing in Vancouver while supply remains notoriously low. And, this could potentially produce another spike in housing prices sparking social tensions. Both the Federal and B.C. government should work quickly to formulate a contingency plan to meet a sharp increase in housing demand, one that also meets the needs of any Canadian citizens in Hong Kong and Hong Kongers seeking asylum.