Hong Kong entered its seventh consecutive weekend of demonstrations over the government's attempt to pass a controversial extradition bill that many fear would give Beijing greater control over the Special Administrative Region. While earlier protests were relatively peaceful, they have become increasingly provocative with events this past weekend the most violent so far. On Sunday afternoon some 400,000 protesters gathered in Hong Kong's Central Business District chanting, "Free Hong Kong." As the day progressed, protesters defied the police-sanctioned protest route and set their sights on Beijing's Central Government Liaison Office, pelting it with eggs and spraying graffiti outside the building.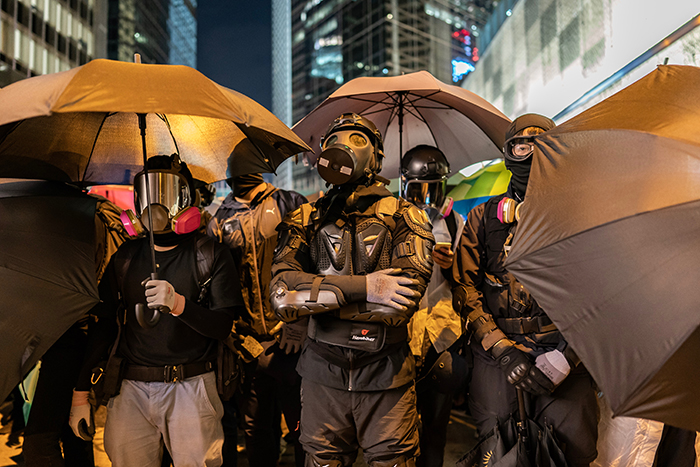 While demonstrations at the Liaison Office were taking place, the Yuen Long MTR station became the scene of unprecedented violence as a mob of men in white T-shirts stormed the station at around 10:30 p.m. and began attacking people wearing black T-shirts, a symbol of the anti-extradition bill demonstrations, as well as innocent bystanders. By 7:00 a.m. Monday, there were at least 45 injured, including a pregnant woman, and one person was in critical condition. The men clad in white T-shirts, identified as pro-government and pro-Beijing, reportedly also have links to local Triad gangs.
Following allegations of excessive use of force on demonstrators last month, Hong Kong police appear to be taking a more relaxed stance. Perhaps too relaxed: they have now been criticized for failing to respond quickly enough to the Yuen Long MTR attack, arriving at the scene at least five minutes after the attackers had disbanded. While police officials say their response time was a result of their resources being stretched thin, many victims of the attack, including opposition party members, allege a collusion between police and the gang-linked attackers.
Police inaction raises questions
The police response in both Hong Kong's MTR attacks and the Central Government Liaison Office vandalization are being characterized as both belated and passive. While it's arguable that police resources were already stretched at the city centre preventing a timely response to the MTR attacks, police were already at the Liaison Office when protesters began egging, spray-painting, and, most conspicuously, splattering black ink on the PRC's emblem. Only after the vandalism occurred did police disperse the crowds with tear gas and rubber bullets.
The Hong Kong police may be taking their cues from the actions of Chinese police during the Tiananmen Square protests in 1989. At Tiananmen, the police remained largely inactive, permitting students to occupy the square without much interference. That passivity could well have been strategic. The lack of a strong police presence at the onset of the Tiananmen protests may well have emboldened student protesters to heighten disruption and disorder, ultimately swaying immediate public opinion against the protesters.
Hong Kong police may be adopting the same tactics. Initial protests against the extradition bill gained broad public support. With the bill now suspended, the level of public support for continued public disruption may well decline. A direct attack on the emblem of the People's Republic of China at Beijing's Liaison Office, meanwhile, will likely be publicly perceived as a risky and unwise step, one that will only provoke China and put Hong Kong in political peril. Still, the police eventually did use tear gas and rubber bullets against the protesters, leaving public perception in the balance.
Mainland China reacts to latest events
Beijing reacted furiously today in response to Hong Kong protesters' vandalizing its Central Government Liaison Office on Sunday night. It condemned the "violent" protests in a commentary published by the state-run Xinhua News Agency, the biggest and most influential media organization in China. This commentary described the protesters as "absolutely intolerable" as they "blatantly challenged the authority of the central government and touched the bottom line of the principle of 'one country, two systems.' It further described the recent anti-government protests as an attempt by "the mobs and the forces behind it to … impede China's development by throwing Hong Kong into disorder" and urged for actions to ensure the safety of Hong Kong-based central government organs, safeguard the rule of law, and punish criminals.
While little sympathy for the Hong Kong protesters has been voiced from Chinese mainlanders, the recent escalation of the protests in both scale and scope, especially the vandalization of Beijing's liaison office, seem to have spurred more hostility than sympathy toward Hong Kong. The defacing of the national emblem and derogatory graffiti on the liaison office building offended many across the border, and were largely perceived as criminal and intolerable. Public sentiment in China also seems to support what appear to be new pro-government counter-protests. Some senior policy insiders in China suggest that the increasingly violent protests in Hong Kong, coupled with domestic public reaction in China, could prompt a tougher stance by Beijing.
The Chinese government is seeking to control the Hong Kong protests narrative by creating a news agenda in favour of Beijing. Chinese state media tends to under-report Hong Kong protests and incidents, including an absence of reporting on the recent attacks at the Yuen Long MRT, which are censored for online search. But the pro-government demonstration and the vandalization incident both received high-profile reports on all three flagship media outlets in China – CCTV, People's Daily and Xinhua News Agency – which appear to be resonating with millions of mainlanders. The Chinese media largely describes the anti-government protests as "illegal violence and riots" and evidence of interference by foreign pro-democracy groups or forces. China's state media meta-narrative, meanwhile, promotes the argument that economic integration is key to Hong Kong's future prosperity and long-term stability.
Protests have deeper roots
With rents in Hong Kong higher than Vancouver, San Francisco, New York, and London for apartments half the size, it is little wonder socioeconomic issues have surfaced in Hong Kong's summer of protests. Hong Kong, often framed as a positive economic and social model straddling very different systems, now faces its most direct challenge in a generation after Sunday night's bloody violence. While the proposed extradition bill served as the rallying cry, many protesters are now participating to challenge an economic system where the minimum wage is C$6 an hour, a home costs over 20 times the median salary, and the wait list for public housing has stretched past 250,000 people.
While previous protest movements over the economy have typically drawn from workers and seen protests hit the commercial cores of Hong Kong, this summer's movement appears to be drawing from a broader economic base. The Hong Kong General Chamber of Commerce joined the city's protesters this summer in calling for a formal withdrawal of the extradition bill, while protests are planned for all of Hong Kong's districts – ultra-wealthy and low-income suburbs included – demonstrating just how cross-cutting the movement has become.
That prominent business voices have emerged in opposition to the extradition bill, if not in favour of the protests, is significant due to how close to home the protests have hit the city's elites: the usually bustling Yuen Long business district became a ghost town on Monday, as citizens feared further escalation at the site of Sunday's violence. Images of protesters blocking major city thoroughfares and retail outlets have kneecapped a strong start to tourism in 2019, and are likely to pose a significant risk if the demonstrations continue. Mainland tourists are important spenders worldwide, and especially in Hong Kong. It comes as no surprise that the Hong Kong Retail Management Association saw a majority of its members report single- to double-digit drops in sales revenue since the protests began, further hurting businesses and workers. There are some early indications that Canada's large Hong Kong diaspora population could see even more Hong Kongers joining them soon, with Vancouver-based real estate brokers hinting at increased interest from Hong Kong buyers with Canadian passports.