While Chinese imperial dynastic history goes back many centuries, the history of the People's Republic of China (PRC) began on October 1, 1949. On that day Mao Zedong, the leader of the Chinese Communist Party (CCP), rode through the streets of Beijing and proclaimed the establishment of the PRC in Tiananmen Square. This marked the end of the Chinese civil war and the CCP's victory over the Nationalist Party. China has since gone through many dramatic economic and social changes. It has risen from a devastated country in 1949 to the second largest economy in the world occupying a central position on the global stage.
As China prepares to celebrate tomorrow's 70th anniversary of the founding of the PRC, today's Special Edition of Asia Watch examines China's importance on the global stage, some of the challenges ahead, what we expect in the near future, and what it all means for Canada.
70 years of Canada–Sino relations
Aside from wheat sales to China in the 1950s and 1960s, Canada's contact with the PRC was relatively limited for its first 20 years. After Canada formally recognized the PRC in 1970, relations between the two countries slowly but steadily developed. This was facilitated by a Canadian bipartisan consensus on the need to participate in opening China to the world – while and at the same time benefiting from trade opportunities. Canada-China relations initially suffered after the Tiananmen Square events of June 1989, where the CCP violently cracked down on student protesters. But the many Team Canada trade missions that started in 1994 quickly put amicable relations back on track. The Tiananmen events, however, marked a schism in Canada's approach to China that fully surfaced when a Conservative government was elected in 2006.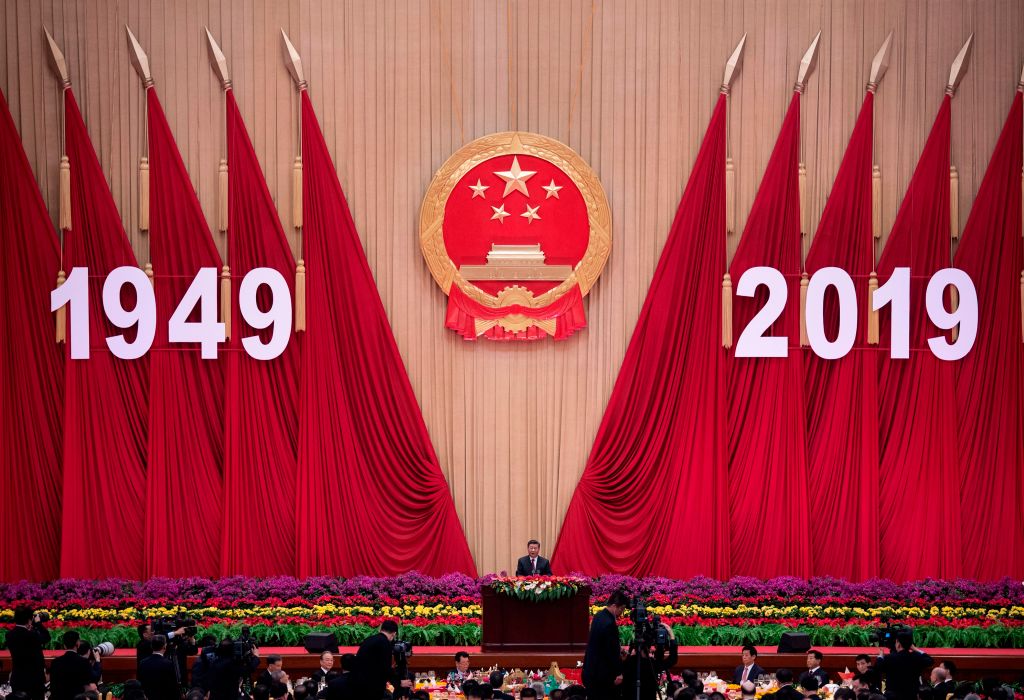 The Conservatives pursued a 'principled' approach to China from 2006 to 2015, and when the Liberal government came to power in late 2015 it had high hopes for rekindling a special relationship with Beijing. But times had changed. As President Xi Jinping became more confident and assertive, the U.S. had grown openly critical of China's trade practices. It didn't take long for Canada to feel the heat from the rising tensions between the world's two major powers. The inclusion of article 32.10 in the United States-Mexico-Canada Agreement has prevented Canada from negotiating a free trade agreement with China. And the arrest of Huawei's CFO in late 2018, triggered by an extradition request from the U.S., further highlights Canada's fraught position between the two powers. Bilateral relations have since plunged to levels not seen in close to 50 years.
The debate about China in Canada has shifted drastically over the last few months. Public opinion has worsened, some businesses are reportedly having cold feet about venturing to China, and critical voices are now louder in the domestic policy debate. But whether or not Ottawa ends up taking a tougher stance on China, Canada needs more than ever to deal with the realities of, and engage with, a powerful and globally-engaged China. For this to happen, Canada needs to bring the various views on China together and merge them into a meaningful China policy based on a pragmatic evaluation of China's contribution to the world and on our national interests and foreign policy goals.
China and the global economy
As China marks the 70th anniversary of its current political system, it also recently marked 40 years of its current economic trajectory born of Deng Xiaoping's economic 'Reform and Opening Up' policies announced at a Central Committee meeting in late 1978. That meeting spurred China's domestic transformation following the PRC's first decades, which were marred by the Great Leap Forward, the Cultural Revolution, and other programs that left tens of millions dead. China's 2001 entry into the World Trade Organization marked the start of its international transformation, including becoming the world's manufacturing hub. The aftershocks of that December 1978 meeting have been felt from the individual (Chinese youth are now on average four centimetres taller due to improved health and nutrition) to the global (China is the largest contributor to global economic growth this decade).
In late 2012, Xi Jinping took the reins of the world's second largest economy, and almost immediately announced his signature 'new normal' for growth and the 'One Belt, One Road' infrastructure project (now the Belt and Road Initiative). But internationalization reforms in currency and trade have exposed China to new international risks – on investment, China has made mixed structural and legal moves to attract foreign firms, but Beijing's restrictions on capital outflows and international pressure have dampened its global deal-making. China's trade and technological policies have fuelled this international opposition, leading to the current trade war with the U.S. Raising the stakes as China faces its slowest growth in decades, its recent rights violations have corresponded with other slowdowns, and China still maintains weak social security and labour rights.
Consumption, namely retail sales, remains the brightest sector in China's near term, even as China's external-facing sectors face the effects of the trade war. Efforts to reduce harm have also distracted from other challenging reforms, such as closing inefficient 'zombie' state firms, managing ballooning debt, and redirecting excess industrial capacity. Reforming state firms is notoriously difficult; doing so and simultaneously battling the anticipated economic impacts of demographic shifts and environmental destruction, and unanticipated tariffs, will be even more difficult. But the stakes are high: China could be the world's biggest economy by 2030 if it hits its growth targets to become a 'fully developed economy' by 2049, by which time China could make up one-fifth of the global economy.
China and global governance
China has gradually increased its role in global governance since 1971. It joined the United Nations Security Council as a permanent member, gained membership in Bretton Woods institutions (i.e. International Monetary Fund and World Bank), and has played an increasing role in other fora such as the G20. China has evolved from a participatory state on the global stage to a key player in reshaping the world order. This has been especially noticeable since Donald Trump became president in the U.S. in 2016 and the U.S. began retreating from multilateral and global governance issues such as nuclear proliferation, climate change, human rights protection, and UNESCO. The U.S.'s retreat has provided opportunities for China to fill the void, for example, to alter the UN human rights system by promoting its own vision of human rights and even organizing the South-South Human Rights Forum in 2017.
China has also taken a more leading role in UN peacekeeping efforts. It became the second-largest funder to the UN peacekeeping budget and the 11th highest contributor with 2,521 personnel. In 2017, China registered the largest peacekeeping standby force – 8,000 troops along with a rapid response unit. China has also committed US$100 million to the development of the standby force for the African Union and set up a 10-year, China-UN Peace and Development Fund (US$1 billion) for peace-building missions. In addition, China's navy deployed its vessels for the UN-mandated escort missions to the Gulf of Aden and it has increased both funds and military deployments for humanitarian assistance and disaster relief (HA/DR) missions.
China has also invested in the creation of international and regional organizations and financial institutions and has been negotiating an array of free trade agreements. Within the last several years, China has also driven the Shanghai Cooperation Organization and institutionalized the Belt and Road Initiative to advance its strategic and economic interests globally. Simultaneously, China established the Asian Infrastructure Investment Bank, a multilateral financial institution, to attract international investments and partnerships to construct large-scale infrastructure projects. China's approach to global governance and multilateral institutions is still in the making, but current actions are likely indicative of future behaviour.
The road to 2049
China's ability to become an influential international actor will depend on its success in managing internal development challenges while sustaining economic growth. When Xi Jinping became President in 2012, he set the 'Two Centenaries' as China's future development goals. The First Centenary is to become a "moderately-well off society" by 2021 – the centennial of the establishment of the CCP. The concrete goal here is to double the 2010-levels of both China's per capita income and GDP by 2021. The Second Centenary is to become "a modern socialist country that is prosperous, strong, democratic, culturally advanced, and harmonious" by 2049 – the centennial of the founding of the PRC. The Two Centenaries are linked to Xi's concept of the 'Chinese Dream' – the prospect of a China that is both internationally strong and domestically modernized.
China has already achieved the First Centenary's goals of doubling both the per capita income and GDP. Between 2010 and 2018, China's per capita income rose from US$4,340 to US$9,470, and the GDP increased from US$6.1T to US$13.6T. China is launching further economic reforms that are likely to continue to spur economic growth through to 2049, if it can deal with a number of challenges. Environmental degradation is likely to incur high health and infrastructure expenditures, and an aging population will also place a high burden on the state and society. Increasing economic inequalities and tensions in Hong Kong and Xinjiang could exacerbate social tensions. And the Party's work to increase censorship combined with its heavy-handed tactics to contain dissent could backfire and undermine the creation of a 'harmonious' country.
It is important for Canadians to deepen their understanding of China's domestic context because the issues that China faces today will affect how it behaves internationally in the years ahead. For example, with mounting challenges at home, the government might bolster nationalism so as to galvanize public support amid difficulties such as slower economic growth and continued environmental degradation. Nevertheless, the domestic context can also highlight areas for increased co-operation, notably on the environment, social policies, senior care, epidemic control, and scientific and technological exchange. As the RPC celebrates its 70th anniversary, it provides Canadians with a good opportunity to reflect on China's domestic and global policies as well as on the future of our engagement with China.