Taiwan re-elected incumbent President Tsai In-Wen from the pro-independence leaning Democratic Progressive Party (DPP) on Saturday with 57.1% of the vote. Tsai was facing opposition from pro-Chinese Kuomintang (KMT) Party candidate Han Kuo-yu, who received 38.6% of the vote, and James Soong, from the People First Party (PFP), with 4.3%. Taiwan's relations with China have grown tense since the DPP beat the KMT in January 2016, as Tsai has been a strong advocate for Taiwan's de facto independence. Disagreements over Taiwan's status since 1949 have created tensions between China and Taiwan. Now that Tsai has been re-elected for a second term, our APF Canada research analysts explore what's next for Taiwan, what it means for Taiwan-China relations, and how the international community is reacting.
President Tsai wins in record-breaking election
President Tsai Ing-wen was re-elected for a second term with a record breaking 8.1 million votes, the largest number for any Taiwanese president since the island's first democratic elections in 1996. Han Kuo-yu from the KMT, secured 5.5 million votes, while James Soong from the PFP secured 600,000 votes. The comeback for Tsai was a major turnaround from her standing two years ago when her party suffered major defeat in a series of local midterm elections. In this election Tsai campaigned heavily on protecting Taiwan's democracy from China's threats against the island, reminding voters of the crackdown in Hong Kong and rejecting the 'one country, two systems' model. Han in contrast ran on a platform that trade and closer ties with China could provide a solution to Taiwan's economic problems.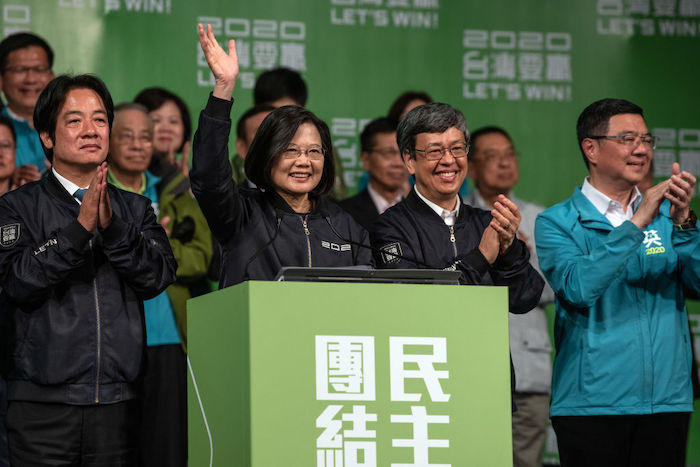 Re-elected Taiwan President Tsai Ing-wen waves to her supporters. | Carl Court/Getty Images
Taiwan's Parliament (the Legislative Yuan) also held elections which saw 113 lawmakers elected to office. Seventy-three of those seats came from geographic constituencies, 34 seats through proportional representation, and six seats from Indigenous voters. Tsai's DPP party lost seven seats but was still able to maintain a majority in Parliament, with 61 out of 113 seats. The KMT gained three seats, securing 38 seats in total. New players have also entered Taiwan's Parliament. The recently established Taiwan People's Party (TPP), founded by the independent Mayor of Taipei City, Ko Wen-je, secured five seats, with the TPP becoming the third largest political party. The New Power Party (NPP), formed after the 2014 Sunflower Movement, won three seats while another new party, the Taiwan Statebuilding Party (TSP), won one seat. The remaining five seats went to independent candidates.
International media have paid close attention to this election as the island continues to consolidate its democracy against rising pressure from China. "This election has shown that the Taiwanese people hope the international community will witness our commitment to democratic values and will respect our national identity," Tsai said in her victory speech. She also remained hopeful that the world would give Taiwan a "fair opportunity to participate in international affairs." Tsai's landslide victory not only provides her administration with a new level of democratic legitimacy, but will also give her new political capital to seek more democratic allies and defend Taiwan's autonomy from external interference.
Tensions mount in cross-strait relations
Ma Xiaoguang, a spokesperson for the Taiwan Work Office of the Communist Party of China Central Committee and the Taiwan Affairs Office of the State Council, said that China's policy toward Taiwan remains steady and consistent, advocating for peaceful "reunification." Without naming either Tsai or the DPP, Ma also warned that China "resolutely opposes separatist attempts and acts for 'Taiwan independence' in any form."
While it's not impossible that China could take action against Taiwan in the short term, China's official statement suggests that it is unlikely to revise its policy towards Taiwan as long as the DPP government maintains the status quo and avoids an overt pursuit of independence. Beijing's activities to date have included restrictions in communications between the PRC government and Tsai's administration, persuade Taiwan's remaining Pacific and Latin American diplomatic partners to de-recognize Taiwan, lure Taiwan tech businesses to China, and continue the August 2019 ban on the travel of individual mainland tourists to Taiwan. As cross-strait policies are also shaped by the tensions in Hong Kong and Xinjiang, Xi is concerned that any show of a willingness to compromise on one frontier may lead to an intensification of pressure in another.
In her victory speech, Tsai said the election outcome proves that the Taiwanese people cherish democracy and that the DPP administration will defend Taiwan's sovereignty. While emphasizing democracy and sovereignty, Tsai avoided any discussion of all-out independence – a potentially explosive issue in cross-strait relations. The ongoing crisis in Hong Kong will likely continue to bolster anti-PRC sentiments in Taiwan, and this will complicate any attempts on Tsai's part to promote a warming of relations with the PRC. Following the resounding defeat of its ostensibly pro-China candidate, Han Kuo-yu, watching how the KMT will rebuild itself after a second major defeat will be important for Taiwan's democracy moving forward.
The international community responds
More than 60 countries have sent congratulatory messages to President Tsai Ing-wen. The support is significant considering that Tsai and her Democratic Progressive Party has won twice on the promise of retaining Taiwan's autonomy. Tsai seized upon the positive international momentum and, during a post-election meeting with U.S. and Japanese envoys, floated the idea of a Taiwan-U.S. free trade agreement as well asking for Japan's support to enter the CPTPP mega trade bloc.
The U.S. issued the fastest and most enthusiastic praise for Saturday's election results. Secretary of State Mike Pompeo wrote: "The American people and the people of Taiwan are not just partners – we are members of the same community of democracies, bonded by our shared political, economic and international values. We cherish our constitutionally protected rights and freedoms, nurture private sector-led growth and entrepreneurship, and work to be positive forces in the international community." The statement is significant since the U.S. has not had formal diplomatic relations with Taiwan since the 1970s. The Trump administration broke with tradition by accepting a call from Tsai when she won the election in 2016, and has since involved Taiwan as a key partner in its Free and Open Indo-Pacific Strategy.
While Canada was not one of the 60 countries to issue an official statement, the Canadian Trade Office in Taipei did post on Facebook a small message of support in written Chinese with no official English translation. The note congratulated Taiwan on the election and added that Canada looks forward to further strengthening people-to-people ties as well as its trade and investment relationship with the island based on the shared values of democracy, human rights, and the rule of law.
Seeking international engagement
Secure in her victory, Tsai will now have to get back to addressing issues for which her party was previously criticized, such as widening inequality, stagnant wages, and environmental pollution. While Taiwan experienced a strong economy last year, this was less attributable to DPP policy and more to external factors such as tourism and the U.S.-China trade war.
Tsai will likely seek more multilateral engagement as a way to address domestic issues. Taiwan was stung by its lack of invitation to the 25th UN Climate Change Conference in December, where it hoped to showcase its wind power initiative, even though it received low ratings internationally for its climate policy and has had recent increases in greenhouse gas emissions. Canada, however, supported Taiwan's accession as a guest at the 40th Assembly of the International Civil Aviation Organization, an important global forum headquartered in Montreal. Tsai has also asserted her commitment to joining the CPTPP, of which Canada is also a member. Whether Taiwan will make inroads in either area remains to be seen. Meanwhile, Beijing will likely double down on its efforts to isolate Taiwan diplomatically.
This year's election campaigns in Taiwan included viral videos, animated advertisements, and politicians in cosplay, reflecting the participation of younger voters and candidates, many of whom were born after 1996 when Taiwan became fully democratic. It's worth asking whether higher youth involvement in politics might usher in a long-term progressive shift, and if so, whether that might burnish Taiwan's global image in some parts of the world. In her victory speech, Tsai emphasized that the election results demonstrate that "when our sovereignty and democracy are threatened, the Taiwan people will shout our determination even more loudly." How the international community decides to listen and respond will do much to define Tsai's second term.
This piece originally appeared as an Asia Watch Special Edition. Click here to subscribe to Asia Watch to receive the latest news and analysis from Asia every Monday, Wednesday and Friday.