U.S. President Donald Trump visited India this week in his first visit to the country since being elected in 2016. The trip was timely for both leaders as they seek positive headlines amid domestic and international controversies and as Trump prepares for his reelection bid in November. If most agree that the 36-hour, whirlwind visit was all about the optics as it didn't result in any major trade agreements, it was nonetheless an important step in the development of America's Indo-Pacific strategy.
This Special Edition of Asia Watch takes a deeper look into a changing India under Prime Minister Narendra Modi, the context of Trump's visit, India's economy and strategic importance, the country's dramatic range of social and human rights challenges and opportunities, and what it all means for Canada.
India rolls out red carpet for visiting president
U.S. President Donald Trump's two-day visit to India from February 24-25 was a hotly anticipated event promoted by Prime Minister Modi as 'Namaste Trump' in reciprocation for the 'Howdy Modi' event held last year in Houston, Texas. Trump and his high-level delegation received a grand welcome from Modi at the world's largest cricket stadium in Ahmedabad – capital of the PM's home state. Trump participated in roundtable meetings with top CEOs from Indian industry, concluding his trip with a ceremony and a state banquet at the Rashtrapati Bhavan – the official residence of the President of India.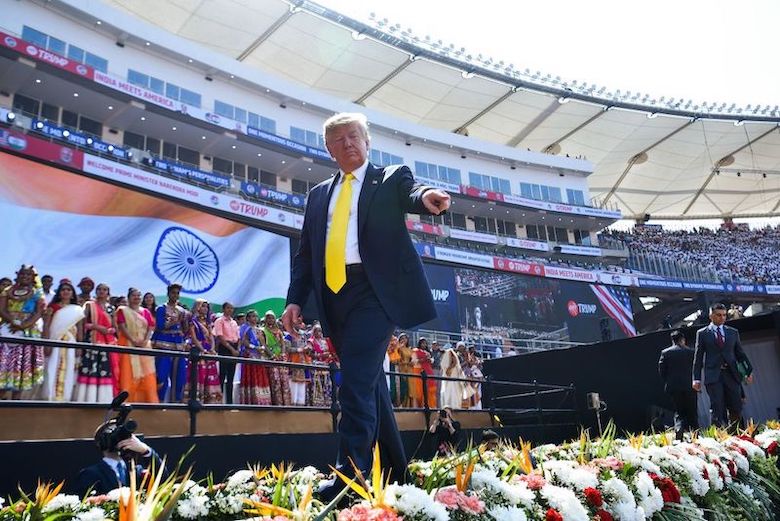 At a press conference toward the end of the visit, Trump refused to comment on India's controversial Citizenship Amendment Act, instead stating, "I don't want to discuss that." On trade and business, Trump talked about a successful meeting with businesses that agreed to invest billions in America. He also talked about deals on defence and energy, adding that India, while the "highest tariff nation," could see future trade deals with the U.S. by the end of the year. On terrorism, the visiting president suggested he is willing to help both India and Pakistan to address the problem. On India's economic potential, he commented that the country is going to be influential in the next 50-to-100 years.
Both Modi and Trump released a joint statement after a bilateral meeting, agreeing to scale up relations in trade, security, technology-sharing, and regional stability. In the statement, the leaders promised to strengthen a United States-India Comprehensive Global Strategic Partnership, deepening defence ties and indicating a willingness to transfer advanced military technology from the U.S. to India. The joint statement also emphasized the need for an open and secure internet without specifically mentioning 5G telecom networks. Both Modi and Trump praised "wonderful deals" paving a way forward for major trade deals in the future, the deepening of economic ties, and the resolution of outstanding trade disputes.
An economy at a crossroads
The state of the Indian economy in recent years has been lacklustre. Compared to the seven per cent growth recorded in July-to-September 2018, GDP growth for the same period in 2019 was 4.5 per cent, the weakest since 2013. According to the World Bank, India's unemployment rate is on the rise, from the 2.1 per cent in 2010 to 5.3 per cent in 2018, with the labour force participation rate dropping over this same period from 53 per cent to 48 per cent. Manmohan Singh, economist and former prime minister, attributes the economic slowdown to a "climate of fear," commenting last November on how "many industrialists tell me that they live in fear of harassment by government authorities" as technology startups in particular "seem to live under a shadow of constant surveillance and deep suspicion."
India's trade relations with the U.S. and other countries in the Asia Pacific are in a precarious state. Last May, the U.S. stripped India of the special status that exempted the country's products from tariffs. The Office of the United States Trade Representative said that the termination was in response to India's failure to provide equitable and reasonable access to its markets. Just as its trading relations with the U.S. have been in turmoil, India pulled out of the Regional Comprehensive Economic Partnership (RCEP) negotiations last year. If signed, India would have formed a free trade bloc with 15 countries, including the 10 ASEAN members, as well as China, Japan, South Korea, Australia, and New Zealand. New Delhi said that it was concerned about the potential large influx of Chinese goods under the deal, but in a recent statement, India's foreign minister indicated that the country would still be open to the deal if its interests are accommodated.
Canada-India trade relations, meanwhile, have been robust and continue to grow. In 2019, Canada exported C$4.7 billion worth of goods to India and imported C$5.5 billion from India. In the last five years, Canadian exports to the South Asian country have increased by 10.7 per cent and imports by 38.7 per cent. Despite the growing trade flows, roadblocks remain. For instance, David Marit, Saskatchewan's minister of agriculture, has complained that the lack of consistency in India's trade policy creates uncertainty for Canadian farmers.
Elevating the relationship
In the absence of any clear progress on trade, the main outcome of President Trump's visit to India was the announcement of a United States-India Comprehensive Global Strategic Partnership. According to a joint statement, the newly-elevated relationship will focus on a strengthened partnership in the areas of security and defence, especially through increased information sharing and interoperability between armies. The U.S. also recognized the role of security provider that India plays in the region and highlighted the need for increased co-operation between both countries and with other like-minded allies in the region. To that end, both leaders agreed to strengthen consultation through, among others, trilateral summits with Japan and quadrilateral ones with Japan and Australia.
Despite some disagreements, U.S.-India ties had been improving under previous U.S. administrations, especially over growing mutual concerns about the rise of China. Indeed, the central goal of Trump's visit, besides the optics, seems to have been the strengthening of U.S.-India strategic relations in the face of a more powerful China. The U.S. under Trump has embraced India as a key partner in its Indo-Pacific strategy of Chinese containment. But even if they both agree that China poses a real geopolitical challenge and that their co-operation "is central to a free, open, inclusive, peaceful, and prosperous Indo-Pacific region," the U.S. and India do not fully agree on how to respond to the perceived threat or how to define a "free and open" Indo-Pacific.
Trump's visit signalled a strong personal and political commitment to elevating the existing strategic partnership. Despite a display of personal affinity between both leaders, it remains to be seen whether or not the U.S. and India can truly cement their strategic partnership in a "defining relationship for the 21st century." If both countries are to become strategic partners, they will have to overcome disagreements on trade and domestic issues, as well as agree on how to deal with other neighbouring countries and regional powers. The likelihood that Washington or New Delhi will compromise on their differences is lessened by both leaders' populist rhetoric. But the end game will be determined by their assessment of the threat that China poses. In any case, these events provide Canada with yet another impetus to develop a clear plan of action to engage effectively with India.
Diversity and division
While U.S.-India relations stand at a crossroads, it is pertinent to reflect upon the diverse social and cultural identities of the people from this South Asian country, particularly in light of the rising number of immigrants from India to Canada. The buzz around 'Holi,' the festival of colours, has already begun in various parts of Canada, and around the world. A popular Indian festival held around March 10 this year, Holi marks the arrival of spring and is usually celebrated by smearing powdered colours on friends and family. Curiously, what started off as a Hindu festival has taken on a multicultural and inter-religious identity today. Such a mixture of culture, norms, and events is not wholly uncommon in India.
India has always been hailed as a land of multiple languages, diverse cultural identities, and many religions. But recent events under the Bharatiya Janata Party (BJP)-led government are raising questions about whether India is becoming a "Hindu nation" and an "intolerant India." Since Sunday, with Trump's tour ongoing, violence has broken out on the streets of New Delhi. The clash between two groups of protesters, one against the Citizenship Amendment Act (CAA) and the other for the new law, has reportedly resulted in at least 25 deaths. The CAA, which has been criticized for its religious discriminatory nature, has sparked protests, sometimes violent, since November 2019. In addition to the CAA, India has also come under fire for policies that have directly or indirectly violated human and constitutional rights, such as the abrogation of Article 370 in Jammu and Kashmir, the implementation of a National Register of Citizens in Assam and the associated building of a detention centre for undocumented migrants, and the vulnerable Transgender Persons Bill, 2019.
While political and economic crises in India tend to dominate the headlines, the 'startup nation' has much to offer the world, including innovative new ideas. Take, for instance, the city of Mumbai's response to noise pollution from car horns: the city's new traffic lights system essentially punishes drivers who honk incessantly by keeping red lights on longer. Canada and India, meanwhile, share a strong bond in terms of diaspora and history, and have taken measures towards building deeper socio-cultural relations, including the establishment of sister-city relationships that help promote economic and cultural ties between cities like Calgary in Alberta and Jaipur in Rajasthan.