Vietnam's National Assembly elected Vuong Dinh Hue as the National Assembly Chairman on March 31, and on April 5, elected Nguyen Xuan Phuc as President and Pham Minh Chinh as Prime Minister. Their elections follow the re-election of Nguyen Phu Trong as General Secretary at the 13th National Party Congress last February. The new leadership is expected to further Vietnam's economic development and strengthen its position on the international stage, which presents opportunities for the Canada-Vietnam bilateral relationship. 
Opportunities and challenges ahead for Vietnam's growth aspirations
Vietnam has successfully implemented its Doi Moi ("renovation") policy since 1986, moving the country towards a socialist-oriented market economy with an average economic growth rate of 6.8 per cent over the last five years. Despite the pandemic, Vietnam's economy grew by 2.9 per cent in 2020, when most of the world's economies experienced a recession. From a war-torn and impoverished nation in 1975, Vietnam became a lower-middle-income country in 2010. The Southeast Asian nation's ambitions continue: Vietnam has set its sights on becoming an upper-middle-income country by 2030 and a high-income developed country by 2045.
The new Vietnamese president, Nguyen Xuan Phuc, was prime minister for the 2016-2021 term and is credited with boosting Vietnam's economic success during his tenure. The country's economy grew by seven per cent in 2018, and foreign investment reached US$30 billion – an increase of 44 per cent over the previous year – as a result of global tech giants, such as Apple Inc., moving parts of their supply chain facilities to Vietnam. The country has 13 free trade agreements (FTAs) in force, including the most recent European Union-Vietnam FTA in 2020. Two other free trade agreements were recently signed in 2020: An FTA with the United Kingdom and the Regional Comprehensive Economic Partnership (RCEP) with nine members of the Association of Southeast Asian Nations (ASEAN), plus Australia, China, Japan, New Zealand, and South Korea. Two other agreements are under negotiation: An FTA with Iceland, Liechtenstein, Norway and Switzerland, and an FTA with Israel. Taken together, Vietnam will have free trade agreements with nearly 60 economies that make up about 90 per cent of the world's gross domestic product (GDP).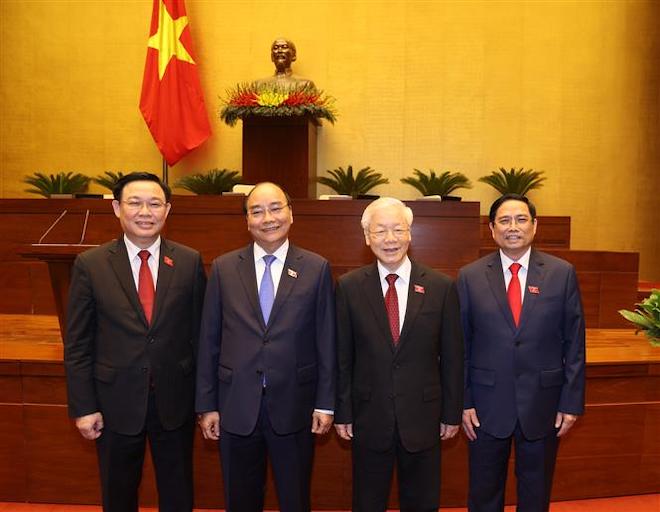 Meanwhile, Vietnam has largely succeeded in containing the spread of the coronavirus within its borders and its early COVID-19 pandemic strategy received international acclaim. With its proximity to China and having a population of 98 million people, the Vietnamese government used an effective communication strategy to earn public trust and support, with a strong emphasis on prevention that included early identification of cases, compulsory quarantine, and effective treatment. As of May 27, 2021, Vietnam had a total of 6,086 positive cases (2,853 recovered) and 45 deaths related to COVID-19.
Vietnam's new leaders are seeking to transform the national economy from a resource-based and labour-intensive model to one that is based on innovation and advanced technology. Priority will be given to investments in strategic infrastructure, research and development, the digital economy, science and technology, and the development of a high-tech manufacturing sector. This transition will require higher investments in human capital. To achieve its goals, Vietnam will need to overcome the challenges of skilled labour shortages and low productivity by matching vocational education and technical training to meet market demand. This means an increase in spending for research and development, attracting highly skilled migrant workers, forecasting trends in labour demand, and meeting international standards. Canada, with a high-quality education system and a well-developed technology industry, could be an effective partner in assisting Vietnam during this transition.
Vietnam's new prime minister, Pham Minh Chinh, successfully developed special economic zones in Quang Ninh province, first as Secretary of the Party Committee (2011-2015) and then as Chairman of the Central Organization Commission (2016-2021). It is expected that his experience will be tapped to accelerate Vietnam's economic transformation. His emphasis will likely be on reforms through the application of cutting-edge technologies in knowledge-based industries with a gradual shift towards digital communication, automation and artificial intelligence. Vietnam's industrial 'leapfrog' approach has three milestones: To be among the top three economies in ASEAN by 2025; to be among the top 40 in the world by 2030; and, to be among the top in Asia by 2045 as ranked by the Global Innovation Index (GII). The plan includes greater international co-operation in the area of science and technology with strategic partners. With Canada's strength in service exports, such as resource development, agriculture, technology, financial services, management, and scientific consulting, Canada is well-positioned to be among Vietnam's top partners. 
The potential of the Canada-Vietnam relationship
A prosperous Vietnam will be an important and attractive economic hub in Southeast Asia as well as a helpful partner within the international community. In 2017, Canadian Prime Minister Justin Trudeau visited Vietnam for the Asia-Pacific Economic Cooperation (APEC) summit. During that visit, he signed the Canada-Vietnam Comprehensive Partnership for political and diplomatic co-operation, trade and investment, defence and security, and people-to-people ties. The following year, Prime Minister Nguyen Xuan Phuc (now Vietnam's president) attended the Group of Seven (G7) Summit in Charlevoix, Quebec, at Trudeau's invitation.
The bilateral relationship has remained solid despite COVID-19 challenges. Mary Ng, Canada's Minister of Small Business, Export Promotion and International Trade, spoke last May with her counterpart in Vietnam, Tran Tuan Anh, the Minister of Industry and Trade. They discussed the importance of open and stable supply chains for business owners and enhanced bilateral trade opportunities through the Comprehensive and Progressive Agreement for Trans-Pacific Partnership (CPTPP).
Last year, four Canadian cabinet ministers participated in five online international conferences held by Vietnam, including Canada's Minister of Defence, Harjit Sajjan, who expressed Canada's support for Vietnam last December, as well as the efforts by ASEAN in maintaining peace and stability in the region. Canada also set up a military attaché office in Vietnam in 2020. As Vietnam is increasingly becoming an important member of ASEAN and gaining a more influential position on the international stage, through stronger bilateral relations with Vietnam, Canada has an opportunity to play an important role in the region, particularly through its effort to join the East Asia Summit (EAS) and the ASEAN Defence Ministers' Meeting Plus (ADMM+).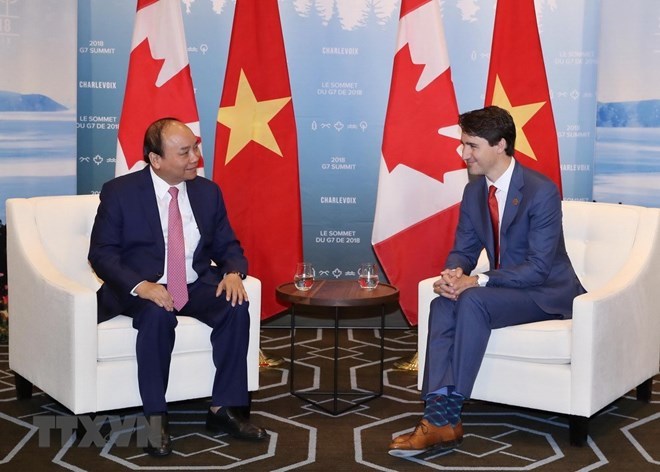 Vietnam has been Canada's largest trading partner in ASEAN since 2015, and it is an important partner in the effort to diversify Canada's economic relationships in the region. With the CPTPP in effect since January 2019, trade between Canada and Vietnam has reached US$8.9 billion, up 12 per cent from 2019, and up 37 per cent from 2018. Vietnam's network of FTAs can open doors for Canadian exports to access other markets that Canada has not reached yet.
People-to-people links can also be strengthened through more friendship agreements between Canadian and Vietnamese cities, such that between Toronto and Ho Chi Minh City signed in 2006. Vietnam is the largest Francophone country in Asia and, like Canada, is a member of La Francophonie, a group of 88 states and member governments and observers that share French as a common language. Vietnamese cities could establish more friendship agreements with Canadian cities that have significant French-speaking populations. These municipal relationships can play a vital role in fostering more economic, educational, and cultural links between the two countries.
The 50th anniversary of diplomatic ties between Canada and Vietnam is just two years away. The prospect of higher economic growth in Vietnam under its new leadership promises a strong post-pandemic recovery. This auspicious set of circumstances is a mutually beneficial opportunity that both countries should embrace.
The views expressed here are those of the author, and do not necessarily represent the views of the Asia Pacific Foundation of Canada.