On December 30, 2018, Bangladesh held a general election that resulted in a landslide victory for the incumbent Awami League Party. With 165 million people, Bangladesh is the eighth-largest country in the world by population. It is also one of the world's fastest growing economies and a multi-party democracy. But Bangladesh's democracy has recently become a topic of heated debated and speculation, especially since the controversial jailing of former Prime Minister (and a leader of the main opposition party, the Bangladesh Nationalist Party), Khaleda Zia in February 2018. Observers have raised questions about "creeping authoritarianism" in Bangladesh, and some have suggested that Bangladesh is increasingly becoming a one-party state.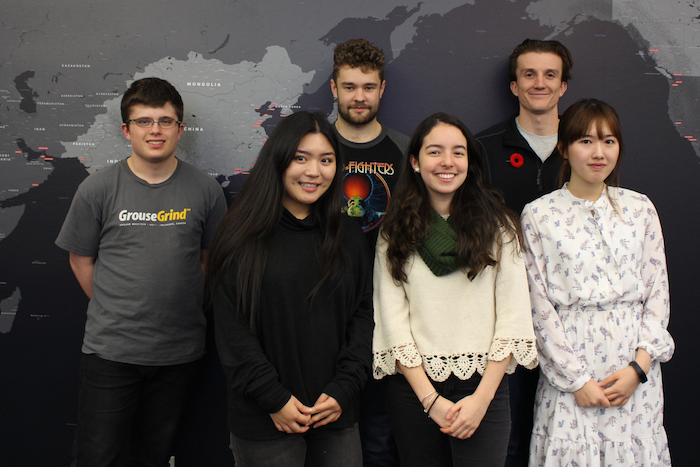 From September 2018 to January 2019, the Asia Pacific Foundation of Canada (APF Canada) convened a group of eight local university students and one graduate student based in Dhaka for a Bangladesh Election Watch team. The group was tasked with monitoring media and expert coverage of the election, consulting with Bangladesh experts, and sharing key insights and findings with the Canadian public through social media. Some of these insights and findings are available below.
Our Tweets on Bangladesh
Election Watch - Curated Tweets by AsiaPacificFdn
Our Coverage on the Bangladesh Election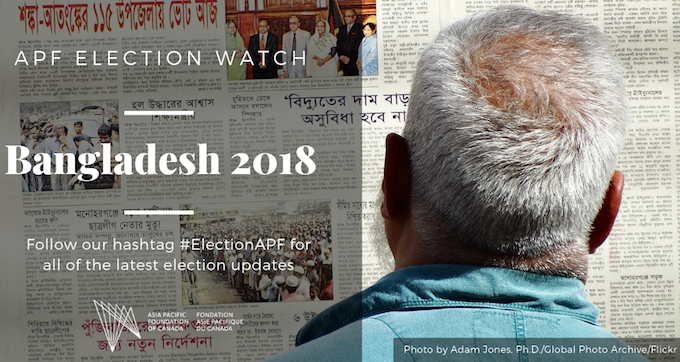 Visit our election coverage page on the Bangladesh elections to read these stories in the archive:
Bangladesh's Ruling Party Wins in a Landslide, But Under Cloud of Questions  (Jan 10, 2019)
Fairness, Legitimacy of Upcoming Bangladesh Elections Called Into Question (Dec 13, 2018)
Bangladesh to Hold December Election Amid Political Turmoil (Nov 15, 2018)
Our Recommended Reading
"2019 Bangladesh General Election" provided by the Dhaka Tribune.
Alia Chughtai, Baba Umar , Saif Khalid, "Infographic: High Stakes In Bangladesh Vote," Al Jazeera, January 5, 2014.
"Bangladesh National Election 2018" provided by The Daily Star.
International Republic Institute, "Bangladesh: Daily Challenges: Public Opinion on Economics, Politics and Security" and corresponding survey, "National Survey of Bangladeshi Public Opinion."
Ali Riaz, "Introduction" in Routledge Handbook of Contemporary Bangladesh, edited by Ali Riaz and Mohammad Sajjadur Rahman, New York: Routledge (2016): 1-15.
Ali Riaz, "Bangladesh's Failed Election" Journal of Democracy, Vol. 25, No. 2, (April 2014): 119-130.
Ali Riaz, "More Than Meets the Eye: The Narratives of Secularism and Islam in Bangladesh" Asian Affairs, Vol. 25, No. 42, (April 2018): 301-318.
World Economic Forum, Mapping Global Transformations Bangladesh.
K. Anis Ahmed, "Bangladesh's Choice: Authoritarianism or Extremism," New York Times, December 27, 2018.
Shafquat Rabbee, "A Deeper Look at the Bangladesh Election," Al Jazeera, January 1, 2019.
Our Thanks

We would like to acknowledge the following people who have assisted in providing guidance and resources to our election watch team:
Mr. Steve Cima, Resident Program Director, Sri Lanka and Bangladesh, International Republican Institute
Dr. Khan Jahirul Islam, Department of Economics, Philosophy and Political Science, University of British Columbia – Okanagan
Dr. Adam Jones, Department of Economics, Philosophy and Political Science, University of British Columbia – Okanagan
Dr. Ali Riaz, Department of Politics and Government, Illinois State University