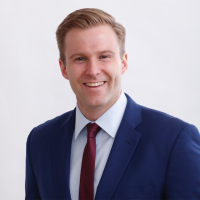 Brian Gallant
CEO, Canadian Centre for the Purpose of the Corporation; Former Premier of New Brunswick (2014-2018)
Brian Gallant is a lawyer and a highly respected and dynamic Canadian leader who served as the 33rd Premier of New Brunswick from 2014 to 2018. At the age of 32, Mr. Gallant became the youngest First Minister to be elected in Canada in a century.
Mr. Gallant is the CEO of the Canadian Centre for the Purpose of the Corporation, a ground-breaking initiative to help Canadian businesses and organizations as they work to redefine and strengthen both the scope of their purpose and the contributions they make more broadly to society.
As a Senior Advisor at Navigator, Mr. Gallant understands the challenges that organizations are facing in this age of innovation and disruption. He helps leaders navigate complex issues at the intersection of government, politics, business, law, social justice, media, and sustainability.
Mr. Gallant is also a Special Advisor on Innovation, Cybersecurity, and Law to the President of Ryerson and is an Entrepreneur in Residence for the world-renowned DMZ incubator.
When he became Premier, his government invested heavily in education and childcare and in initiatives that enhance New Brunswick's competitiveness to increase its exports and grow its population.
To bolster exports, Mr. Gallant's government also focused on strengthening the trading relationship with the United States and further diversifying New Brunswick's export markets. He led several trade and diplomatic missions to the United States, Asia, Africa, and the European Union.
In addition to Premier, Mr. Gallant served New Brunswick as the Attorney General, the Minister responsible for Innovation, and the Minister responsible for Women's Equality.
In 2015, he co-lead the development of the Council of the Federation's Canadian Energy Strategy. Moreover, as a member of the New England Governors and Eastern Canadian Premiers meetings and as co-chair of the meeting in 2018 held in Vermont, Mr. Gallant was able to help advance important initiatives such as collaboration on energy and combating climate change between the jurisdictions of New England and Eastern Canada.
Mr. Gallant led all Canadian premiers in 2018 as the Chair of the Council of the Federation.
In 2015, he was the only Canadian named as a Young Global Leader by the World Economic Forum.
Prior to entering politics, Mr. Gallant worked as a lawyer. He has university degrees in business and law as well as a Master in Laws from McGill.