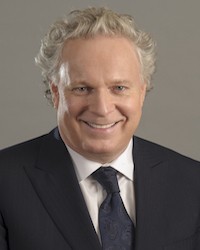 Jean Charest
Partner, McCarthy Tétrault LLP; Premier of Québec (2003-2012); Member of the Queen's Privy Council for Canada
Jean Charest is a Partner at McCarthy Tétrault LLP. He provides invaluable expertise to the firm's clients with his in-depth knowledge and experience with public policy, corporate Canada and international matters. As a strategic advisor with a unique perspective, he supports clients on complex transactions, projects and international mandates as they navigate the global business environment.
With a public service career spanning almost 30 years, Jean Charest is one of Canada's best-known political figures. Mr. Charest was first elected to the House of Commons in 1984 and, at age 28, became Canada's youngest cabinet minister as Minister of State for Youth.
In 1991, he was named Minister of the Environment and, a year later, he led Canada's delegation at the 1992 Earth Summit on the economy and the environment in Rio. At the summit he was praised for his leadership role among G7 countries on climate change and biodiversity.
In 1993, Mr. Charest was named Minister of Industry and Deputy Prime Minister of Canada. Moreover, in 1994, Jean Charest was chosen Leader of the federal Progressive Conservative Party, becoming the party's first French Canadian leader. He held that post until 1998 when he became the leader of the Quebec Liberal Party. Mr. Charest then broke a 50-year provincial record by winning three consecutive election campaigns in 2003, 2007 and 2008.
The Honourable Jean Charest is notably the initiator of the negotiation for the Canada-European Union Comprehensive Economic Trade Agreement (CETA). Furthermore, the Charest government initiated an unprecedented labour mobility agreement between France and Québec and was best known for a major initiative for the sustainable development of Northern Québec called "Plan Nord."