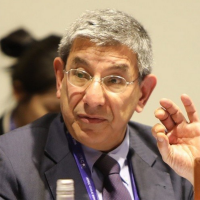 Jonathan T. Fried
Ambassador, Rtd
Mr. Jonathan T. Fried's distinguished diplomatic career for Canada spanned law, economics, and trade. Prior to his retirement in August 2020, he was Coordinator for International Economic Relations at Global Affairs Canada, with a mandate to ensure coherent policy positions and government-wide strategic planning in international economic fora regarding both current and forward issues, including responses to the COVID-19 pandemic, and Canada-Asia and other international trade and economic matters. From 2017 to early 2020, he was the Personal Representative of Prime Minister Justin Trudeau for the G20.
Previously, Mr. Fried served as Ambassador and Permanent Representative to the WTO; Ambassador to Japan; Executive Director for Canada, Ireland and the Caribbean at the IMF; Senior Foreign Policy Advisor to the Prime Minister; Senior Assistant Deputy Minister for the Department of Finance and Canada's G7 and G20 Finance Deputy. He was formerly Canada's Chief Negotiator on China's WTO accession; chief counsel for NAFTA; and Counsellor for Congressional and Legal Affairs at the Canadian Embassy in Washington, DC.
Mr. Fried is a Senior Advisor with the Albright Stonebridge Group in Washington, DC, Senior Associate to the Center for Strategic and International Studies also in Washington, DC, Advisor to Llewellyn Consulting in London, U.K., and is one of two Lead Advisors to the World Economic Forum's International Trade and Investment Platform. He serves on the Board of Directors of the Health Standards Organization and the Advisory Boards of the Columbia Center on Sustainable Investment, the World Trade Symposium, and the Central and East European Law Institute.
Mr. Fried received his B.A. and LL.B. from the University of Toronto, and LL.M. from Columbia University.