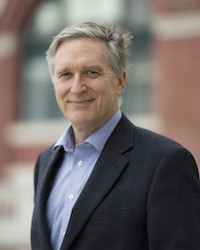 Michael Small
Fellow, Simon Fraser University's Morris J. Wosk Centre for Dialogue
Michael Small spent 33 years as a career diplomat and senior executive in the Canadian Foreign Service. He joined the Department of External Affairs in 1981 and had postings to Malaysia, Brazil, Costa Rica, and Mexico. From 2000 to 2003 he was Canada's Ambassador to Cuba. He went on to serve in Ottawa as Director-General of Human Rights and Human Security, Assistant Deputy Minister of Global Issues, and as Assistant Deputy Minister of Human Resources. He was Canada's foreign affairs sous-sherpa for the 2007 and 2008 G8 Summits and was responsible for the co-ordination of Canada's participation in a wide range of multilateral institutions, including the United Nations, the Commonwealth, La Francophonie, the Arctic Council, the OECD, and the G8.
Michael's concluding diplomatic assignment was as Canada's High Commissioner to Australia from 2010 to 2014, with concurrent accreditation to seven Pacific Island countries. In that capacity, he focused on fostering wide-ranging public policy dialogues between Canada and Australia, in particular through the Canada- Australia Public Policy Initiative (CAPPI) and the Australia-Canada Economic Leadership Forum.
After retiring from the Canadian foreign service, Michael joined Simon Fraser University's Morris J. Wosk Centre for Dialogue in Vancouver. From January 2015 until December 2017, he was the first Executive Director of Renewable Cities, a program of the centre that co-ordinates action at the local government level in promoting a transition to renewable energy. He organized SFU accreditation to the UN Framework Convention on Climate Change and organized parallel events at the UNFCCC COPs from 2015 to 2017. He continues to serve as a Fellow of the Centre, teaching, researching and speaking on climate change and renewable energy issues, as well as on issues of global governance.
Michael was a Fellow of the Weatherhead Centre for International Affairs at Harvard University from 2003-4. He has degrees from Princeton University, the University of Toronto and Cambridge University. He is the author of The Forgotten Peace: Mediation at Niagara Falls, 1914.