Ralph Lutes Appointed to ABAC Canada Team
The Government of Canada announced September 8, 2017, the appointment of Ralph J. Lutes, Vice President, Asia, for Teck Resources Limited, to the APEC Business Advisory Council (ABAC). Mr. Lutes will play a key role in representing the interests of the Canadian business community throughout the Asia Pacific region. ABAC provides a crucial interface between Canadian business leaders and their counterparts from APEC member economies, enabling dialogue on issues related to trade and economic co-operation.
Mr. Lutes joins fellow Canadian Suzanne M. Benoît, President of Aéro Montréal, and an ABAC Canada Member since 2014.
2018 ABAC Meetings
ABAC I 2018 – February 1-14 2018 – Auckland, New Zealand
ABAC II 2018 – April 16-19 2018 – Tokyo, Japan
ABAC III 2018 – July 23-26 2018 – Kuala Lumpur, Malaysia
ABAC IV 2018 – November 13-15 2018 – Port Moresby, Papua New Guinea
ABAC III 2017
The APEC Business Advisory Council (ABAC) held its third meeting for 2017 at The Ritz-Carlton in Toronto 24-28 July 2017 in preparation for its high-level debriefing with APEC leaders in Vietnam 4-7 November 2017.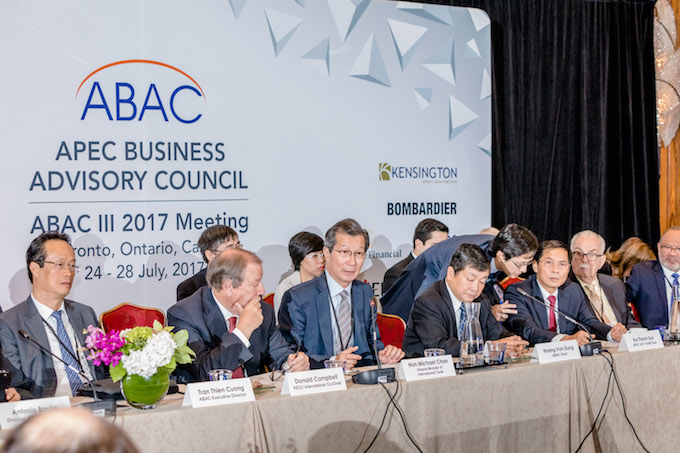 ABAC is a private-sector body comprising 21 member economies. It discusses trade and economic co-operation issues in the Asia Pacific, advises APEC officials on business sector priorities and concerns, and presents annual recommendations to APEC leaders. ABAC's members include CEOs, presidents, and senior officials of leading corporations from the Asia Pacific. Canada's ABAC Member representative is Ms. Suzanne M. Benoît, President of Aéro Montréal.
Click here to read the official press statement from the ABAC meeting in Toronto. 
Current Members
ABAC Press Releases
Tokyo, April 2018 - Asia-Pacific at the Crossroads: Choosing Prosperity
Auckland, February 2018 - Leverage the Digital Future for Prosperous Communities, say Asia-Pacific Business Leaders
Da Nang, November 2017 - Keep Shoulders to the Wheel, Urge Asia-Pacific Business Leaders
Toronto, July 2017 - APEC Must be a Beacon of Openness, Inclusivity and Innovation
Former Members
Peter Barnes, Censiomax Inc., ABAC Canada Member 2007-2010
Suzanne Benoît, AeroMontréal, ABAC Canada Member 2014-2017
Gordon W. Chu, Vancouver International Airport Authority, ABAC Canada Member 2003-2006
Isabelle Courville, Laurentian Bank of Canada, ABAC Canada Member 2009-2013
Jeff Dowle, HSBC Bank, ABAC Canada Member 2007-2009
Paul Gobeil, Metro Inc., ABAC Canada Member 1996-1998
Terry Hui, Concord Pacific Group Inc., ABAC Canada Member 1996-1997
V. Paul Lee, Vanedge Capital Partners, ABAC Canada Member 2010-2014
Philip Leong, Scotia Capital, ABAC Canada Member 2012-2016
Andrina Lever, Lever Enterprises, ABAC Canada Member 1998-2006
Pierre Lortie, Dentons Canada, ABAC Canada Member 1999-2005
John Macdonald, formerly Day4 Energy Inc., ABAC Canada Member 1998-2003
Nguyen Huu Trung, Caisse Centrale Desjardins, ABAC Canada Member 2005-2007
Timothy Reid, ReMan Canada Inc., ABAC Canada Member 1996
Dorothy Riddle, Service-Growth Consultants Inc., ABAC Canada Member 1996-1997
Deborah Close, Descartes Systems Group, ABAC Canada Member 2014-2017
Past Alternate Members:
Robert Greenhilll, Bombardier International, ABAC Canada Member 2003-2004