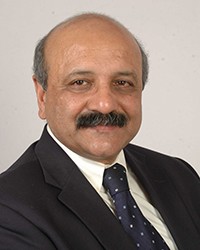 Saumitra Chaudhuri
Former Member, Economic Advisory Council to the Prime Minister of India
Mr. Saumitra Chaudhuri was inducted as member of the Economic Advisory Council to Prime Minister in January 2005. In June 2009, he was appointed Member, of the Planning Commission. Both of the positions were in the rank of Union Minister of State, Both in the EAC to PM and in the Planning Commission, he was entrusted with matters pertaining to macroeconomic management and development policy. In the Planning Commission, he was also involved in the plans of the Ministries of External Affairs and the Departments of Commerce, Food, Statistics, Industry, Heavy Industry and Urban Development. He was also in-charge of the annual plans for several States. He has engaged in several overseas co-operation initiatives, including energy security and strategic economic dialogue with Canada and China. He has chaired ten inter-ministerial committees constituted to resolve issues including Supply Chains & Cold Storages, Pooling of Natural Gas, LNG Based Power and Automotive Fuel, Vision & Policy 2025.
Before joining Government, Mr. Chaudhuri was economic advisor for sixteen years with ICRA Limited, a full service credit rating company now affiliated with Moody's Investor Services. In ICRA, he set up research activities and instituted a journal of research "Money & Finance" as the executive editor, for over a decade before joining Planning Commission. He has written numerous monographs, research articles and columns in leading newspapers.
Mr. Chaudhuri continues to chair the Committee on Fiscal Statistics, Department of Statistics and till January 2015, also chaired the Committee on All Industry Rate of Duty Drawback (on Exports).