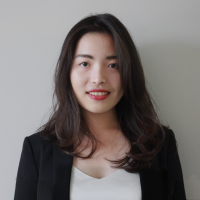 Catherine Jiang
Associate Director of Global Careers
What are your academic or professional interests in relation to the Asia Pacific region?

My current interest is more focused on careers. As a business student with international work experience, I find the work cultures in different parts of APAC very different from each other. It is foreseeable that our young people will be more open to global opportunities within the region, and I am interested in how we can better navigate workplace challenges despite the cultural differences, possible misconceptions, as well as the rapidly changing environment.
 
Is there a special place in Asia that you feel most connected to (whether through travels, family, or another experience)?

I definitely feel connected to China since I was born and raised in this beautiful country with 5,000 years of recorded history. Different places in China have different views, cultures, and dialects, which is really fascinating. A little secret about me: I am from the city of Guilin, but I don't speak the Guilin dialect. Feeling guilty.
 
Why do you believe Canadian students and young professionals should take an interest in Asia?

Canada and Asia are becoming more and more connected in many ways. The fast-growing economies in Asia will provide all types of opportunities for young people who are willing to learn about different perspectives and practices. Taking an interest in Asia will allow young Canadians to know more about what is happening in Asia and how that will impact the APAC region as a whole, which can be really helpful. The diverse cultures and the interesting history of Asia can be fun to explore, too.
 
What do you hope to accomplish this year as part of the Vancouver Asia Pacific Youth Council?

Generally, my goal is still to help more students and young professionals explore their interests in Asia. Providing support in terms of finding working or learning opportunities in Asia is also something exciting to work on with my team this year.
 
Do you have any recommended books about Asia?

This one has been on my list for a while, but I haven't read it yet: The Crisis of Global Modernity: Asian Traditions and a Sustainable Future. Also, Romance of the Three Kingdoms is a great one, although it's not technically about Asia.
 
What is one interesting/fun experience you had while travelling through Asia?

Last summer, I went to Xinjiang, China with my family. It's a place with breathtaking views and people who are famous for their hospitality as well as their dancing skills. During our trip, we were invited to a local family where we get to do horse-riding and taste their hand-made sour yogurt. While we were chatting with the local family, a group of young Xinjiang people were having a picnic and dancing to the music under the sunset. The big smiles on their face made everything even more beautiful.
 
Where would you go next in Asia and why?

I would choose Japan for sure. I've always been interested in their culture, language, and fashion. Learning Japanese for two years at UBC has allowed me to know some of the best teachers and friends in my life who are Japanese, so I just naturally want to know more about their country by visiting it someday.
 
What is your favourite Asian snack?

I think it's called "Wang Wang Snow Cookie" or "Want Want Shelly Senbei" in English? I love it because it's really crispy and not too sweet. Also, when I was a kid, my family would usually enjoy Want Want snacks together during the Spring Festival, so having those snacks brings back happy memories.