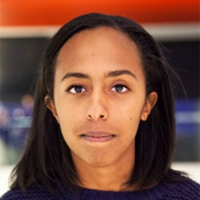 Feaven Abidta
What are your academic or professional interests in relation to the Asia Pacific region?
I completed my undergraduate degree in International Relations and Political Science at the University of Toronto. Through my academic studies, I ended up developing a strong interest in the economic and political relations between economies in the Asia-Pacific and, in particular, East Asia. I'm also really interested in East Asian history.
Is there a special place in Asia that you feel most connected to (whether through travels, family, or another experience)?  
Definitely Japan.  In 2018, I was able to participate in a brief academic and cultural exchange to Japan through the Kakehashi Project – an initiative which is sponsored by the Japanese government and implemented by APF Canada and the Japan International Cooperation Center. Overall, it was an incredible experience and I know that I'll be visiting Japan again in the future.
Why do you believe Canadian students and young professionals should take an interest in Asia?  
Given that the region has undergone remarkable growth and exhibits immense opportunity, I think that young professionals and students should take an interest in Asia. More than that, Asia is also incredibly diverse and has so much to offer in terms of history, culture, tradition, as well as innovation.
What do you hope to accomplish this year as part of the Toronto Asia Pacific Youth Council?  
Working with the other council members, I want to raise awareness among Canadian students and young professionals about Asia and the region's growing importance to Canada. Furthermore, I also want to help facilitate meaningful discussions on contemporary issues relating to Asia and Asian-Canadian relations, which are especially relevant to the youth.
Do you have any recommended books about Asia?    
In terms of academic books, I've recently read and would recommend The International Politics of the Asia-Pacific by Michael Yahuda. (If we can refer to other media instead, my answer would be: I love films and I'm a huge fan of Akira Kurosawa and Yasujirō Ozu. They're incredible directors and I'd recommend checking out their work. My personal favourite film would have to be Ozu's Tokyo Story, which is set in the early postwar period in Japan).
What is one interesting/fun experience you had while travelling through Asia?
During a trip to Japan, my classmates and I participated in a homestay in a small town in the Kyoto prefecture. It was a really memorable experience being able to see and learn more about Japanese culture outside a metropolitan setting. Although there were language barriers, we really bonded with our host family and enjoyed various activities with each other – like singing karaoke and going on strolls in nature.
Where would you go next in Asia and why?   
I hope to travel to South Korea next – there are a lot of historical sights and landmarks that I would love to see there.  
What is your favourite Asian snack?
My favourite snack would definitely have to be Hotteok (Korean Sweet Pancakes).