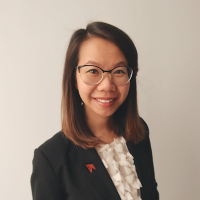 Jennifer Lau
What are your academic or professional interests in relation to the Asia Pacific region?
I currently serve as the Associate Editor for Fête Chinoise, a cultural platform promoting modern Chinese culture. Prior to joining Fête Chinoise, I completed my PhD in East Asian Studies with a focus on the relationship between North America and the Qing Dynasty, and conducted research in Hong Kong, Taipei, Shanghai, Beijing, Hangzhou, and Seoul. Along with my duties at Toronto Asia Pacific Youth Council (TAPYC), I also teach sessional courses on Chinese history, language and literature at the University of Toronto because it is my passion to share knowledge about Chinese culture and to make others reimagine the world we live in.
Is there a special place in Asia that you feel most connected to (whether through travels, family, or another experience)?
Hong Kong. It has always been a place of nostalgia for me, firstly because many stories about this cultural city were shared with me during my childhood, and secondly because of the TVB television dramas I grew up watching. It was an absolute privilege to work in Hong Kong between 2012 and 2014 with outstanding professors and institutions. I still visit frequently.
Why do you believe Canadian students and young professionals should take an interest in Asia?
Asia has much to offer in terms of experiences and growth. Whether one chooses to return to Canada or travel elsewhere after working or studying in Asia, the experience of a fast-paced and culturally-enriching Asian city will allow you to dream bigger and be more appreciative. I would highly encourage students and young professionals to find grants and exchange opportunities offered by all levels of government.
What do you hope to accomplish this year as part of the Toronto Asia Pacific Youth Council?
As Co-President, I would like to bridge the gap between Canadians and the Asia Pacific region through topics that are relevant and applicable. We will be exploring new technologies and tackling new themes so that the voices of the youth can be heard.
Do you have any recommended books about Asia?
From an academic perspective, I would recommend Lydia Liu's Translingual Practice if you are interested in language, storytelling, and China and Japan. If you enjoy studying and reading about unexpected interconnected histories, I would recommend you take a look at Lisa Lowe's The Intimacies of Four Continents. For leisure, I would highly recommend Madeleine Thien's Dogs at the Perimeter, which is about the Cambodian genocide.
What is one interesting/fun experience you had while travelling through Asia?
I remember a funny exchange during my Master's program at the National Taiwan University over a decade ago. I had only studied Standardized Mandarin (with a Beijing accent), and I did not realize that there were linguistic differences not only in accent, but also in vocabulary when speaking Mandarin in Taiwan. While I was there, I learned a lot about the local nuances of the Mandarin spoken in Taiwan. Everyone was very patient with me and repeated the phrases over and over again whenever I looked confused.
I recall one conversation very distinctly. It was just outside the subway station at Gongguan near the university. I was asking a female pedestrian about the subway station using the word "ditie" (地鐵), which is what a subway is called in Mainland China. But in Taiwan, the subway is called "jieyun" (捷運). I repeatedly asked if this indeed was where the "ditie" station was, and the lady kept pointing to the entrance affirming that the "jieyun" station is right here. This went on for a full minute until she finally exclaimed: "Miss, trust me, 'ditie' means 'jieyun' and 'jieyun' means 'ditie'!" I can still laugh about it today. After several months in Taiwan, I eventually dropped my original accent and came home sounding more Taiwanese.
Where would you go next in Asia and why?
I would love to see more of the scenic sights in Mainland China because I know there is so much more to understand and take in about the places famous poets had written about centuries ago. I love hiking and the outdoors, so I would like to do more of this while I am still young!
What is your favourite Asian snack?
My favourite Asian packaged snack is tied between Maltesers (which I know is British but was so popular in Hong Kong that I associate it with Asia) and MELONA ice cream bars from South Korea! But if it isn't packaged, I love Taiwanese night market dishes; my favourite being the oyster egg dish (ô-á-chiān/蚵仔煎).