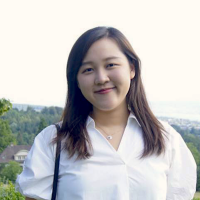 Junna Ishiwatari
What are your academic or professional interests in relation to the Asia Pacific region?  
In terms of academic interest, I have been learning Mandarin since I began attending UBC. I initially became interested in learning Mandarin because the characters were similar to Japanese. It has been an exciting experience so far. For instance, after I began the study, I became curious about Chinese culture and entertainment.  When I consider building my career in Asia, I certainly believe that language ability will be advantageous in job search and meeting new people.
 
Is there a special place in Asia that you feel most connected to (whether through travels, family, or another experience)?
I feel most connected to Japan, as I was born and raised in Japan until I began studying abroad. I also feel connected to Singapore, as I spent two years living there in middle school.
 
Why do you believe Canadian students and young professionals should take an interest in Asia?
Canadian students and young professionals should take an interest in Asia because Asia has so much to offer, from career and business opportunities to cultural immersion experiences.
 
What do you hope to accomplish this year as part of the Vancouver Asia Pacific Youth Council?
I hope to assist Vancouver Asia Pacific Youth Council in promoting Asia-related career possibilities and opportunities within the council. I also hope to raise awareness about Asia in terms of cultural and socioeconomic perspectives to attract attention from students and young professionals in Canada.
 
Do you have any recommended books about Asia?
Not at the moment.
What is one interesting/fun experience you had while travelling through Asia?
When I travelled to Beijing, I enjoyed local experiences, such as having local beverages and dim sum in a local famous breakfast place. Since I am a foodie, it is always fun and exciting to explore local food when I travel.
Where would you go next in Asia and why?
I want to travel to many different cities in Japan.  Many of my friends and peers have been to major cities like Osaka and Kyoto. Even though I am Japanese, ironically, I have not had the chance to explore these cities. By visiting these cities someday, I hope to immerse myself in rediscovering the Japanese heritage and history.
What is your favourite Asian snack?
My favourite Asian snack is Jagariko, which is a Japanese brand snack and is potato chips shaped as thin sticks.