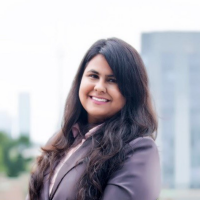 Kanika Sachdeva
What are your academic or professional interests in relation to the Asia Pacific region?
I have worked in the Asia Pacific region for five years before moving to Canada. Working with APF Canada gives me an opportunity to stay connected with some of the fastest-growing economies. One of my biggest motivators was to continue learning about innovation and business trends of the Asia Pacific region from students and recent graduates.  
Is there a special place in Asia that you feel most connected to (whether through travels, family, or another experience)?
I do have a special bond with India. Having spent 26 years in the country, I have a deep understanding of the sociopolitical aspects of doing business in India.   
Why do you believe Canadian students and young professionals should take an interest in Asia?
Along with a strong innovation culture, there is an array of learning opportunities in different industries across the region. Students and young professionals can learn transferrable solutions from Asia and apply them in Canada.
What do you hope to accomplish this year as part of the Toronto Asia Pacific Youth Council?
Through my position on the Toronto Asia Pacific Youth Council (TAPYC), I hope to use my experience and background to create opportunities to engage the youth in Canada, and to foster a greater understanding between Canada and the Asia Pacific region.
Do you have any recommended books about Asia?
Definitely, I would recommend The Art of War by Sun Tzu.
 
What is one interesting/fun experience you had while travelling through Asia?
The diversity offered by different countries in Asia is a treat.
 
Where would you go next to Asia and why?
I want to visit Japan someday. The culture of this the country is an interesting blend of Eastern traditions and Western modernity as it is one of the oldest civilizations, and has a stunning and diverse history.
 
What is your favourite Asian snack?
Golgappa!