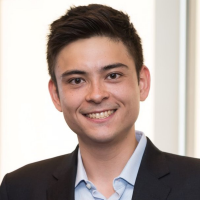 Timothy Rodgers
What are your academic or professional interests in relation to the Asia-Pacific region?
My academic interests focused on economics, geography and transportation, which led me to a career and professional interests in urban planning consulting and real estate advisory. I've been fortunate to have had the opportunity to both study and work in Hong Kong, giving me first-hand experience of life there as well as a personal connection to the city. During my time there and travelling to other Asian cities, I feel I have gained valuable insight and exposure to the urban life, and the economic, social and municipal administrative functions and processes that uniquely govern Asian cities. I believe it is important to have a general understanding and context of how other parts of the world function and work together, as well as understand how people from different backgrounds and cultures feel and exist within their spaces.
Is there a special place in Asia that you feel most connected to (whether through travels, family, or another experience)?
Hong Kong is the city in Asia I feel most connected to, primarily because my mother was born there and I grew up in Hong Kong from the ages of 7 to 17. My family still live in Hong Kong and I try to go back and visit once a year.
Why do you believe Canadian students and young professionals should take an interest in Asia?
I think Asia is a fascinating place and you only really learn how different it is once you visit or live there and experience it for yourself. Despite current unprecedented times, our world has become ever more globally connected and integrated. Having an understanding and awareness of what is going on in Asia and how we can learn from one another is and will continue to be an important and valuable asset.
What do you hope to accomplish this year as part of the Toronto Asia Pacific Youth Council?
I hope to engage and encourage current and future young professionals who are passionate about their interest, experience or relation to Asia, and to provide a platform to come together to share these unique perspectives and experiences that connect Canadians and the Asia Pacific Region.
Do you have any recommended books about Asia?
While not entirely about Asia, the book Straphanger by Taras Grescoe is a fascinating read about the unique differences and approaches to city building and transportation in cities across the globe, and highlights two Asian cities (Shanghai and Tokyo). The way Asian cities differ in many ways to Western and European cities is largely due to how Asian cities are planned, built and operated. This book is a fun read that really expands your perspective of urban environments around the world, and also includes Toronto!
What is one interesting/fun experience you had while travelling through Asia?
I was in the Philippines trying to reach a tourist spot in the mountains, and my girlfriend and I took a combination of a local truck-bus (later learned to be a 'songthaew'), the back of some guy's motorcycle, and a local coach bus to get there. We eventually shared a van taxi on the way back. We were amazed that we managed to make it there and back without too much hassle, and we were helped by friendly locals all the way.
Where would you go next in Asia and why?
I've always been interested in exploring Nepal. I would love to hike the beautiful mountain ranges and visit the city of Kathmandu after hearing such great stories.
What is your favourite Asian snack?
Assuming the definition of a snack is relatively broad, having lived in Hong Kong my favourite go-to on-the-go snack is a Pineapple Bun ('bo lo baau') from an authentic local bakery. Deliciously sweet while crunchy and soft at the same time, these will always bring back great memories.