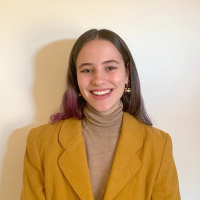 Zia Chapman
What are your academic or professional interests in relation to the Asia Pacific region?
I am currently pursuing a minor in Asian Studies with a major in International Relations at the University of British Columbia, Vancouver campus. Within my coursework, I am particularly passionate about topics of gender and sexuality studies within Asia, particularly South Asia. I have also spent a large portion of this year working on a research project within the Asian Studies department, exploring controversial Bollywood films.
Is there a special place in Asia that you feel most connected to (whether through travels, family, or another experience)?
I spent the majority of my life growing up in the city of Hyderabad, India, which is well known for the iconic monument, the Charminar. Located in the older part of the city, I would go on regular trips to the area with my mother, which always consisted of warm chats to the shopkeepers while we sipped on Irani Chai, taking in the beauty of the organized chaos. As a family of foodies, our day always ended with a big meal of Hyderabadi Biryani!
Why do you believe Canadian students and young professionals should take an interest in Asia?
Asia is at the forefront of economic development and has huge potential of opportunity that can be realized by many young professionals in Canada. Moreover, it is a region of an abundance of diversity that offers some of the most enriching experiences.
What do you hope to accomplish this year as part of the Vancouver Asia Pacific Youth Council?
I am particularly looking forward to organizing events that provide a platform for Asian diasporic youth to have their voices heard. I am also really excited to have a community of people connected to Asia and living in Canada with whom I can share and receive stories and ideas. Oh – and a variety of food recommendations, of course!
Do you have any recommended books about Asia?
Anything written by Taeko Kōno! As one of the most influential feminist writers of Japan, her work makes you question all the previous conversations you have had on expressions of gender and sexuality.
What is one interesting/fun experience you had while travelling through Asia?
Last summer, I spent two months in Japan working as a camp counsellor at an adventure camp.  Our camp was located in the Niigata prefecture amongst the beautiful rice fields and was by far the most memorable experience I have ever had. My team comprised of people from all over the world that had incredible stories, which we shared while kayaking, hiking, and swimming all summer.
Where would you go next in Asia and why?
I've been really meaning to go to Bhutan for a while now. My mother has shared some very fond memories of her time there in the mountains, and I am also very fond of hiking, and Bhutan has some of the most spectacular hikes!  
What is your favourite Asian snack?
This is an incredibly challenging question. But, I would have to go with Lukhmi, which is a mince variation of a Samosa from Hyderabad, India.