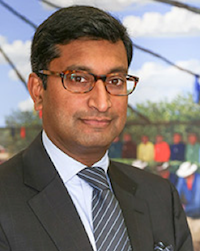 Paul Thoppil
Chief Financial Officer, Indigenous and Northern Affairs Canada
Paul Thoppil joined Indigenous and Northern Affairs Canada in 2014 as the Chief Financial Officer, and took on an expanded mandate, including departmental business planning and reporting on results.
Prior to joining INAC, Paul worked for the Department of Foreign Affairs, Trade and Development Canada where he held the position of Commercial Minister at the Canadian Embassy to Japan in Tokyo since 2009. While in Tokyo, Paul advanced free-trade negotiations with Japan on behalf of the Government of Canada.
Previously, Paul served several successive Director General positions responsible for such functions as Innovation and Partnerships, Corporate Finance, Corporate Planning (International Trade), and Global Business Opportunities.