Vietnamese Prime Minister Nguyen Xuan Phuc's attendance at the G7 in Quebec from June 8-to-10 at the invitation of Prime Minister Justin Trudeau is of special significance as the two countries hold various activities to celebrate the 45th anniversary of diplomatic ties.
Canada and Vietnam elevated their longstanding relationship to a Comprehensive Partnership during Trudeau's official visit to Vietnam in November 2017. The move not only demonstrates the resolve of the two countries' leaders to strengthen bilateral friendship and co-operation, but also creates a driving force for the substantive and effective development of further bilateral ties with multi-faceted benefits for both countries.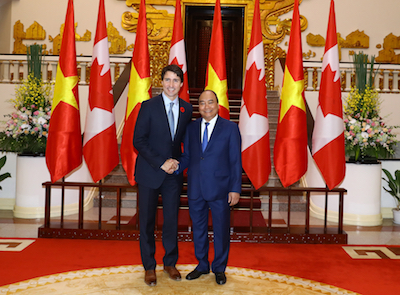 Canadian Prime Minister Justin Trudeau pays an official visit to Vietnam on November 8 and 9, 2017 at the invitation of Vietnamese Prime Minister Nguyen Xuan Phuc. | Image Courtesy VNA
Two-way trade and investment is an important driving force for the Vietnam-Canada relationship, with both sides attaching importance to promoting trade and investment exchanges in key sectors. Currently, Vietnam is an important market for Canadian products such as buckwheat, canola oil, lentil seeds, farm produce and seafood, while Canada is importing mobile phones and electronic appliances from Vietnam.
With bilateral trade enjoying an average annual growth of 20-25 per cent, Vietnam has been Canada's biggest trade partner in the Association of Southeast Asian Nations (ASEAN) since 2015. The two countries have set a target of raising two-way trade to US$10 billion a year in the next 10 years, from the nearly US$5 billion in 2017.
Canada now ranks 14th among 112 nations and territories investing in Vietnam, with 149 projects worth a total of US$4.1 billion. It is also one of the leading official development assistance (ODA) providers for Vietnam, with over C$800 million (US$618 million) allocated to Vietnam since 1990. Canada's ODA is focused on helping Vietnam enhance its capacity to better respond to non-traditional security challenges, including climate change, environmental issues, sustainable development, and new-style rural development.
The Comprehensive and Progressive Trans-Pacific Partnership (CPTPP), of which both countries are members, is expected to open up even more opportunities and markets for their goods, and allow both countries to help each other access regional and world markets. The CPTPP will create a level playing field and expand bilateral trade flows through tax cuts for each other's products.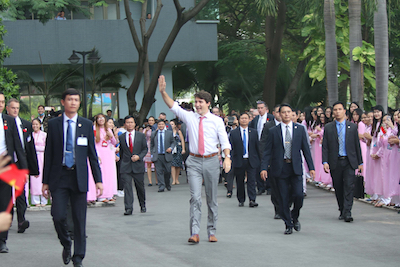 Education-training is also a bright spot in bilateral ties, with the number of Vietnamese students in Canada rising two-fold in the past 10 years, making Vietnam the top country in ASEAN in terms of students in Canada. In recent years, Canada has stepped up educational promotion and collaboration with Vietnam's educational institutions to attract more Vietnamese students. Many scholarship programs have been carried out and proved effective.
Indeed, Vietnam has been a priority partner of Canada in Asia in its three important policies: the Global Markets Action Plan, the International Education Strategy, and the development assistance policy. Strong development in education and training co-operation has helped promote people-to-people diplomacy and contributed to mutual understanding. In addition, the diaspora community of around 250,000 Vietnamese people in Canada is serving as an important bridge to help tighten bilateral co-operation in all fields.
Defence-security collaboration has been stepped up as well, in conformity with the comprehensive partnership framework. Most recently, Canadian Minister of National Defence, Harjit Singh Sajjan, paid a visit to Vietnam from June 4-to-6 to discuss ways to enhance co-operation in areas of mutual concern such as the defence industry, personnel training, and United Nations' peacekeeping missions.
In the Joint Statement issued during Prime Minister Justin Trudeau's official visit to Vietmam in November 2017, the two countries' leaders agreed to a comprehensive, substantive, effective, stable, and sustainable relationship bilaterally, regionally as well as internationally, in order to meet the two countries' interests and to contribute to maintaining peace, stability, co-operation and development in the Asia Pacific and around the world.
In this context, Prime Minister Nguyen Xuan Phuc's visit to Canada will help deepen the bilateral Comprehensive Partnership, helping step up co-operation opportunities in various fields and develop bilateral ties in a more practical, intensive, and effective manner.
The views expressed here are those of the author, and do not necessarily represent the views of the Asia Pacific Foundation of Canada.