Over the next four weeks, the Asia Pacific Foundation of Canada will be releasing a four-part blog series on the development of the Arctic dimension of China's Belt and Road Initiative: 'The Polar Silk Road.' Our Post-Graduate Research Fellow, Sebastian Murdoch-Gibson, was on the ground in Finland, Estonia, Norway, and China talking to stakeholders about the implications of China's emerging Arctic grand strategy.
Norway and Finland are positioning themselves to be a crucial link to Europe in China's Belt and Road Initiative (BRI). A rail line connecting Rovaniemi – the capital of Lapland, and the northern limit of Finland's rail network – to the Arctic port of Kirkenes in Norway could serve as a vital corridor for Asian cargo headed to Europe through the melting Arctic Ocean. A recent report on the project by regional development agency Sør Varanger Utvikling estimates that if as little as four per cent of Asian container traffic to Northern Europe passed through the Arctic by 2040, the port of Kirkenes could become three times as busy as Oslo. However, the region's Indigenous people – the Sámi – have expressed concern at how this project may impact their culture and livelihoods. The Asia Pacific Foundation of Canada caught up with Tiina Sanila-Aikio, the President of Sámi Parliament in Finland, the representative body for Sámi people in Finland, to discuss the Sámi perspective on this project in more depth.
I am hoping to talk about the proposed railway between Rovaniemi and Kirkenes and – in particular – I was wondering if you could tell me a little bit about how the Sámi people feel about this project.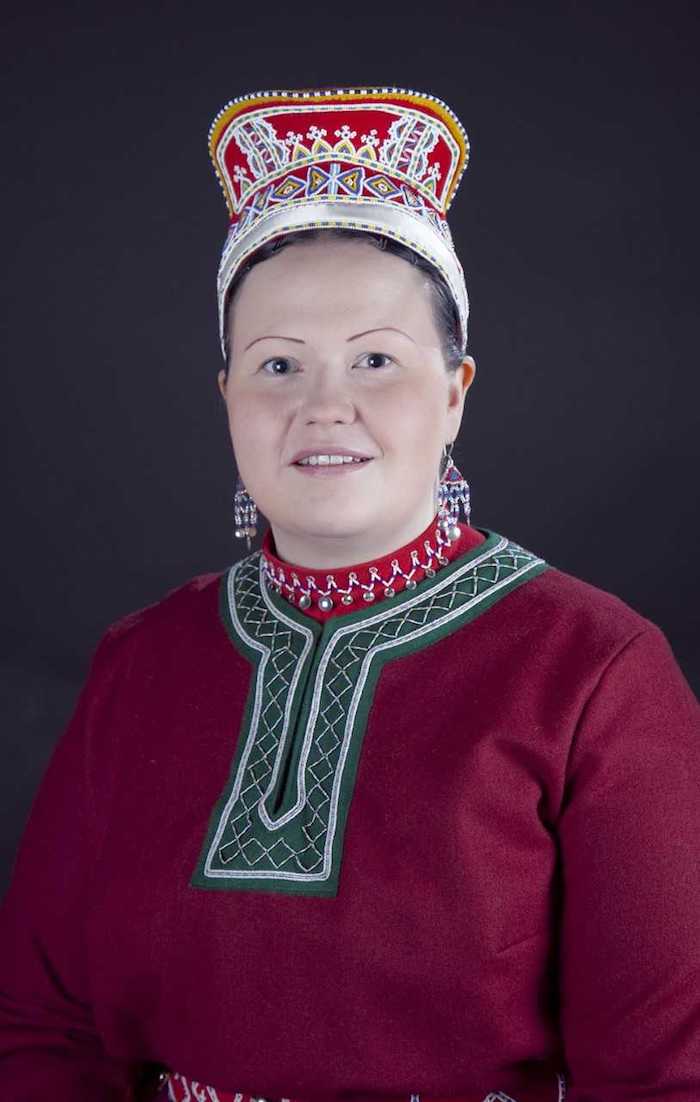 First of all, this project has been on the table for quite a long time. But after Finland got the chairmanship of the Arctic Council it has been brought up in an active way, in a way that is like, "we are building the Arctic railway." [But] nothing official had been discussed with the Sámi. Our first reactions were to the fact [the] Sámi people were not involved with this project and not asked what kind of land use, needs, and future plans we have.
So, initially there was a lack of consultation. Has that changed at all or is it still the case?
After the Minister of Transport and Communications announced in June 2017 that [the government] had begun to research the economic impact of the project, we announced from the Sámi Parliament that we wanted to negotiate with the government on this subject and [to] highlight [the need for] an assessment of the project's impacts on Sámi society. We got these negotiations in January 2018. So around six months after we requested . . . this first negotiation took place.
And how have they been going so far?
Well, we have tried to help the Ministry understand what kind of [concerns] we are talking about when we say there will be consequences for the Sámi culture if you build this railway. We have been telling them the very basics about what this project means and how it should be researched or thought about when plans are being made.
Before they proceed to a wider study than the short feasibility study that was released in March [2018], we have to negotiate about what kind of things should be researched in such a study.
Have they been receptive to these requests?
Yes, they have. But of course, they should already have mentioned their plans to us before they started this current study. Sámi [concerns] seem to be very small [concerns] at the national level of decision-making and we were having to remind them that they should take our questions into account when they are handling issues like this. For example, without consulting or negotiating with the Sámi Parliament, the Ministry of Transport and Communications issued a report in March and they announced that the railroad would be routed from Rovaniemi to Kirkenes – they also set up a joint working group with Norway to conduct wider research, again without any consultation. They may not understand the impact of a project like this on the Sámi, and it is also our responsibility as the Sámi Parliament to remind the ministries and we have established some clear terms that should be fulfilled if both Finland and Norway want Sámi's to participate in their working group.
Aside from the negotiations and the consultation process, what are some of the impacts this project may have on the Sámi way of life?
The route that was chosen in March – from Rovaniemi to Kirkenes – would have six Sámi reindeer herding districts on the line. It would split those districts' winter grazing areas into two pieces from the middle. That would have a very big impact to the Sámi and Sámi culture because reindeer herding is one of the main bases for Sámi culture. All three Sámi language groups and their traditional heartlands would be effected by this.
We have to remember that there were originally five options for where this railway could go. Even though it will go on the southern side of the Sámi homeland area in Finland, the railway could have passed through Sámi areas in Sweden and Norway and Russia as well. So, we are also reminded that this is not only a Sámi concern in Finland but it is a Sámi concern in Sweden, Norway, and Russia.
Are there any ways that the project could be made more acceptable to Sámi people, that it could be designed to have less of an impact on the Sami way of life?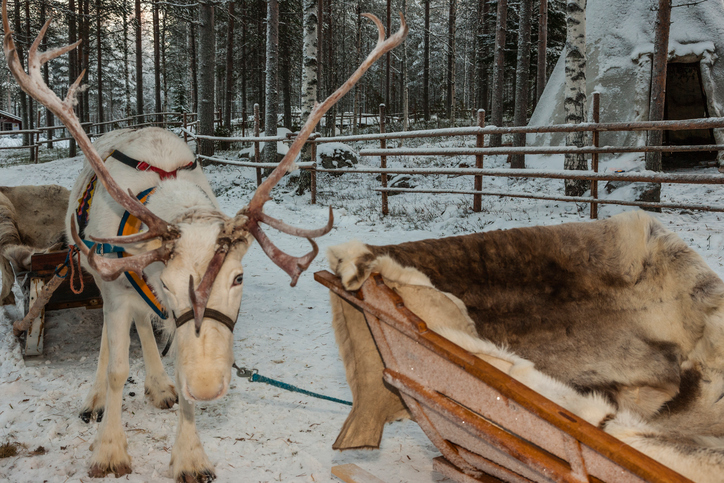 Reindeer with sleigh near a Sámi 'lavvu' in Lapland, Finland
Well we have said that if it went underground in Rovaniemi and came up in Kirkenes that would be one option (laughing). Or it could be in the air; that would be a second option. We have now already had very bad experiences in all three countries – Norway, Finland and Sweden – with trains that are killing masses of reindeer. There may be as many as 20, 30, 50 reindeer killed at once. In the southern part of the Finnish reindeer herding area, railways should be fenced or there should be tunnels and bridges for reindeer to go under or over the railway. Often, however, fences are not taken care of or tunnels are not working. So, based on our experience so far, things do not seem promising.
In Canada, some of our highways have a system which is similar to what you're describing – the highway is fenced and occasionally has tunnels to allow wildlife to pass underneath. Would you view that as a compromise?
I think so but, at the same time, you must remember that our areas are huge. Wildlife pass through the area at many points so that means that there should be tunnels or bridges frequently – not one every 20 km, for example. That is also a question of money. Does the state have enough money to do bridges or tunnels? Because they don't have money to take care of the fenced railways in the southern part of the reindeer herding area.
Also in APF Canada's new 'China's Polar Silk Road' web series:
Scandinavia's Unlikely Link in the Belt and Road Initiative
An Interview with the President of Finland's Sámi Parliament Tiina Sanila-Aikio
Angry Birds Creator Wants to Connect Finland to Belt and Road with World's Longest Underwater Tunnel
Finland's Arctic Data Cable Set to Disrupt Global Connectivity
The views expressed here are those of the author, and do not necessarily represent the views of the Asia Pacific Foundation of Canada.