Both Canada and Italy are middle powers experiencing similar constraints and incentives from the evolving configuration of the international system. However, while Italy recently became the first G7 nation to join the Belt and Road Initiative (BRI), Canada's relations with China have soured following the Meng Wenzhou extradition case. Both the Trudeau and Harper governments have entertained somewhat testy relations with Beijing, struggling to balance national interest and global values despite their respective commitments to trade diversification.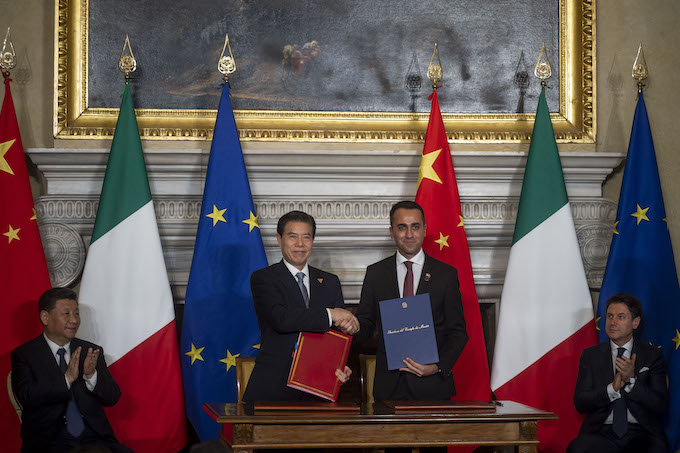 Under Italy's 'yellow-green' ruling coalition, meanwhile, different political players in that country have managed to navigate the interests of various domestic, international, and transnational stakeholders to engage with China. While under current circumstances it would be surprising for Ottawa to radically reverse course in its engagement with China, it may nonetheless be interesting to ask whether Italy's approach presents any takeaways for Canada.
What was signed?
During President Xi Jinping's March 22-24 visit to Italy, Rome and Beijing inked a total of 29 Memoranda of Understanding (MoUs) valued at some C$3.8 billion. Nineteen of those MoUs were between public institutions, and include the much-rumoured MoU on the Belt and Road Initiative, which covers wide-spanning co-operation on "roads, railways, bridges, civil aviation, ports, energy, and telecommunications," though, as an informal document, it doesn't carry legal obligations.
Other bilateral agreements dealt with co-operation on the 'China Seismo-Electromagnetic Satellite 02' (CSES-02), on innovation, and on the promotion of collaboration between Italian and Chinese startups. In the field of culture, the two sides drew up MoUs related to: the fight against the illicit traffic in artworks, co-operation on the conservation and promotion of respective UNESCO World Heritage Sites, and the return to China of 796 archeological artifacts held in Italy. Agreements were also reached between the public broadcasters RAI and China Media Group and the national news agencies ANSA and Xinhua. Two agreements aimed at enhancing people-to-people contacts were also reached. Four other MoUs touched on e-commerce, the export of Italian agricultural products, frozen pork, and bovine seed.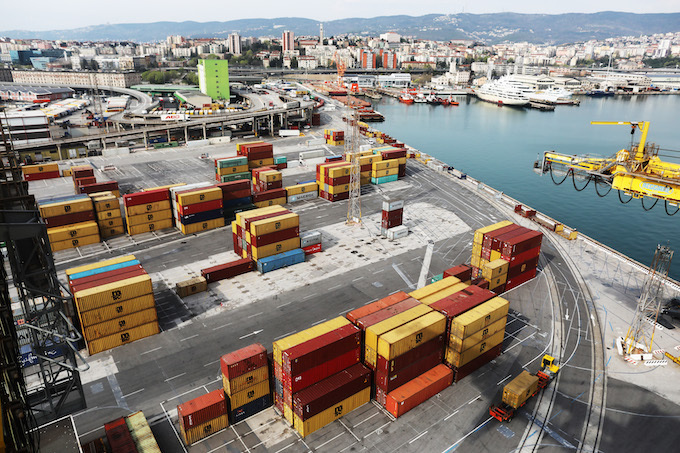 Business-related MOUs involved both private and state-owned companies in fields ranging from energy and transport (with particular reference to the ports of Genoa and Trieste) to engineering and finance. In the latter sector, thanks to an agreement with Bank of China Ltd., Cassa depositi e prestiti (CDP), Italy's main policy bank (for a Canadian equivalent look at Caisse de dépôt et placement du Québec), will be able to issue RMB denominated bonds to support Italian companies in China by raising liquidity from institutional investors operating in China. The two financial institutions also agreed to set up an RMB 4B joint fund to invest in Italian companies. Three agreements were signed to boost Chinese tourism to Italy between the tour operator CTRIP and Aeroporti di Roma S.p.A, Trenitalia S.p.A. and Museo Ferrari.
What gives?
First, with Italy's populist government engaged in an effort to counter a sluggish economy, China's expanding domestic market presents valuable economic opportunities. Second, Rome needs to rebalance a US$20-billion trade deficit with China. Third, improved relations with China can help Rome reduce exposure to its European partners, in keeping with the yellow-green government's drive for a more assertive EU policy.
But Italy has shown interest in the BRI from early on. Located at the heart of the Mediterranean, it occupies a frontline position at the intersection between civilizations, which has informed a foreign policy tradition marked by the early engagement of critical areas like Asia, the Arab world, Iran, and even the erstwhile Soviet Union. In 2015, Rome was among the 57 co-founders of the Asian Infrastructure Investment Bank (AIIB) putting some US$2.5 billion toward its capitalization. And in May 2017, then Prime Minister Gentiloni was the only G7 leader to attend the BRI Forum in Beijing.
In the current atmosphere of great power competition, Rome's decision to endorse the BRI has irked its traditional partners on both sides of the Atlantic, as well as certain domestic constituencies. Deputy Prime Minister Luigi Di Maio had to fly to Washington to provide reassurances a mere one week after the agreements were inked. While commentators expressed mixed reactions, at official levels concerns were voiced that as a founding member of both the EU and the G7, Italy might be lending legitimacy to China, if not falling prey to its "debt trap diplomacy." All things considered, while  Rome's seemingly-audacious move may have taken many observers by surprise, within a month both Luxembourg and Switzerland signed similar MoUs, and German Chancellor Angela Merkel indicated the EU can itself join the BRI once differences on trade issues are resolved. Soon after, in early May, New Zealand became the first Five Eyes country to also join the BRI.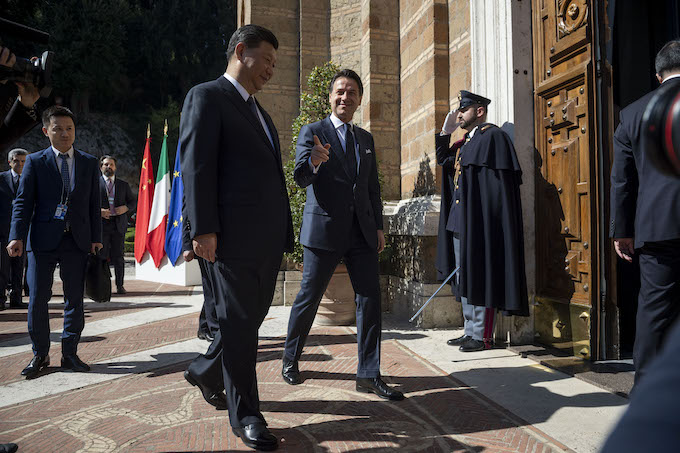 Sure enough, both the BRI and Beijing's trading practices pose a substantial challenge for the West, but these challenges are distinct and different: ostracization will not right unfair practices nor will it stop the BRI. Rather, it is likely to perpetuate the former and prevent any realistic ability to affect the latter, which, indeed, comes partly as a response to a real US$15-trillion gap in infrastructure investment globally.
On Canada's radar?
Although Ottawa may be leaning toward a China pushback agenda, circumventing the world's third largest economy (counting the EU) is somewhat inconsistent with the goal of trade diversification and a tradition of foreign policy independence. While the exercise of prudence toward China's self-serving practices is appropriate, Canada may want to observe how what looks like a fledgling Sino-Italian modus operandi develops going forward.
Like U.S.-created institutions have served to reassure both friends and foes during America's rise, so too could China-led institutionalization offer a similar pathway to work with China as a constructive partner in today's global order. The AIIB, and even informal documents like MoUs, can help partner states to work principles and transparency into the BRI that can alleviate some of its biases and ensure a level playing field. The caveats and references to EU and international norms in Italy's MoUs with China seems to be pushing in that direction. As the debate around Canada's AIIB membership is revived, this is a consideration that forces across the political spectrum should bear in mind.          
Canada, like Italy, is a shareholder in the AIIB, an institution Rome has vowed to involve in the implementation of some of the projects agreed upon with China. Canada expressed an interest in also working with the AIIB, so that will be a further area Ottawa may wish to explore.
At a higher level, offering alternative development pathways– in the spirit of coexistence and complementarity with BRI – would make common, global sense. With the adoption of the Connecting Europe and Asia strategy, the EU has taken that route. Yet, in that context, the plurality of economic and geopolitical interests is such that multilateralism and bilateralism will complement one another. On the other hand, the United States has yet to formulate a coherent overall strategy to fill the global infrastructure gap, though an important Washington think-tank just released a promising blueprint. This is another area whose developments Ottawa may wish to watch. The deal FinDev Canada has struck with the U.S. government's Overseas Private Investment Corp. (OPIC) and the EU to constitute a tripartite development finance instrument may be positive in that regard.
However, as evidenced by the recent arrest in China of two Canadian citizens, Canada-China relations are at their lowest point. The paradox is that this turn of events was not intended by either side. Canada has more to lose from a protracted standoff and despite everything it makes sense to find a shared grammar with China. By playing deaf on the matter, Beijing seems to be conveying its refusal to have ad hoc, selective discussions. While second-track and subnational channels are valuable, it might take a more conspicuous gesture to unlock the situation. However, in a small first step, possibly destined to become part of a multipronged re-engagement, cultural diplomacy, along the lines of Italy's example, could assist Canada in transcending the impasse. Canada too is rich in UNESCO World Heritage Sites. Perhaps, contacts around this shared issue could open up the space conducive to rebuilding good faith.
The views expressed here are those of the author, and do not necessarily represent the views of the Asia Pacific Foundation of Canada.