Amid great fanfare, Indian Prime Minister Narendra Modi invited international businesses to "Come, make in India, invest in India – for India, and for the world" at the eighth annual Global Entrepreneurship Summit in November of 2017. This sentiment echoes his government's ambitious efforts to transform India's economy from primarily revolving around IT call centres and other service industries to becoming a major player in manufacturing the world's goods.
This initiative was initially seen by the world as a step forward in India's commitment to highlight its manufacturing capabilities in order to attract foreign direct investment (FDI) and address gaps in employment. However, three years after the program was announced, observers are now asking: "What has Make in India actually made for India?"
India in the Spotlight: A Need for Reform
In the past decade, India has faced many challenges in terms of its future growth. These include rising unemployment, declining foreign investment, a growing youth population desperately seeking equal work opportunities (over half of India's 1.2 billion citizens are under the age of 26), and an infamously lopsided trade balance.
The election results demonstrated that Indians agreed with Modi's assertion that these factors were not permanent fixtures limiting India's ability to compete on the world stage, but instead opportunities to fix the country's well-chronicled problems. And so Make in India was launched on September 25, 2014, as a program to diversify India's economic portfolio through manufacturing.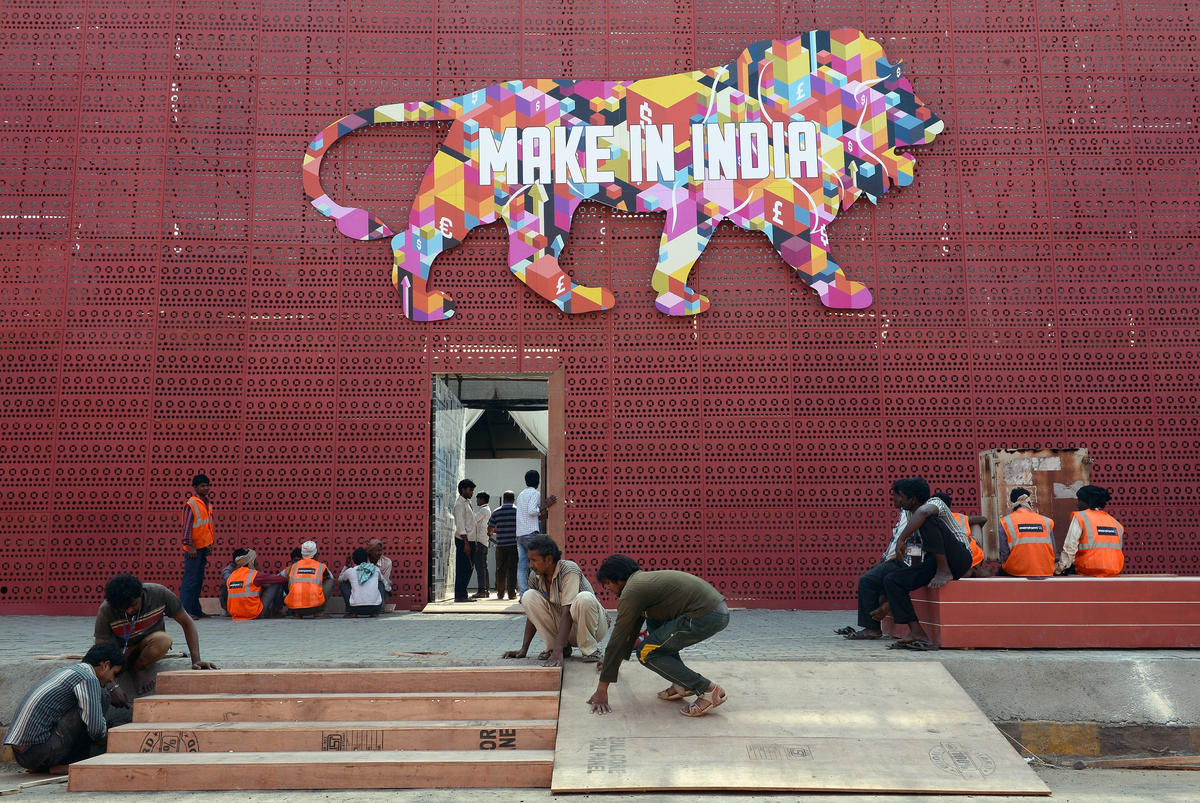 With Indian manufacturing at a distressing standstill, the goals of the campaign were simple. A renewed focus on invigorating a lackluster and abandoned manufacturing sector will drive FDI into the economy. Investment will foster innovation, providing employment for the looming demographic bulge that encompasses what will soon be the world's youngest population.
Modi has championed the initiative as a practical and streamlined method to attract companies to India for the purpose of making their products, rather than merely marketing them there. In its drive to make the abrupt shift from a society predominantly focused on services, Make in India turns the spotlight on goods from 25 industries, from clothing to railways, paper to renewable energy, and pharmaceuticals to submarines. 
This revival of Indian manufacturing tries to cast the nation as a formidable powerhouse in exporting against established competitors, such as China and Southeast Asia. The government's hope is that the initiative will act as a catalyst for long-run growth in other areas where India has historically been intensely overshadowed, such as improving infrastructure, increasing skills training, and relieving pressure on its trade deficit. On the other hand, outsiders saw the potential for the labyrinth of archaic bureaucratic hassles and red tape that clouded the country's foreign policies to be amended or even eliminated, while simultaneously opening India up to investment, public-private partnerships, and expertise.

Transformation Through Manufacturing: How has 'Make in India' Fared?
After the campaign's well-marketed launch, Modi's flagship Make in India policy has given rise to some positive outcomes. In the three years since the introduction of the policy, India's rank in the World Bank's Ease of Doing Business has climbed four places, from 142 in 2014 to 100 in 2017. In addition, in 2015, India surpassed China to become the top destination for FDI in the Asia-Pacific, seeing approximately US$63 billion worth of investment flow into the country.
While the recent policy changes are making solid headway, the sobering fact is that manufacturers still face significant hurdles in the country.  A closer look reveals that, despite the fact that some major companies, like Samsung, have found synergy and opened manufacturing hubs in India, the majority of FDI since the campaign's inauguration is still in the services sector, which attracted 60 per cent of India's total FDI inflows from 2016 to 2017.
The government's ambitious goal to increase the gross domestic product share of manufacturing from a current 16.5 per cent to 25 per cent by 2020 is not yet on track. Global companies have been unsparing in their criticism over the country's poor industrial safety records and failure to enforce environmental manufacturing policies. Vague regulations that have yet to be streamlined, a shallow supply chain ecosystem, and inefficient bureaucracies are additional challenges that remains steeped in the old India. Weak infrastructure has also hindered the Make in India program. While Modi's list of national-building projects showcases growth in infrastructure through the futuristic Smart Cities Mission, the provisions set out for this initiative have not yet come to fruition in a way to stimulate growth in the industrial sector that Make in India needs to succeed.
The campaign also unfortunately appears to be out of sync with the employment realities of India. The unique feature of Make in India's implementation was a structural approach towards creating 100 million new jobs by 2022, giving the manufacturing sector an important role in domestic job creation. But a quickly growing population doesn't equal skilled labour, which the sector requires. The harsh reality may be that the highly skilled resource requirements for the manufacturing sector are out of kilter with the skill profile of India's young up-and-coming labour force. As a result, education and skills may become extremely competitive in order to meet the demands of future employment in the sector.
Looking Forward
Whereas a lot has been done in three short years, it is still too early to call Make in India a success or failure. Regardless, it needs to be recognized for all that it is: An innovative method of thrusting India onto the world stage by building a strong manufacturing base. While the Indian government has begun to address certain issues surrounding the policy, for instance by pledging to provide manufacturing skills training to 500 million people by 2022, the solution to the conundrum of achieving long-term sustainable growth and development still remains out of reach.
The future trajectory of Indian economic development therefore rests in the government's ability to showcase the country as one with a wealth of untapped resources that deserve to be taken advantage of. There is, however, a lot of work that still needs to be done before investors shift their attention away from decades of goods being 'Made in China' to PM Modi's vision for the world to 'Make in India.'
Click here to download our digital chapbook of the entire Inside India series, or read our blogs, below . . .

1. The Path to Becoming an Economic Juggernaut
2. What Has "Make in India" Made for India?
3. Navigating India's Transportation Maze
The views expressed here are those of the author, and do not necessarily represent the views of the Asia Pacific Foundation of Canada and/or J Sagar and Associates, and do not constitute professional guidance or legal opinion.