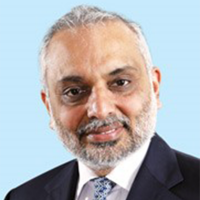 Hari Bhartia
Founder & Co-Chairman, Jubilant Bhartia Group (India)
Hari Bhartia is the Founder and Co-Chairman of Jubilant Bhartia Group (JBG), headquartered in New Delhi, India. JBG has a strong presence in diverse sectors like pharmaceuticals, research and development services, Agri products, food and food services, automotive, and aerospace and oilfield services consulting. Currently, JBG has a global workforce of around 42,000 employees.

Hari is the Co-Chairman and Managing Director of JBG's Jubilant Pharmova Limited, Co-Chairman of the group's Jubilant Ingrevia Limited and Jubilant FoodWorks Limited. The Group, through its investments by Jubilant Pharmova, has a presence in the U.S. and Canada, with around 2,400 employees. Jubilant FoodWorks, another group company, is the master franchisee of Domino's Pizza and Dunkin' Donuts restaurants in India.

A chemical engineering graduate from the Indian Institute of Technology, Hari was conferred the Distinguished Alumni award by his alma mater in 2000. He is a former President of the Confederation of Indian Industry and a member of several educational, scientific, and technological programs of the Government of India. He is a former Chairman of the Board of Governors of the Indian Institute of Management (IIM), Raipur & Indian Institute of Technology, Kanpur. He is currently a Member of the International Advisory Board of McGill University; Chairman of the Board of Governors, Indian Institute of Management, Visakhapatnam; and Chairman of CII-Jubilant Food & Agriculture Centre of Excellence.   

Hari is a member of several CEO forums, including the India-U.S. CEO Forum and the India-France CEO Forum. He is a regular participant at the World Economic Forum Annual Meeting in Davos and is a member of the World Economic Forum's International Business Council; Community of Chairpersons; Global Health and Healthcare Governors Community; and Family Business Community.

Along with his brother Shyam, Hari established Jubilant Bhartia Foundation, whose efforts are directed towards community development with a focus on primary education, basic health care services, and generation programs. He is also deeply involved in the 'Social Entrepreneur of the Year Award – India,' a joint initiative of Jubilant Bhartia Foundation and Schwab Foundation for Social Entrepreneurship to recognize promising and successful social entrepreneurs in India.

He is a recipient of the Entrepreneur of the Year Award at the prestigious AIMA Managing India Awards, presented by the President of India, and the Ernst & Young Entrepreneur of the Year Award (Life Sciences and Consumer Products category).
Hari is married to Kavita, a leading fashion designer and retailer. They have a daughter, Aashti and a son, Arjun.