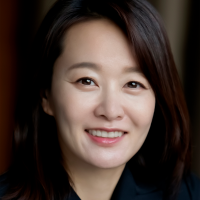 Songyee Yoon
President, NCSOFT (Korea) & Chief Executive Officer, NCWEST (Korea)
Dr. Yoon Songyee provides her visionary leadership as President of NCSOFT (Korea), a global leading video game publisher with more than 4,000 employees. She graduated from the Korea Advanced Institute of Science and Technology and holds a Ph.D. from MIT in Computational Neuroscience based on her research at the MIT Media Lab.
Dr. Yoon's teaching and business focuses on artificial intelligence. Prior to NCSOFT, she was Vice President of Communication Intelligence at SK Telecom, the largest wireless service provider in South Korea, where she led development of the intelligent and personalized data services platform as well as intelligent data services over mobile platforms. She was also instrumental in founding the NCSOFT AI Center, an advanced AI research facility to help further the company's use of AI and machine learning technology.  
Additionally, as a chairperson of the NC Cultural Foundation, she actively engages in diverse philanthropic initiatives, including helping refugees through the UNHCR, and developing and distributing Augmentative and Alternative Communication (AAC) systems to improve communications for the disabled.
Dr. Yoon has been recognized by various organizations for her leadership. She was named one of the "Top 50 Women to Watch" by The Wall Street Journal in 2004, "Young Global Leader" by the World Economic Forum in 2006, and a "Young Leader" by the Boao Forum for Asia in 2007.
She is currently a member of the Advisory Council of the Stanford Institute for Human-Centered Artificial Intelligence and a board member of The Corporation of Massachusetts Institute of Technology (MIT).