Introduction
Noah Holdings Limited, a China-based wealth and asset management company serving clients in Mainland China, Taiwan, and the United States, hosted its first cohort of Canadian interns at its Hong Kong office in the summer of 2018.
The internship with Noah Canada is part of the Asia Pacific Foundation of Canada's Asia Connect program, which focuses on building the Asia competence of Canadian youth. Asia competence is the knowledge, skills, and experiences required for effective engagement with Asia. We believe this helps Canada build a foundation for a strong and thriving Canada-Asia relationship.
Our Experts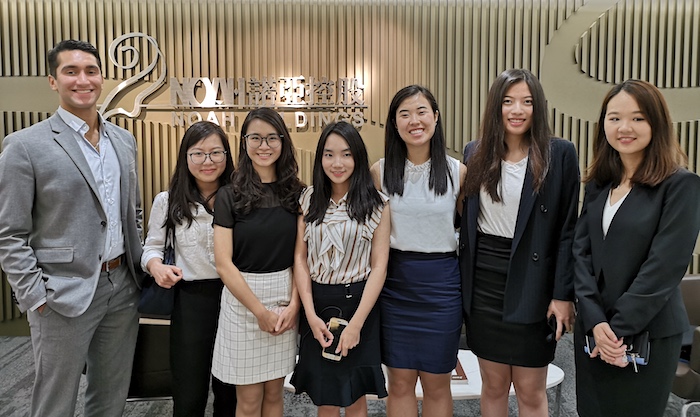 Noah Canada's Hong Kong interns, including Amir Hemani (far left), Michelle Lau (second from right), Annie Liu (third from right), and Angela Yan (third from left).
The Asia Pacific Foundation of Canada interviewed four members of the Summer 2018 Noah Canada/Hong Kong cohort, including:
Amir Hemani, who chatted with us about differences he noticed between the Hong Kong and Chinese work cultures, and how he made the most of his time in Hong Kong.
Michelle Lau, who discussed what she learned from her Hong Kong peers and the colour-coding of chopsticks.
Annie Liu, who chatted with us about what she learned from her internship, and why she's not yet done with Hong Kong.
Angela Yan, who told us about learning to be agile in switching languages and how Hong Kong's energy and work ethic rubbed off on her.
Here are their stories:
Useful Links
The views expressed here are those of the author, and do not necessarily represent the views of the Asia Pacific Foundation of Canada.