There is a growing global consensus – including in Canada – that COVID-19 is here to stay, and that we will need to adapt. China is the exception: the country's official position is that one case of the virus is too many. But China is going to have to change course.
Each day brings a new announcement of a government loosening COVID-19 restrictions. More and more countries in the highly-vaccinated parts of the world are declaring an end to the pandemic. Officials are signalling that they will now treat the virus as endemic, like the common flu. The global decline in positive cases, weak and transient nature of the Omicron variant, and continued vaccination efforts have boosted confidence that it's time to loosen the rules put in place to control the spread of the virus. In late February, Moderna's chief medical offer said that COVID-19 is entering an endemic phase in the Northern Hemisphere.
Denmark became the first European Union member state to lift its domestic COVID-19 restrictions at the beginning of February. Other European countries have also relaxed rules. In the United States, Democratic state governors are joining their Republican counterparts in removing measures maintained during the Omicron wave. "The numbers are coming down and it's time to adapt," said New York Governor Kathy Hochul when she announced an end to state-wide requirements to wear masks and provide proof of vaccination. Ontario Premier Doug Ford said that we must "live with" COVID-19, allowing businesses to reopen in Canada's most populous province. 
Whether or not these moves are premature from a health and science perspective, the pressure to return to a sense of normalcy has become too strong for elected leaders to ignore. Their frustrated constituents, including owners and employees of hard-hit businesses, have grown weary of on-again, off-again limitations on mobility, mask-free movement, commercial activity, and human interaction.
Many countries in the Asia Pacific region are also signalling a change in how they will manage COVID-19. Singapore is simplifying its strict rules and eliminating the requirement for social distancing in mask-on settings. Cambodia, Indonesia, the Philippines, and Vietnam, as well as Singapore, are reopening their borders for foreign visitors to try to revive the severely battered travel and tourism sector.
Amidst the flurry of official announcements on the removal of COVID-19 restrictions, there remains one constant: the refusal of China to budge from its zero-tolerance stance toward the pernicious virus. Having recently hosted thousands of foreign athletes and delegates for the 2022 Winter Olympics without experiencing a COVID-19 outbreak, China again feels vindicated for pursuing a hardline policy that has largely spared it from the ravages of a virus that has killed more than six million people and damaged economies and labour markets globally.
As we wrote three months ago, China is increasingly isolated in pursuing an approach that comes with high costs. Zero-tolerance translates into a prohibition on most foreign travel, draconian quarantine practices, extensive surveillance, localized lockdowns in areas home to millions of people, and periodic shutdowns at ports for mass testing. Enforcing the rules requires substantial state investment in check-and-control and has exacerbated global supply chain problems. The policy has also contributed to the country's slowing rate of economic growth, which the International Monetary Fund now expects to reach just 4.8 per cent in 2022 (compared to, for example, 9.0% in Asia's other huge country, India).
Despite the costs, China remains wedded to its chosen course of action. There is virtually no natural immunity in the population, and homegrown vaccines are less effective than Western counterparts. If COVID-19 were to spread quickly across the country, it would create a catastrophe characterized by an overwhelmed health system, a massive death toll in a rapidly aging population, and calamitous economic impacts both inside and outside China's borders.
Populations in other countries increasingly believe that the COVID-19 crisis is ending, a view reinforced by the widespread lifting of government restrictions. The Chinese people aren't so sure, as lockdowns consistently remind them that the virus remains a threat. The explosion of positive cases in Hong Kong, and in nearby South Korea and Malaysia, also contribute to the perceived threat of COVID-19 to mainland China.
The chart below – based on data from continuous and anonymous surveys conducted by RIWI – shows that most Chinese view COVID-19 as temporary, compared with the majority of Americans who view it as permanent. The gap has only widened in 2022.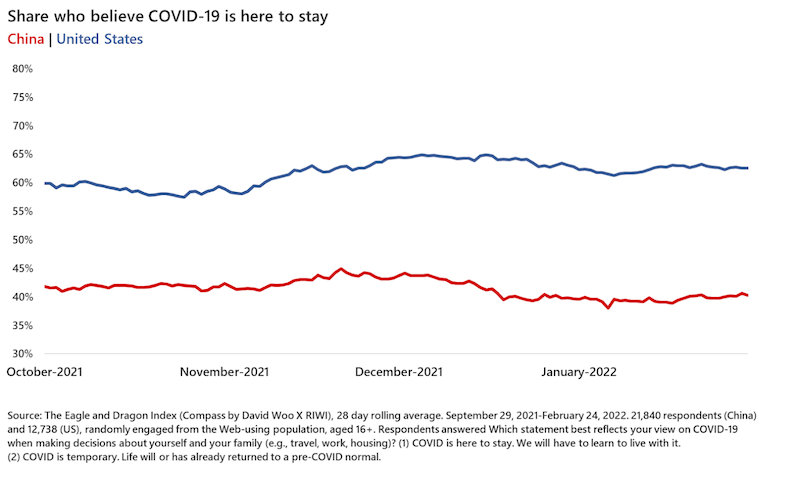 It will become untenable for China to remain an outlier in a world that increasingly views COVID-19 as endemic. To prepare for an exit from its zero-tolerance bubble, China needs a new approach that includes the widespread distribution of vaccines that are more effective than CoronaVac and Sinopharm. In this context, there are ongoing efforts to develop ARCoV, a domestic mRNA vaccine that – like effective vaccines manufactured by Pfizer and Moderna – uses modified messenger RNA from the virus, housed in a lipid droplet, to generate immunity.
An article published on January 24, 2022, in the Lancet reported hopeful results of a study involving vaccination of ARCoV in 120 human volunteers. The study found that the vaccine is safe and well-tolerated at different dosage levels. More testing will be required and, if results continue to be encouraging, the vaccine could ultimately be mass produced and disseminated across the Chinese population, perhaps starting with those who are particularly vulnerable (e.g. the elderly and immunocompromised).
More extensive use of antivirals would provide another source of protection against the virus. In a significant move, China has just approved Paxlovid, the COVID-19 treatment pill developed by Pfizer. This marks the first time that Beijing has authorized a COVID-19 drug developed outside the country. The approval could be a sign that the government realizes that it cannot transition away from zero-tolerance without tools from abroad.
What other steps can China take to bring its approach closer to new international norms while protecting its population? It can selectively open travel channels with countries that have effectively controlled COVID-19, sharpen the targeting of domestic lockdowns, reduce the 14-day quarantine imposed on foreign visitors, and make extensive use of the four-minute COVID-19 test developed by Fudan University (assuming that the test lives up to its early billing).
It will also be important for Beijing to prepare the population for a course correction. Chinese citizens are regularly told that zero-tolerance is the only feasible approach to managing COVID-19. The government will soon need to present a credible narrative that explains a gradual return to more open borders and acceptance of COVID-19 as a manageable ongoing challenge. Given China's prominent role in the Asian and global economies, amending COVID-19 policies that presently hinder international trade and tourism could provide a major fillip to worldwide growth prospects.