Introduction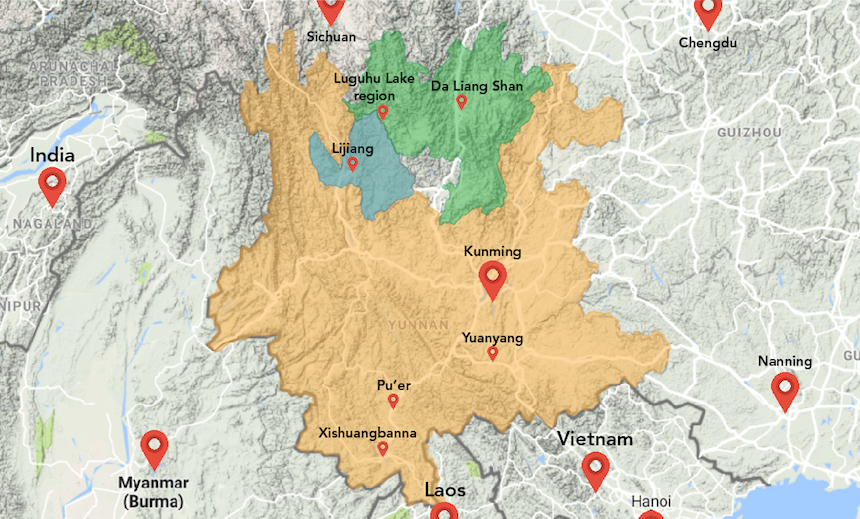 Join us for a virtual field trip to the frontier lands of remotest China! UBC Political Science Professor Yves Tiberghien, along with his writer/lecturer wife Yvonne Xiao Tiberghien and China experts Professor Dayuan Xue (Minzu University of China) and Li Guo (UBC Ph.D. candidate), visit four regions on a field-research mission over three years.
Join the team as they share field observations, interviews, analysis, and photographic reports from four regions:
The Da Liang Shan Region: Land of the Yi people, visited in January 2018. Exploration in this region reveals an amazing richness in biodiversity and traditional Indigenous knowledge in the midst of hard work to eradicate poverty and bring renewable energy to the poorest counties of China.
The Luguhu Lake Region: Land of the Mosuo and Yi, visited in August 2017 and January 2018. The region boasts some of the most pristine lake ecosystems and beautiful mountain parks in Sichuan, along with rich Indigenous knowledge and culture. These areas are at the forefront of an effort to combine eco-tourism, environmental protection, and some measure of wealth and recognition for local Indigenous people.
Lijiang and the ancient Tea and Horse Road: Visited in June 2015 and September 2017. Lijiang is on the UNESCO world heritage list and one of best preserved ancient cities in China. It is the hub of the ancient road linking Tibet with Southwest China and Southeast Asia, as well as a modern hub of ecological and cultural tourism in the region.
Protected natural reserves and traditional knowledge research in Yunan: Visited in June 2015. In this region, various models of biodiversity protection are being tested along with new efforts to recognize traditional knowledge.
In addition to these four regions, the China's Frontier Lands series explores three cross-cutting themes:
Poverty alleviation and what is happening on the ground in terms of economic, transport, and energy revolution, as well as enduring obstacles;
Biodiversity protection and the shift toward green technology, including the implementation of protection targets under the Nagoya Protocol to the Convention on Biodiversity, the creation of national parks and wetland reserves, and the rise of eco-tourism;
The recognition and inventory of traditional knowledge and the empowerment of a new class of cadres from minority backgrounds, in the larger context of the complex history between Indigenous people and Han people, as well as occasional foreign visitors.
All images in this series courtesy Yves Tiberghien
Series Chapters
The views expressed here are those of the author, and do not necessarily represent the views of the Asia Pacific Foundation of Canada.