Thailand's elections on May 14 will be a battle between two longtime foes: the military-royalist establishment parties and the more populist pro-democracy opposition parties challenging the status quo. Among the major contenders is incumbent prime minister Prayut Chan-o-cha, who seized power in a military coup in 2014. One of his major challengers is Paetongtarn Shinawatra, who leads the populist Pheu Thai Party. Also worth watching is Pita Limjaroenrat, whose progressive party, Move Forward, is a relative newcomer and the most willing to take on Thailand's entrenched political institutions like the military and monarchy.
If recent polling is any indication, the election could be a win for populists and progressives. In a poll conducted from April 24 to May 3 of over 114,000 prospective voters, over 38 per cent said they would cast their ballots for the Pheu Thai Party, while 28 per cent said they would vote for Move Forward. Another recent poll largely echoes these results, showing opposition parties in the lead.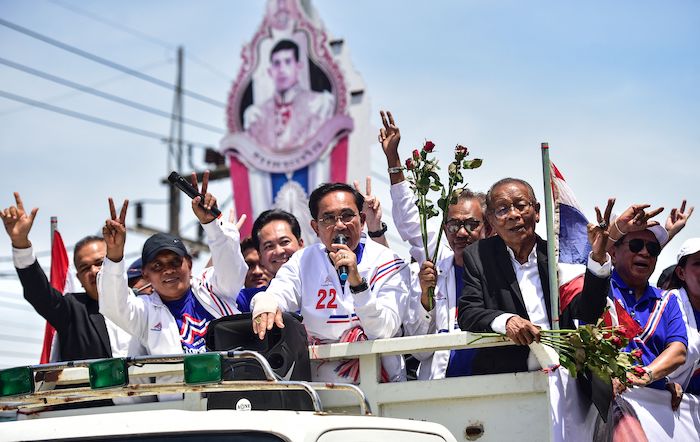 However, structural features of the Thai political system could grant one of the pro-military, pro-royalist parties the power to appoint the next prime minister, even if the populists and progressives outperform them in the vote.
Who are the leading contenders in next week's contest, and how well must the opposition parties perform to upend the status quo?
Pro-royalist, military-backed parties
Prime Minister Prayut Chan-o-cha came to power following the 2014 coup and ruled for five years as the head of the pro-military, pro-royalist Palang Pracharath Party (PPRP). Following the country's previous election in 2019, the parliament appointed him the civilian prime minister after the PPRP, backed by the military, formed a coalition government.
But the PPRP is contesting this upcoming election without Prayut; in early 2023, Prayut defected from the PPRP to join the United Thai Nation (UTN) Party, another pro-military, pro-royalist party that was formed in March 2021. Prayut's reasons for joining the UTN remain a matter of some speculation, as there is little ideological difference between the PPRP and UTN. But it is generally assumed that he felt he had a stronger chance of staying on as prime minister if he threw his lot in with the UTN.
Prayut faces an uphill battle; his popularity has been declining due to high inflation and his perceived mismanagement of the COVID-19 pandemic. Voters may also blame him for Thailand's weak post-pandemic economic recovery, one of Southeast Asia's weakest. The country posted GDP growth of just 2.6 per cent in 2022.
The PPRP's current leader, General Prawit Wongsuwon, who has served as the deputy prime minister since 2019, has been nominated as the party's prime ministerial candidate, turning former longtime allies Prayut and Prawit into competitors vying for the top job.
Populist and progressive parties
The biggest challengers to Prayut's current and former establishment parties are the Pheu Thai Party, led by Paetongtarn Shinawatra, and the Move Forward (MF) Party, led by Pita Limjaroenrat.
Paetongtarn hails from a political dynasty. Her father, Thaksin Shinawatra, founded the now-defunct Thai Rak Thai Party and served as prime minister from 2001 until he was ousted in a military coup in 2006. He drew much of his political support from rural communities. Paetongtarn's aunt and Thaksin's sister, Yingluck Shinawatra, became prime minister in 2011 with the same support base, but was also ousted in the 2014 military coup led by Prayut and his allies. Both Thaksin and Yingluck are living in exile and have been accused of corruption. Their supporters believe these charges are politically motivated. Like her father and aunt, Paetongtarn and the PTP draw much of their support from rural farming communities.
The Move Forward Party is the reincarnation of the Future Forward Party, which was formed in 2018 and won 81 of the parliament's 500 seats in the 2019 election. However, its leader at the time, Thanathorn Juangroongruangkit, was disqualified from parliament because he owned shares in a media company during the election. In 2020, the party was forced to dissolve after it was found to have accepted money from Thanathorn.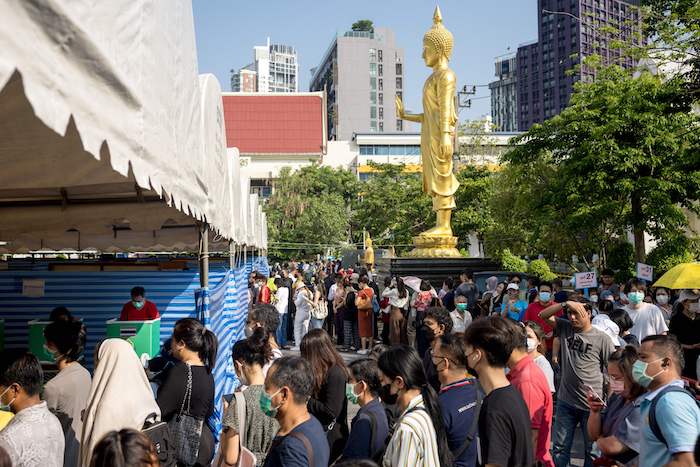 Despite this setback, the party's progressive ideology and many of its members persevered, leading to the formation of the Move Forward Party, with Pita Limjaroenrat as its leader. Pita is a Harvard and MIT graduate and the nephew of a close former aide to Paetongtarn's father. The new party has attracted a considerable following, especially among Thai youth and in the country's urban centres. Move Forward has been pushing for reform of the lèse-majesté, or "royal insult" laws, which were expanded during Prayut's tenure to silence opposition and suppress the growing popular backlash against Thailand's monarchy.
The lèse-majesté law, or Article 112 of the Thai Criminal Code, states that defamatory, insulting, or threatening comments about the king, queen, or regent are punishable by three to 15 years in prison. Move Forward's commitment to repealing this law is one of the main stances distinguishing it from the other leading pro-democracy parties, including Pheu Thai. Despite pressure from activists, Pheu Thai has remained vague on the matter, which may impede its efforts to join a prospective coalition government with other progressive parties like Move Forward. Move Forward has also vocalized its aspiration to create a political culture devoid of vote buying, patronage politics, and political dynasties — positions that will be popular with some voters.
The public sentiment helping to fuel Move Forward's current momentum is reflected in the wave of protests that swept the country in 2020-21. Since July 2020, Thai authorities have criminally charged more than 1,800 pro-democracy activists, opposition supporters, and government critics for participating in peaceful political demonstrations or merely expressing their opinions. Among those charged are more than 280 children, including 41 under 15 years of age. The government recently postponed the implementation of crucial provisions of a law aimed at preventing torture and arbitrary detention. This move may suggest that the authorities intend to maintain all measures available for suppressing protests ahead of — and perhaps after — the elections.
The status quo's built-in advantage
Thailand's next prime minister will be elected by a body of 750 lawmakers — 500 in the lower house and 250 in the Senate. To become prime minister, a candidate must receive at least 376 of these votes, as well as the official approval of the king. Opposition parties have voiced their frustration with the "undemocratic" composition of Thailand's senate; the 2017 constitution, ushered in by the current pro-military parties, grants the military-supported parties an unjust advantage in that it allows the military to handpick all 250 senators.
Hence, the opposition parties, despite their strong showing in the polls, face a structural handicap. The only way to overcome it is to secure a "veto-proof" victory by winning more than 375 out of 500 seats in the lower house to balance the Senate vote, instead of winning a simple plurality of 251, to form a government. In contrast, the pro-military parties would only need a third as many – 126 of the 500 lower house seats – to join the 250 military-appointed senate seats to choose the next prime minister.
If the latter outcome materializes, it could be a source of post-election tension. The pro-democracy protests of 2020 and 2021 and recent polls signal that many voters want a new leader — one who is not aligned with the traditional military establishment. However, the anti-establishment votes are likely to be split between Move Forward and Pheu Thai, making some kind of coalition government a likely outcome of this election.
The military-backed parties have indicated they may form a coalition with each other if no one party wins a majority. Move Forward remains firmly against forming a coalition with military-backed parties to avoid "inter-bloc breeding." However, there has been speculation that Pheu Thai could break with other opposition parties like Move Forward and join the military-backed PPRP to form a coalition government. Whichever party or coalition emerges to lead Thailand will likely have to manage a sharply divided electorate, fierce opposition, and thorny questions surrounding the future of the country's most entrenched institutions.