APF Canada Distinguished Fellow Bart Édes attended the Astana International Forum in June. This article summarizes his views on issues discussed at the forum. 
Along the ancient Silk Road, a modern, multimodal transportation corridor is being developed to transport cargo, oil, and electricity between Asia's eastern edge and the heart of Europe. The Trans-Caspian International Transport Route, also known as the Middle Corridor, connects containerized rail freight networks and highways from China through Kazakhstan, the Caucasus and Turkey. Ports in Azerbaijan, Kazakhstan, and Turkmenistan facilitate water transport on the Caspian Sea.
The intercontinental route promises to shorten transport time and distance compared to the existing Northern Corridor (Trans-Siberian Railway), which traverses Russia, a country that many shippers would rather avoid these days. The Middle Corridor also stands to absorb some of the container load currently moved by sea through the Suez Canal.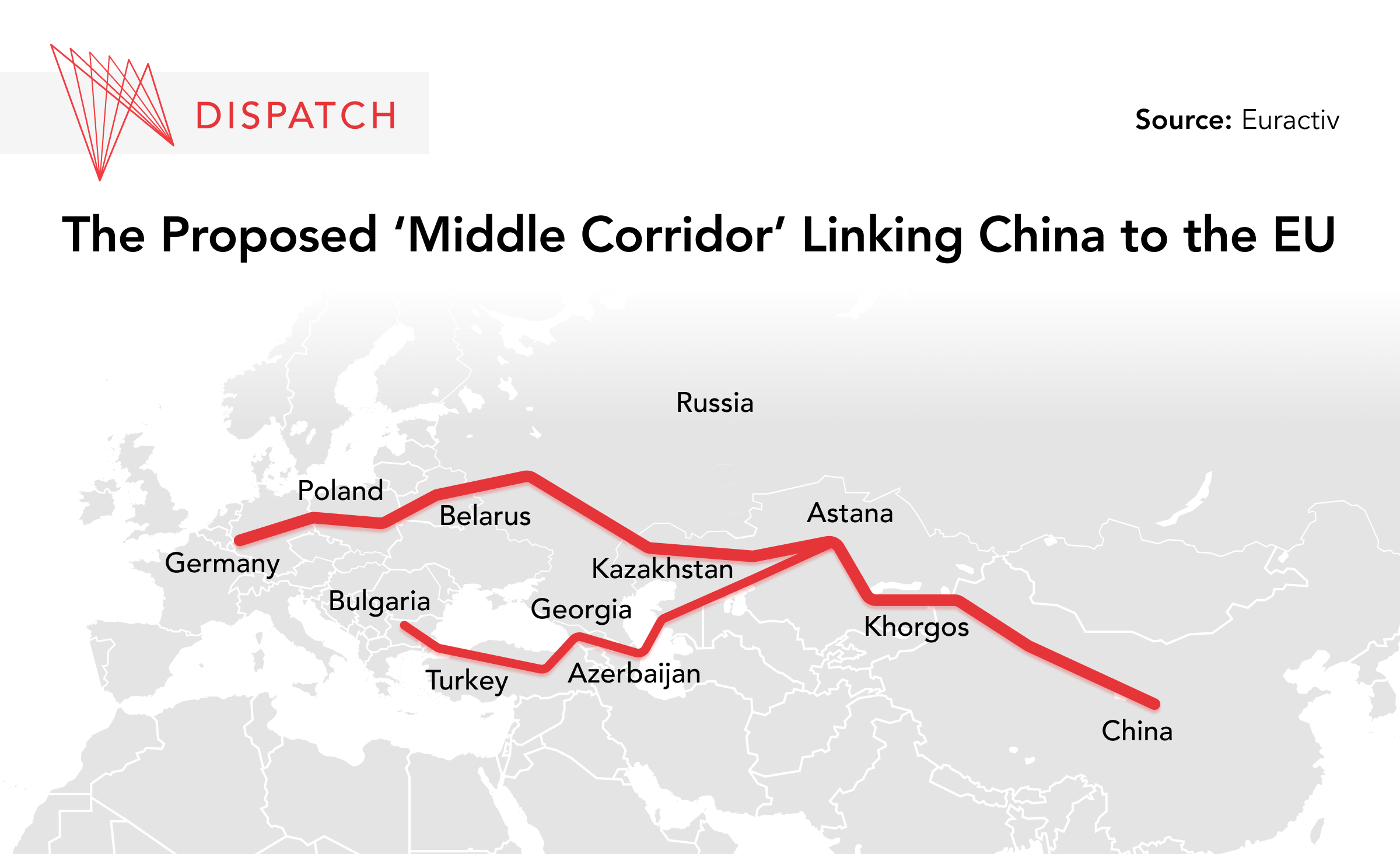 Once fully built up, the route will reshape intercontinental economic geography while offering diversification of supply chains within a broader framework of Eurasian connectivity initiatives. These include the Beijing-backed Belt and Road Initiative, the North-South Corridor, and transportation projects supported by national governments and the Central Asia Regional Economic Cooperation program.
Speaking at a media briefing ahead of the recent Astana International Forum, Roman Vassilenko, deputy foreign minister of Kazakhstan, stated that "our strategic position in the heart of Eurasia and credibility as a bridge builder on the international stage means that we are well-suited to bring together representatives of different countries and regions." Landlocked Kazakhstan is a vocal proponent of the initiative, seeing it as a critical component of a national strategy to enhance connectivity and diversify its trade.
In May 2023, the main railway operator in Kazakhstan entered into an agreement with PSA International PSE Ltd., a Singaporean ports and supply chain solutions provider, to contribute to Middle Corridor development through activities that include the organization of single commodity freight trains (i.e. block trains) and provision of station-to-station products and services.  
Azerbaijan is one of Kazakhstan's main partners in assembling the pieces to create a substantially upgraded Middle Corridor. Azerbaijan is situated at the geographical nexus between Europe and Asia and serves as an important transport and logistical hub. In 2018, the country inaugurated the multimodal Port of Alat, 70 kilometres south of Baku. That port is likely to take on increasing importance as a critical transport juncture in the years ahead.
Yet, considerable work remains to be carried out to realize the full potential of the Middle Corridor. At present, the movement of large volumes of cargo between Caspian Sea ports is hindered by the prevalence of small ships and irregular shipment schedules. Further, the body of water is not always navigable. At the same time, port and terminal capacity along the route is much larger than the volumes currently transported. Companies can buy bigger ships that are more resilient to weather conditions but will only consider investing in them if they can reasonably anticipate increased volumes of goods to be shipped.
Those involved in the planning for the Middle Corridor are aware of the key actions that must be taken to create an attractive alternative to other intercontinental transport routes. Such actions include improving inter-operability between rail systems, digitalizing and harmonizing customs and transport documents, building container hubs and grain terminals, developing the rolling stock fleet, setting up logistical centers, revising land use policies, and linking and upgrading transport and infrastructure across participating countries.
One sticky problem is how to handle Iranian and Russian ships arriving at Caspian Sea ports, given the plethora of international sanctions that have been applied to both states.
Critical to making steady progress in forging a modern, seamless Middle Corridor is effective co-operation among all the countries along the route. The establishment of a co-ordination platform involving concerned governments and other stakeholders, such as multilateral funders, could help to address the multitude of planning, financing, and implementation issues; target bureaucratic obstacles; and set up regular and reliable freight schedules.
Billions of dollars of investment will be required to upgrade and supplement existing infrastructure. Key decisions must be made about whether to invest primarily in a "central" or "southern" land route for the Middle Corridor. Likely sources of financing include the European Bank for Reconstruction and Development, the World Bank Group's International Finance Corporation, and Chinese state-owned banks that support Belt and Road Initiative projects.
As the various components come together, the Middle Corridor will reshape trade connectivity across the vast Asian continent, strengthen regional cooperation and integration, introduce new investment opportunities, and stimulate economic growth along its trajectory. It will also lessen dependence on congested maritime routes and offer an alternative route for moving goods, mitigating disruptions caused by geopolitical tensions and international sanctions.