In March, Canada's Chief Public Health Officer and Co-chair of the Special Advisory Committee on COVID-19, Dr. Theresa Tam, publicly proclaimed the widespread use of non-medical masks "not beneficial." Ten days later, citing new findings about asymptomatic and pre-symptomatic transmission, her language softened into a "permissive statement" in which she declared face masks a possible additional measure in preventing the spread of the virus. Almost six weeks later, the Committee issued "a specific recommendation" that non-medical masks be worn in public – when physical distancing is not possible.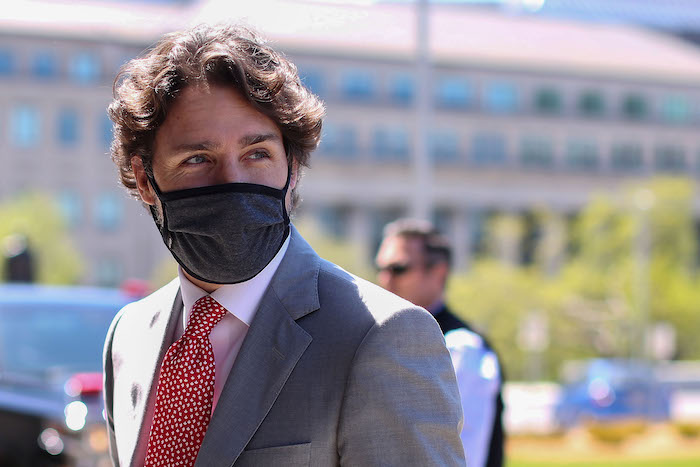 The confusion felt in countries like Canada as governments and health agencies appear to flip-flop in their messaging about face coverings is not shared in many parts of Asia, where masks have been a low-cost part of the anti-COVID arsenal from the outset. It is time to examine the experiences of mask-positive cultures and see what we can learn.
Mask-wearing in Asia . . . government support  
Taiwan has distinguished itself as a champion in the battle to flatten the curve, with an infection rate of one case per 54,000 residents – more than 100 times lower than Canada's. Taiwan's success, despite never resorting to a lockdown, has been credited to many elements of its pandemic response, including masks. The government began in late January to co-ordinate mask supply, distribution, and pricing. To break its reliance on mask imports from China, Taiwan upped domestic mask production and banned exports. Operating round-the-clock, Taiwanese manufacturers went from producing 3.9 million masks per day in January to over 15 million per day by late April. To ensure access, the government instituted price controls, rationing, and linked distribution to the national health insurance program. Taiwan has also stood out for its use of technological innovations, particularly apps for pre-ordering masks and checking real-time stock levels at pharmacies and convenience stores. Developed by Taiwan's hacking community in co-operation with the government, these mask apps have been used by more than 10 million people.
In February and April, Singapore's government handed out more than nine million masks to its 5.6 million residents through two campaigns run out of community centres. The second campaign came on the heels of a surge in community spread and was soon followed by a requirement that masks be worn in all public places. Fines for non-compliance were set at around C$290 for a first offence, and foreign residents in violation could have work passes and PR statuses revoked. After a three-month effort to ramp up local production and secure a robust supply chain for the import of raw materials, the government held a third distribution exercise in late May, with each household having access to four reusable masks through pick up at community centres or specialized vending machines supplied by gaming accessory maker Razer, whose global operations are based in Singapore.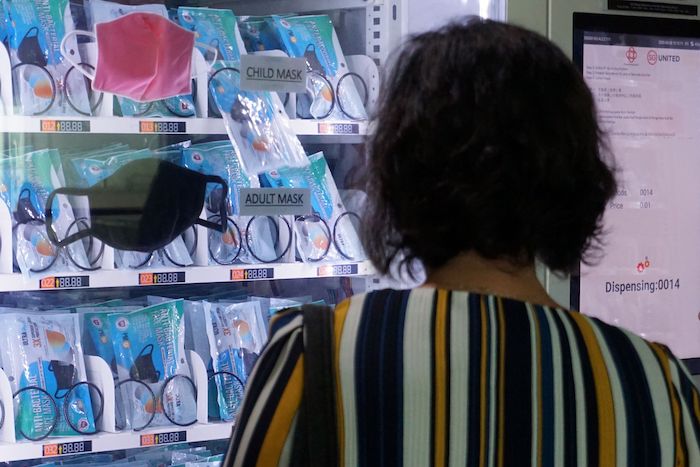 In Japan, a ban on the resale of masks for profit came into effect on March 15, with violators subject to penalties of up to five years in jail or C$12,700 in fines. Throughout March, a "mask team" made up of 40 civil servants from three government ministries (Health, Labour and Welfare; Economy, Trade, and Industry; and, Internal Affairs and Communications) organized the distribution of free masks for the elderly and disabled, as well as children and pregnant women. On April 1, in response to a rise in infections and a shortage of masks for purchase, Prime Minister Shinzo Abe announced a national campaign to deliver two reusable masks to every household to alleviate public "anxiety." From that point, Abe was consistently photographed wearing masks at press conferences, in parliament and when travelling. In mid-April, the Ministry of Economy, Trade and Industry asked Japanese manufacturers to help increase the production of masks and other PPE (Personal Protective Equipment) for the domestic market, offering capital investment subsidies, regulatory flexibility, and guaranteed purchase of any resulting reserves. Electronics maker Sharp's attempt, one week later, at online mask sales led to the website crashing as 4.7 million people applied for 40,000 available boxes. Fellow electronics manufacturers Panasonic and Hitachi immediately announced plans to enter the mask market.
When South Korea had its first reported case of coronavirus on January 20, the intense demand for face masks resulted almost immediately in long lines, low stocks, price gouging, and rising anxiety. In late February, as cases spiked and recognizing the growing crisis, the government intervened by assuming control of mask manufacture and distribution. Korea's approximately 140 mask manufacturers were told they could export only ten per cent of their total production, and that fifty per cent had to be sold to the government for distribution to health-care workers and for sale at a reduced price to over 20,000 pharmacies nationwide. By March 5, the percentage designated for government purchase was increased to 80 per cent, and by late March it had risen to 90 per cent. Incentives were introduced to encourage 24-hour production, such as supplying mask makers with machinery and paying a premium for masks manufactured on weekends. Masks were distributed to pharmacies based on a quota system, and purchases were rationed to two masks per week per person.
Mask-wearing in Asia . . . public practice
In light of the proactiveness of these governments in ensuring mask access, it is worth noting that none of these actions were accompanied by enforced guidelines for mask-wearing. In fact, the only Asian country to have universally mandated masks before April was Vietnam, where they have been required since March 16, and the rate of infection is one per 294,876 people. The eagerness of these governments to promote masks in the fight against coronavirus is based on hard lessons learned from previous pandemics such as SARS, MERS, and H1N1, an understanding of public feeling, and the fact that mask-wearing is an established cultural norm.
In East Asia in particular, masks are a common sight and have many functions. In Japan, the average adult is estimated to go through 43 disposable masks in a typical year. In South Korea, 19 per cent of respondents in one survey stated they regularly wore masks before the COVID-19 outbreak. A 2011 report suggested that one in five Taipei residents wore face coverings in the city. Masks are worn to protect from pollen, pollution, and sun, and to stop germ transmission, hide a blemish or an unmade-up face, or signal a lack of desire for social interaction. In a February 2020 survey asking Japanese about their concerns relating to COVID-19, 49 per cent of respondents identified a lack of access to face masks as a source of anxiety.
Mask-wearing in Canada . . . a matter of mandating?
As restrictions ease, masks have become a flash-point in jurisdictions across Canada. Without explicit regulations in place, municipalities, organizations, and businesses are setting their own rules, leaving the public to puzzle what is required and when. In this climate of confusion, a recent opinion piece by the Globe and Mail's editorial board entitled, "Yes, It's Time to Make Masks Mandatory," argued governments should stop recommending mask use and create clear rules by legislating it in public, close-contact places. As Asia teaches us, however, mandating mask use is only partly on point. What has made masks so prevalent in parts of Asia has not been making mask-wearing essential, but making it possible. Through active, granular intervention in mask manufacturing, supply chains, exports, pricing, and distribution, governments have implicitly promoted mask use by making them prominent and available, such that wearing a mask to combat the spread of COVID-19 becomes a given.