More than a decade ago, Vancouverite Dean Nelson put forth a radical idea: Support local communities in advancing LGBT (lesbian, gay, bisexual and transgender) inclusion and combat homophobia and transphobia at mega sporting events worldwide. The idea led to the concept of 'Pride House,' modelled after traditional Olympic hospitality houses. Pride Houses are venues dedicated to LGBT athletes, coaches, fans, and allies during major sports events. Since the first Pride House at the 2010 Winter Olympics in Vancouver, Canada, Pride Houses have been established at major sporting events in a dozen countries, attracting more than 50,000 visitors. The journey of inclusion has included many ups and downs, and it is far from over. As Beijing prepares to host the Olympics on February 4, many have wondered whether the government of China's recent crackdown on LGBT representation means that inclusivity promoted at other recent Games will be banned at the 2022 Winter Olympics.
From Vancouver with love: A decade of Pride House
When Nelson learned that the Olympic Games were coming to Vancouver in 2010, he reached out to contacts at the Resort Municipality of Whistler and Vancouver Organizing Committee (VANOC) with an idea that had never been tried before: Create a safe and welcoming venue at the Vancouver Olympics specifically dedicated to LGBT inclusion in sports. Nelson, a social entrepreneur and the Executive Producer of the successful Gay Whistler Ski Week, called the venue 'Pride House.' It was particularly significant for citizens of countries where homosexuality remains illegal, including 13 countries where the 'crime' of being gay is punishable by death.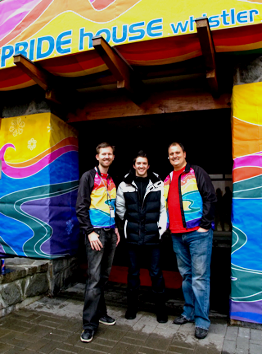 The Pride House experiment was a well-attended success in Vancouver and Whistler, but it did not end after the 2010 Olympic Games. Instead, the movement continued growing with a total of 18 international Pride Houses to date. Pride Houses have appeared at sporting events from the FIFA World Cup to the Hockey World Championships, in locations from North and South America to Europe and Asia, including most recently at the 2020 Summer Olympic Games in Tokyo.
An uphill battle for LGBT equality in Japan
The Pride House at the Tokyo Olympics became a focal point for the hotly-debated issue of LGBT rights in Japan. LGBT people experience a range of social and legal challenges in contemporary Japan, the only G7 country that does not legally recognize same-sex unions. While opinion polls in recent years indicate high levels of support for same-sex marriage among the Japanese public, a 2020 survey of more than 10,000 LGBT people in Japan found that 38 per cent had experienced harassment or assault. Discrimination on the basis of sexual orientation and gender identity is banned in some cities, including Tokyo, though many LGBT people report being afraid to disclose their identity for fear of personal or professional repercussions. It is not illegal, for example, for someone in a same-sex relationship to be fired from their job, to be denied an apartment, or to be refused access to their hospitalized partner. Until the past decade, such barriers went mostly unchallenged, and LGBT people in Japan remained mainly on the fringes of society, with very few people speaking out publicly about these issues.
That changed in 2015 when a group of activists successfully lobbied Tokyo's Shibuya district to become the first Japanese municipality to begin issuing "partnership certificates" to same-sex couples who wished to marry but had no legal recourse to do so. Among other changes, the certificates ask that hospitals grant access to same-sex partners and provide protection for transgender people sometimes turned away from voting booths. The process was replicated in other municipalities throughout Japan, and roughly 130 municipal governments now offer some form of same-sex partnership certificate to residents who wish to apply. Proponents of the certificate system argue that it marks a new LGBT-aware era in Japanese society and could lead to more significant changes, such as national same-sex marriage recognition. Critics say that the certificates lack legal authority and only apply within the municipalities in which they are issued, meaning they are little more than symbolic. These same critics also feel that the certificates are a Band-Aid to relieve pressures on the national government to make significant changes to same-sex marriage laws.
Meanwhile, an ongoing series of activities is adding momentum to the quest to change Japan's policies around LGBT issues. In March 2021, a district court in Sapporo ruled that the country's non-recognition of same-sex marriage is unconstitutional. Though the ruling had no immediate legal effect, many have speculated that the suit could open the door to further challenges at the national level. Japanese popular support for same-sex marriage is at an all-time high, and an increasing number of cities in Japan now hold annual gay pride marches and parades. While national laws in Japan have yet to embrace same-sex marriage equality, a growing list of prefectural, municipal, and grassroots activities is circumventing the national government's approach at different levels. For example, Tokyo Governor Yuriko Koike recently announced that the same-sex partnership system will be introduced for all of metropolitan Tokyo in 2022, meaning that more than half of Japan's total population will now be covered by the certificate system.
Debates and activities around LGBT rights in Japan are not only taking place at the local and national level, but are also connecting with transnational movements, debates, and bilateral economic relationships, including with Canada. The Pride House at the 2020 Games represents one of these connections, as a quietly subversive movement with roots in Vancouver and Whistler. But Pride Houses have not always been well-received. Indeed, as Nelson explained, in some locations, the idea has been explicitly banned, or faced less overt barriers that have made them too difficult for organizers to pull off.
Pride House challenges and bittersweet victories
A direct challenge to Pride House came during the 2014 Sochi Games in Russia, when it was banned altogether by the Russian government on the basis of "inciting propaganda." The ban led to a series of virtual Olympic Pride events worldwide to take the place of the in-person experience in Russia.
In the aftermath of Sochi, in 2015, the Korean Sexual-Minority Culture and Rights Center began preparations for a Pride House at the Pyeongchang 2018 Olympic Games. As fundraising efforts and planning got underway, however, it became apparent that hopes for a Pride House at the Games might not come to fruition. South Korea is a nation where being openly LGBT is challenging, and limited public discourse on LGBT rights meant that the process of securing funding and a venue was exceedingly difficult. Recognizing these challenges, the Canadian Olympic Committee stepped in to lend a hand. Offering to co-host a Pride House section within Canada House, it was the first time a national Olympic committee directly affiliated itself with the Pride House initiative. And so, while 2018 marked the first Pride House to be established in Asia, Canada House enabled it to have a physical presence at the Pyeongchang Games, a partnership underscoring the difficulties of LGBT inclusion in many parts of the world.
Pride House Tokyo 2020
Organizers of Pride House Tokyo in 2020 were more successful in their efforts to raise awareness of local LGBT issues, creating inclusive hospitality spaces, events, and entertainment during the Tokyo 2020 Olympic Games. Working across corporate, organizational, and activist sectors, Pride House Tokyo also included the opening of Japan's first permanent LGBT centre, 'Pride House Tokyo Legacy,' in Tokyo's Shinjuku district. Pride House Tokyo Legacy brings together 35 non-profit organizations, dozens of activists, 15 corporations, and 20 embassies in Tokyo to create a safe and secure place to broadcast information on and by the LGBT community in Japan. The centre offers resources to LGBT people and provides a multipurpose space to host various events. It also includes a library to house Japan's first 'LGBTQ Community Archives' documenting the history of this community in a country where living with social marginalization can be difficult.
A movement divided
Pride House Tokyo, aligned with the 2020 Tokyo Olympics motto of 'Unity and Diversity,' mobilized an image of Japan as an open and cosmopolitan country where diversity (including gender, sexuality, ethnicity ability, and other markers of difference) is embraced as a welcome asset. But some activists in Japan question whether the 2020 Games actually lived up to its slogans. A series of interviews by the author with Japanese LGBT activists between October and December 2021 revealed that many were hesitant to support the Pride House initiative, for several reasons.
One activist's criticism is that Pride House Tokyo relied too heavily on corporate connections: "Pride House Tokyo works closely with corporations, and they are able to raise a lot of money. But that money doesn't really benefit LGBT people in Japan. It only benefits corporations' image to seem more inclusive, friendly, and therefore profitable." Another activist explained that Pride House Tokyo, while helping to raise awareness of LGBT issues in Japan, also reinforces a longstanding imbalance between visibility for LGBT people in the Tokyo mega-metropolis as opposed to people living in rural communities more distant from the urban core. An activist in the northern region of Tohoku, for example, commented: "For me, Pride House was only ever symbolic and could never really deliver any lasting impact on the everyday lives of LGBT people outside of Tokyo. But LGBT people live in all areas of Japan, not only in the big city where all the attention and resources already are." 
Skeptical views like these have been reinforced by the lack of significant social change resulting from hosting the risky pandemic-era Games. Often framed as a vehicle to accelerate social movements related to identity and diversity and showcase the host country's embrace of liberal democratic values as a sign of modernity, many had hoped that Tokyo 2020 would add momentum to already existing movements for LGBT equality because of its "diversity" theme. But those hopes have yet to fully materialize, and critics say that inclusive slogans like those of the so-called 'Unity and Diversity Olympics' actually ring as hollow as an abandoned sports stadium.
Dashed hopes for lasting change
Ahead of the Games in 2020, activists tried to hold the Japanese government accountable to its own equality rhetoric as an Olympic host country. A petition with more than 106,000 signatures submitted to Japan's ruling Liberal Democratic Party (LDP) called for a nationwide LGBT equality law to be enacted before the international event. The petition claimed that, as a host nation, Japan should live up to the Olympic Charter banning gender and sexual discrimination. The LDP had initially suggested it would pass the legislation ahead of Tokyo 2020 as part of its pledge for a "diversity Olympics." Disappointing those who had hoped to see major changes enacted, however, the LDP abandoned plans to submit the bill just ahead of the closing of the regular session of the Japanese Diet and roughly two months ahead of the Games.
Matsunaka Gon, head of Pride House Tokyo Legacy, shared his disdain for this lack of action on the part of the government, commenting that: "The Olympic Charter clearly bans discrimination. This is a breach of the contract with the International Olympic Committee." Still, some argue that Governor Koike's planned 2022 implementation of the Tokyo-wide, same-sex partnership system shows that initiatives like Pride House can still leave a lasting legacy.
Vancouver Pride House impacts still reverberating
In Canada, Dean Nelson pushes back against the notion that Pride House has no long-term impact, even in the harshest environments. "Pride House is a concept, and each host nation has the freedom to evoke what that means to them on a local level," he explained, pointing out that even banning Pride House in Russia eventually yielded lasting changes in the way the International Olympic Committee approaches diversity. "Don't forget that banning Pride House in Sochi meant that the IOC updated Principle 6 to include LGBTQ inclusion," he notes. Indeed, after the Sochi Pride House controversy in 2014, openly gay Vancouver City Councillor Tim Stevenson and a delegation travelled to Sochi to lobby the IOC to amend the Olympic Charter to explicitly prohibit discrimination on the basis of sexual orientation. The IOC subsequently approved an amendment to specifically include non-discrimination concerning sexual orientation in Fundamental Principle 6, which now states: "The enjoyment of the rights and freedoms set forth in this Olympic Charter shall be secured without discrimination of any kind, such as race, colour, sex, sexual orientation, language, religion, political or other opinion, national or social origin, property, birth or other status."
Nelson also argues that Pride House was never meant to be a panacea or to bring about major social change all on its own. "The idea behind Pride House has always been to provide an opportunity for temporary safe space and recognition of gender and sexual diversity among athletes and their supporters," he explained. "We in Canada had simply hoped that with Pride House 2010 we would inspire other Olympic host destinations as well as other national and international sporting bodies – FIFA, Commonwealth Games, and others – to embrace the concept."
Will the Pride House torch be passed to Beijing?
According to Pride House organizers, there are no plans in place to host a Pride House Beijing. With opening ceremonies starting February 4, evidence suggests that the Chinese Communist Party is doubling down on hostility towards LGBT people and anyone who doesn't follow traditional gender norms. Last summer, for example, popular Chinese social media platform WeChat shut down the accounts of LGBT college groups, alarming students and members of the LGBT community. Later that fall, the government announced a ban on showing "effeminate men" on TV. This week, just ahead of the start of the games, the popular gay dating app Grindr abruptly disappeared from Chinese app stores. Such actions have prompted some to suggest that China's treatment of LGBT people should be included in human rights violations cited by Canada, Australia, the U.S., and roughly six other countries in their diplomatic boycott of this year's Beijing Olympic Games. Regardless, it is not likely that China will change its tune on LGBT issues any time soon.
Nelson believes it is not surprising that Beijing seems to be following a similar trajectory as the Sochi Games, banning any attempts at human rights-related discord, including around LGBT issues. The pandemic-era Games and the strict health measures in place around social gatherings, as well as the censoring of any LGBT-related information, make holding a Pride House exceedingly difficult. Nelson expects that, instead, other countries will host their own LGBT-friendly events outside of the official Beijing Games docket. Meanwhile, organizers report that the next scheduled Pride House will be in Birmingham this year for the Commonwealth Games. Regardless of the difficulties of hosting a Pride House in Beijing, Nelson maintains that "it is wonderful to keep the torch burning and inspiring a new generation to lead the charge." However, questions remain as to who will lead such a charge, and analysts will be watching to see whether Pride House (or other LGBT initiatives) can keep the torch burning in Beijing and beyond.