Autumn leaves, crowded pubs, passionate fans, and of course, keeping tabs on Don Cherry's suits. Hockey season is well upon us. As is customary around this time of year, Canadians across the country have been tuning-in to CBC's Hockey Night in Canada to watch their favourite National Hockey League (NHL) teams play at home and away. But this year, a West Coast hockey event took place modestly and on the sidelines of the annual NHL spectacle: the "Harmony Through Hockey" exhibition series.
Not to be confused with the American Hockey League's (AHL) 2007 program under the same name, this "Harmony Through Hockey" tour was a weeklong exhibition series between the Chinese women's national ice hockey team and four local women's teams across British Columbia. Although a seemingly small-scale event, the tournaments were live-broadcast to China by CCTV, China's largest state-owned broadcasting network. In other words, the significance and importance of this hockey exchange to China should not be understated.
2022: Hockey Night in China?
Taking a step back, the Harmony Through Hockey program is part of an ongoing effort to build up China's fledgling ice hockey capabilities and to grow an ice hockey culture amongst Chinese sports fans. In addition to the touring program for the Chinese national women's hockey team, other signs point to an attempt to promote the sport in China as well. For instance, China has recently founded its first professional men's ice hockey club, the Kunlun Red Stars, which signed on to the Russian-led Kontinental Hockey League (KHL) earlier this year. 
To make better sense of this budding hockey trend in China, let's fast-forward a few years. These ice hockey programs are strategic – they are part and parcel of China's need to build its winter sports capacities in preparation for the 2022 Winter Olympics, to be hosted in Beijing. And indeed, as exhibited by events like the extravagant 2008 Beijing Summer Olympics and the opening performance for the 2016 G20 Summit in Hangzhou, China is a country that will go to great lengths to ensure an impressive, successful, and problem-free show to an international audience. The 2022 winter Olympics is certainly no exception.
However, China is not a country known for its prowess in hockey, nor for its performance in winter Olympics, for that matter. Compared to China's strengths in various events during the summer Olympics, the only time Team China entered the top ten medal count in any winter games was during the 2010 Winter Olympics in Vancouver. This is where Canada's expertise in winter sports comes into play. That is, China's preparation for the 2022 games, although seemingly far removed from today, presents itself as a unique opportunity to diversify the Canada-China relationship and for Canada to step up its soft power game.
Canada's Home-Ice Advantage: Hosting the Host of 2022
China is already well aware of Canada's strengths in the winter sports industry, the mature culture surrounding winter sports amongst Canadians, the sporting infrastructure, and the ability to use and procure resources to host a successful large-scale winter sporting event. This is why Vancouver was chosen as one of the first winter Olympics cities for the Chinese 2022 Olympics delegation, which resulted in the high-profile "Beijing Meets Vancouver" forum for Vancouver to share its hosting experience and expertise with the visiting delegation. This forum was part of a larger, weeklong event of sporting and charitable activities organized by the Canada-China Sports Foundation (CCSF) last year.
CCSF is a new Canadian non-profit organization dedicated to fostering greater exchange between Canada and China through sports. In fact, CCSF was also the organization in charge of mounting the Harmony Through Hockey tour. Although the tour opened with a 4-1 loss against the University of British Columbia's (UBC) Thunderbirds, according to Wu Zili, tournament organizer and Secretary General of CCSF, this was "an opportunity [for the Chinese team] to play tournament games and get training in Canada, the top ice hockey nation in the world." And from the Canadian side, Thunderbirds' Head Coach Graham Thomas expressed that tournaments such as these "are amazing cultural exchange and experiences for the players [and] great exposure for the entire UBC community and great international relations."
Indeed, the goals and aims of CCSF exemplify how Canada-China relations – including relations not only between the two countries, but also communication and mutual learning between Canadians and local Chinese diaspora communities – can be enhanced through sporting events and sports platforms at the grassroots level. Furthermore, all CCSF event proceeds are donated to local charities, such as the Vancouver General Hospital Foundation and the Pacific Autism Family Centre opening in November, illustrating how the two cultures can use sports as a platform to make a positive contribution to local society. Of course, while there is much to benefit from having Canada host visiting Chinese delegations and athletes, China's preparation for 2022 is also a prime opportunity for the Canadian winter sports industry to tap directly into the Chinese market.
Playing the Away Game: Opportunities in China
In China, central and local levels of government are already planning to roll out different programs in attempts to assemble a new generation of medal-winning sports teams in time for 2022. For instance, the capital city of Beijing announced very recently that it plans to include sports like ice skating or ice hockey as a compulsory course for primary and middle school students. Such a move would require not only hiring and bringing in more coaches and trainers, but also providing the resources to accommodate the new classes, including ice rink facilities, appropriate sporting gear, and educational and marketing resources to enhance the general awareness and understanding of these sports among targeted audiences.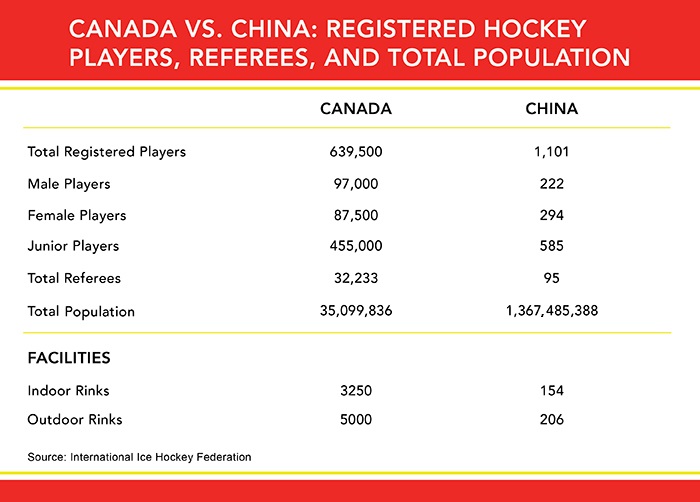 Such ambitious and costly endeavours spell out opportunity for countries like Canada that are already well-seasoned in winter sports. In fact, major North American hockey franchises have already jumped at their own opportunities: the NHL's Vancouver Canucks, for instance, have partnered with companies like Century Star Skating Club and Air Canada to hold hockey summer schools in China for children. According to hockey coach and industry expert Aaron Wilbur, who has spent years of his career personally championing the development of hockey initiatives in China, these camps aim to grow appreciation for the game across Asia from the grassroots level.
From a more commercial standpoint, another NHL franchise has also jumped onto the China bandwagon. The Boston Bruins recently signed a five-year contract with Beijing-based company, O.R.G. Packaging, to provide hockey training clinics for child and youth players. The first installation of this program, the "Bruins go Global: China 2016" trip, took place this past summer, where, like the Canucks, the participating Bruins members were able to impress themselves upon the next generation of China's budding hockey stars. But in addition to that, the partnership with O.R.G. provided many commercial benefits to help push the Bruins brand further into China. This included a feature on the very popular Chinese beverage Wang Zai Milk, and a high-profile roundtable event to "discuss growing the sport of hockey in China with Chinese officials, state media and industry insiders," according to a blog on the team's official website. As the first few NHL teams to form partnerships with China, the Canucks and the Bruins will continue to make a mark on China's still young and relatively inexperienced hockey industry.
Aside from industry giants, China's ambition to grow its winter capabilities is also an opportunity for small- and medium- sized businesses (SMEs). This is especially the case when it comes to developing China's hockey infrastructure. For instance, while we commonly see "made in China" logos stamped onto sports gear, the irony is that China imports most of its sports equipment from overseas. As observed by hockey player, Sean Collins, although there is a plethora of factories dedicated to making hockey sticks in China, there are few resellers, and his China-based team relies on China-made equipment imported from abroad.
As a twenty-seven-year-old Saskatchewan native, Collins is an example of how young and rising Canadian athletes can also use a growing Chinese winter sports industry as a window of opportunity to advance their own careers and make their mark in the sports scene. A former player on the NHL and AHL, Collins has just signed on to join the Kunlun Red Stars, and even scored the first KHL regular season goal in Kunlun's franchise history. According to Collins, glory aside, his experience in China has also been a valuable platform for him to expand his own hockey career into a different international setting, share his professional league experience with his teammates, and learn from his very multicultural peers at the same time.
In the 1970s, the world saw the effects of "Ping-Pong diplomacy" between China and the United States. Now, in working towards 2022, perhaps "Harmony Through Hockey" presents itself as an opportunity to strengthen and diversify Canada-China relations. This is an opportunity to champion and spread Canada's soft power and for the Canadian winter sports industry – including major sports franchises, SMEs, and athletes – to carve out a spot in China's budding winter sports scene.