Facebook, Twitter and WhatsApp are old news. A new trendsetter, LINE Messenger, has emerged on the scene in Asia. LINE has become such a success over the past few years because of its innovative ideas, which have branded the corporation not only as a messaging app but also as a holistic brand with games, shopping, TV shows and more. LINE Messenger as a result has become one of the top five messaging apps in the world.
The History of LINE
LINE was inspired by the tragic 8.9 magnitude earthquake and following tsunami that occurred in Japan in 2011. Since most phone systems were down at the time, NHN Japan, a subsidiary of South Korean Internet company Naver, created LINE so people could contact family and friends in crises like this. Within two years, LINE reached 200 million users. To compare, it took three years for Facebook to get 58 million users.
Since then, LINE's popularity in Asia has rapidly increased. In Indonesia, the number of users is expected to increase from 62.6 million to more than 81 million individuals by 2018. Meanwhile, the Market Intelligence Centre, a Taiwanese government-sponsored institute, has stated that LINE is the most popular messaging app in Taiwan, ranking higher than its competitors: Facebook, YouTube, WeChat and Instagram.
Popularizing the Brand
In order to attract a larger customer base, LINE has been expanding to numerous countries outside of Japan. Most of these overseas users are in Asia – specifically Indonesia, Taiwan, and Thailand, where LINE has been extremely successful in entering the mobile messaging sphere. At the beginning of 2016, almost 70 per cent of total monthly account users were from these three countries plus Japan.
But how has LINE taken Asia by storm? One of the main reasons for its success is the localization strategies LINE has used in each country to draw in more customers. Its creative way of localizing ideas has set LINE apart from its other competitors: from LINE Friends to a range of unique features for users, such as games, webtoons, shopping, streaming TV shows, and even online payments.
Localization of the App
Localization has been the main approach used by LINE to attract users. By working with local companies, LINE provides a service that feels more familiar to users. For example, in Indonesia during the 2014 Ramadan celebrations, a month-long Muslim holiday, LINE published stickers of its LINE Friends celebrating the holiday with fireworks and fasting. The company also used a similar strategy in Taiwan, when it teamed up with Chunghwa Telecom to create free Lunar New Year stickers during the 2016 celebrations. By catering content to local audiences, LINE engages users through specific content for each market. 
Another LINE feature that has helped localize the app is LINE TV, which allows users to watch popular TV shows and music videos from Korea and Japan as well as each of the respective local countries. LINE sources some of the content for its video service from local providers in each of the countries in order to adapt the content to local audiences. In the case of Indonesia, romance dramas and movies are especially popular among Indonesian society so LINE capitalized on this by filming a 10-minute long YouTube video that was a mini sequel to an iconic Indonesian romance movie. The video successfully advertised a specific LINE feature that helps long lost acquaintances reconnect, a feature unique to Indonesia because of the importance of alumni networks in Indonesian culture.
Messenger Branding Meets Lifestyle
LINE has also attempted to use a brick and mortar strategy to enhance the presence of its brand in certain countries. Taiwan is one such example where two LINE stores have set up shop in Taipei to sell a variety of LINE merchandise, including plushies, stationery and clothing. Four LINE mascots also became brand ambassadors as large figurines were placed in the stores to draw in crowds who wanted to take selfies with their favourite LINE characters. In 2014, a temporary LINE theme park was opened in Taipei, which prominently featured official merchandise as well as artwork from LINE designers, allowing fans to creatively interact with the company's contents. LINE even paired up with health and beauty store Watsons, allowing users to collect stickers that can be redeemed for LINE merchandise. Not only has LINE been successful in giving the app both a digital and physical presence, but it has also been able to market LINE as a holistic lifestyle brand, rather than solely as a messaging app.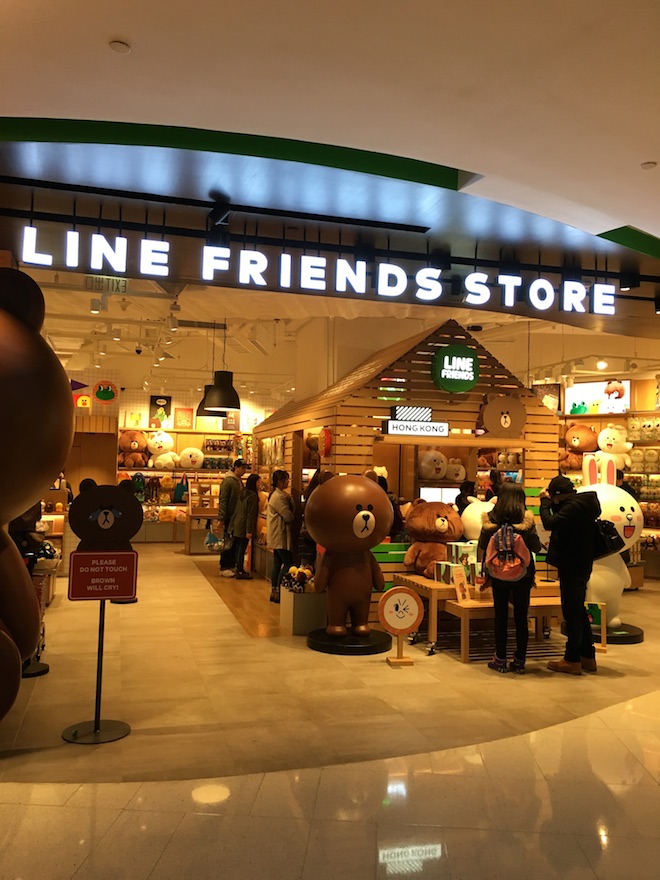 An Official LINE Character Merchandise Store
Platform Extensions
Using the growing popularity of e-commerce, LINE has also expand its market base by creating various platform extensions. In Taiwan, LINE Corporation created a LINE Mart app, an e-commerce online shopping platform, where the company strategically collaborated with local retailers such as ABC Mart, a popular shoe vendor, in order to bring local goods to the online store. Users were furthermore able to pay for their items using the LINE payment app, a local e-payment collaboration between LINE Corporation and Taiwan's Cathay United Bank.
Another example is when LINE collaborated with transport company Go-Jek in 2016 to provide a motorbike taxi on-demand service. LINE also provides other on-demand taxi services in Japan, but this one is unique and localized in that motorbike taxis are much more efficient in congested cities like Jakarta. Meanwhile, in Thailand, the company introduced LINE Man, a professional services assistance app. Using a fleet of motorcycles, users in Bangkok can now use various services such as a 24-hour delivery service for packages, a food delivery service through Wongnai, a Thailand restaurant review app similar to Yelp, and the LINE Man delivery service which can pick up and deliver items from a local 7-Eleven store. The success of LINE Man in Bangkok may see further expansion into other LINE markets where useful delivery services can help gain traction with more users.
LINE in North America: A Possibility in the Distant Future
With all the exciting new features available in Asia, some North American users may be wondering when LINE will attempt to localize in the Canadian and US markets. In 2013, LINE attempted to enter the American market but faced fierce competition from incumbent messaging apps such as WhatsApp, Snapchat, Twitter, iMessage and traditional text messaging. LINE CEO Takeshi Idezawa has stated that for now the company will focus on expanding in its four main Asian markets (Japan, Taiwan, Thailand, and Indonesia), meaning that users in North America will have to wait before the company attempts any sort of localization in the Canadian and US markets. If LINE can use its experiences of localization from its Asian markets and apply them here, LINE may be able to brand itself as more than a "messaging app" and bring more innovative competition to the North American market.