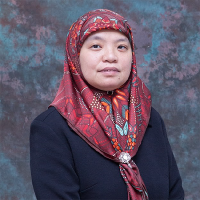 Hafimi Abdul Haadii
Director and Shareholder, LVK Group of Companies (Brunei Darussalam)
Hafimi bte Abdul Haadii is Director/Shareholder of the LVK Group of Companies, a group of companies with diverse interests from travel services, interior design and trading to international trade and logistics, project management and turn-key integrated projects.
She is a founding member of the Young Entrepreneurs' Association of Brunei (YEAB), was President from 2012 to 2013 and YEAB Advisory Member starting 2014. She served as YEAB's Coordinator for the ASEAN-China Young Entrepreneurs' Association (ACYEA) from 2008 to 2013 and was the Chair for the 5th ASEAN-China YEA Forum held in 2013.
In 2012, she was appointed as a member of APEC Business Advisory Council (ABAC) for Brunei Darussalam, Hafimi has served as Co-Chair (ABAC-Sustainability Work Group -2015) & current Co-Chair (Micro, Small & Medium Enterprise Working Group-2017 & 2018. In 2019, she will take on the role of Chair for ABAC – MSME Working Group.