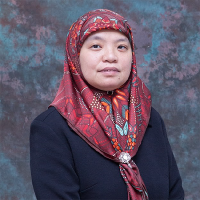 Hafimi Abdul Haadii, ABLAC 2022 Vice-Chair
Executive Director of LVK Group of Companies (Brunei Darussalam)
Hafimi Abdul Haadii is from a 3rd generation business family in Brunei Darussalam and currently Executive Director of LVK Group of Companies. Her formative years were spent in Brunei, New Zealand and Australia. She is an Appointed Member of the Legislative of Brunei Darussalam since 2016 and is the Chairperson of Competition Commission of Brunei Darussalam since 2018.
She is a founding member of the Young Entrepreneurs Association of Brunei in 2000, and its President from 2012-2013. From 2008-2013 she was part of the team which started the ASEAN-China Young Entrepreneurs Forum with Brunei successfully hosting the 5th edition of the Forum in 2013. Till today the cause of young entrepreneurs remains very much at the core of what Hafimi enjoys outside of her other roles.
In 2013 Hafimi was appointed to the APEC Business Advisory Council as a Member for Brunei Darussalam and had several active roles as a Woking Group Chair (2019-2020) & Co-Chair (2017-2018) for ABAC's Micro, Small & Medium Enterprise and Entrepreneurship Working Group and Co-Chair (2015) for Sustainable Development Working Group.
Hafimi is a member of Brunei's Digital Economy Council, University Brunei Darussalam Council and previously on Manpower Planning Council of Brunei. She holds Board positions with the Brunei Economic Development Board, Darussalam Enterprise, Bank Usahawan and UBD Corp.
Within the community, Hafimi chairs the Yayasan Sultan Haji Hassanal Bolkiah Foundation's Committee on Social Enterprise Strategy, initiating a living incubation project called "Ristaan Abadi di Kg Bolkiah."
She is an Old Geelong Grammarian and an alumnus of Deakin University holding a Bachelor of Arts and Bachelor of Architecture (Honours) and in 2019 was awarded the medal of P.S.B.( The Most Blessed Order of Setia Negara Brunei-4th Class)