Mongolia, a landlocked country of a little over three million people, took early and intensive preventative measures against the COVID-19 outbreak. The country's approach to repatriation has been a key component of it response to keep the number of cases low. As of May 4, it had only 40 recorded cases (all imported cases), or one for about every 80,000 residents. After closing its borders and cancelling all international flights and trains to limit the mobility of travellers, Mongolia began the staggered repatriation of its citizens in February, followed by the enforcement of a strict quarantine schedule.
This has arguably helped keep community transmission low in the country but public policy decisions facing Mongolia's government are anything but easy. This dispatch explores the country's repatriation policies and processes, and the associated public health and political fallout.
Early and decisive action
Mongolia cancelled all flights to and from China on February 1, and as the outbreak spread beyond China, suspended all outbound and inbound flights to South Korea and Japan at the end of the month, while only accepting non-Asian flights under strict medical supervision. When Mongolia reported its first COVID-19 case on March 10, the government stopped all inbound and outbound flights until the end of May.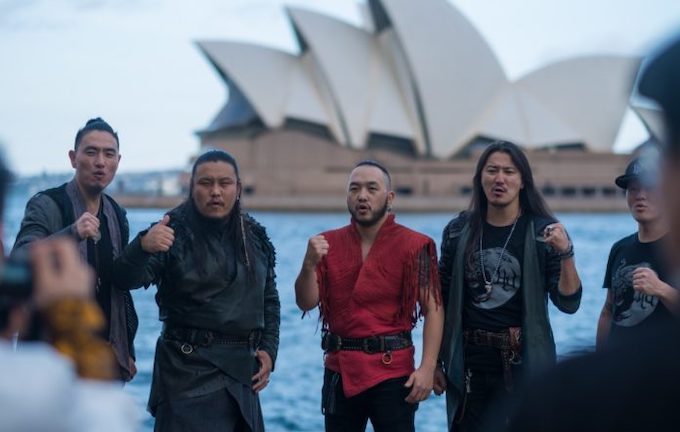 The suspension of air travel has meant that Mongolian nationals abroad attempting to return home have had limited options. As of April 28, 9,890 Mongolians in 35 countries have requested repatriation, including members of the beloved Mongolian band, The HU. Of the stranded nationals, 800 are students, 4,000 are facing financial hardship due the outbreak, and the rest include elderly, children, and pregnant women. The Mongolian government has carried out eight charter flights to date, bringing back 1,803 citizens from five locations, and repatriated an additional 282 citizens from Russia and 58 citizens from China by bus in mid-April. 
The first chartered repatriation flight was on February 1. It brought back a total of 31 people, including one baby, from Wuhan, the epicentre of the novel coronavirus. After the successful evacuation, the passengers and the flight crew were isolated at the National Centre for Communicable Diseases (NCDD) for 14 days. According to authorities, all expenses for the flight – C$74,000 – were covered by the government. It was not until March, however, that Mongolian Prime Minister Khurelsukh Ukhnaa announced a broader repatriation initiative.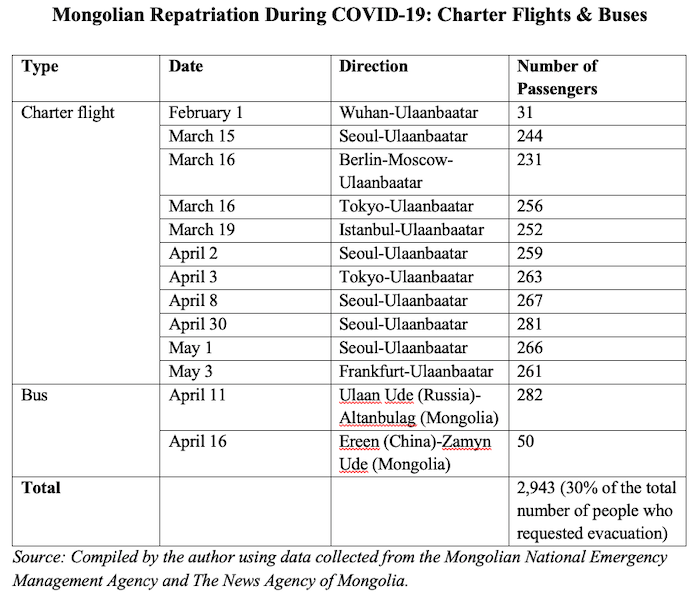 Throughout March, 983 nationals were evacuated on four government chartered flights, with evacuees required to pay around C$330 towards the airfare depending on the point of departure. Upon return, all passengers, cabin crew, and medical professionals working aboard and supervising the passengers' health are taken directly to government designated isolation facilities for the mandated 14-day quarantine. Currently, there are 23 such facilities, including public and private hospitals, hotels, and resorts around the capital of Ulaanbaatar. During the mandatory quarantine, adults are required to pay C$25 per day for themselves and C$15 per day for any minors (age 6-18), while children five and under are exempt from payment. The government has covered any miscellaneous expenses beyond airfare and accommodation. 
Problems and solutions
The NCCD detected 14 cases of COVID-19 among the repatriated by the end of March. Even though this represented only about one per cent of the total number of evacuees at the time, the State Emergency Commission (SEC) decided on March 27 to extend the mandatory quarantine period from 14 to 21 days and to test all returning nationals before boarding chartered evacuation flights. The government allocated an additional C$250,000 to pay for the extended one-week quarantine period so as to not burden the evacuees with unexpected costs.
Despite this government support, not everything is rosy for Mongolia's repatriated citizens. While in quarantine, individuals do not have access to their luggage which the government holds for 14 days in the national custom warehouse after it's disinfected. There have been complaints about the quality of food, about the small size of rooms (two-to-three people per room) in the designated facilities, and about the restricted access to families and loved ones. Some evacuees have instigated physical altercations or consumed alcohol against regulations. Considering these circumstances, the SEC decided at the end of March to isolate evacuees on a one-person-one-room basis, while children are still isolated with their families.
In April, the government repatriated nearly 1,070 people from Seoul and Tokyo on four flights and 332 people from China and Russia on buses; in early May, 527 people returned home from Seoul and Frankfurt. Despite Mongolian health authorities requesting passengers be tested for COVID-19 prior to boarding evacuation flights, only those flying from South Korea were tested prior to departure. Those on evacuation flights from Japan were not tested on account of Japan's current policy to only carry out testing for individuals with fevers. As of May 4, there are 1,041 people under observation. After being discharged from quarantine, the repatriated nationals must self-isolate for two additional weeks. In addition to carrying people, the aircraft returning from South Korea also transported 3.8 tonnes of cargo including medicine, hospital equipment, and diagnostic devices for COVID-19.
Political tensions, human rights
As more COVID-19 cases were discovered among those repatriated via charter flights in March, the chair of the opposition Democratic Party of Mongolia, Erdene Sodnomzundui, criticized the government's repatriation efforts. He said the evacuations threaten Mongolians' health and safety by importing the virus with evacuees and that the government should be preparing for the coming economic crisis rather than spending "recklessly" on evacuations. Furthermore, he accused the government of organizing the flights to bring back the family members of high-level officials stranded abroad.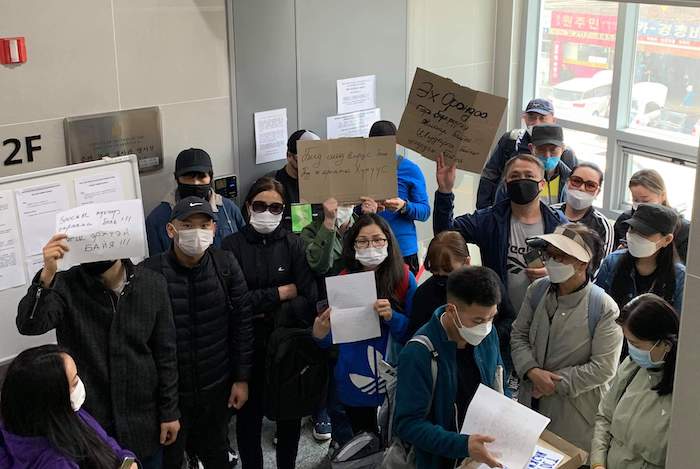 Protesters at the Mongolian Embassy in South Korea in late April, 2020 seeking passage home. | Photo: Courtesy Munkh-Erdene
Following criticism from Erdene, Prime Minister Khurelsukh, Chair of the Mongolian People's Party, stated that the government would not leave anyone stranded abroad and that repatriation is a human right for all Mongolians. However, as of May 4, the country has evacuated only 30 per cent of the total repatriation requests. With regard to its containment measures for COVID-19, the Mongolian government has emphasized that it has been providing an environment free from community cases internally and that it plans to keep the domestic economy running by lifting some restrictions on public facilities such as resorts and gyms. However, there are still thousands of desperate Mongolians stuck overseas, with some even organizing a protest on April 27 outside of the Mongolian embassy in South Korea and requesting the Mongolian government send more flights.
Challenges and successes

Mongolia's approach to repatriation is a component of its conventional efforts to contain the spread of the virus. While the government has stated that repatriation is a Mongolian human right, it is doing so in a way that does not overwhelm the country's ability to quarantine returnees and care for and track those who show symptoms of the virus. The country's success at keeping COVID-19 in check can also be partially attributed to banning incoming international flights and slowly but steadily repatriating its citizens.
To date, Mongolia has repatriated 30 per cent of the people looking to return (compared to Canada, which has brought back 80 per cent of people wishing to return home).This approach to repatriation, however, has caused some disquiet for those returnees stuck in quarantine and for those individuals and families looking to return home without any financial support in this unprecedented situation.