2019 certainly did not lack for excitement. Our team of research experts has tracked it all this year in our Asia Watch newsletter, from political disruption and social unrest to trade war and diplomatic defiance. Right on the heels of 150-plus years of the founding of Canada, 2019 was also a year of milestone anniversaries in the Asia Pacific. Ninety years of Canada-Japan diplomatic relations, 70 years since the formation of the People's Republic of China, and 30 years since the Tiananmen incident.
Looking to the end of a decade of anniversaries, thoughts now turn to a dynamic year ahead. Welcome to APF Canada's sixth annual year-end dispatch where our research team turns its collective gaze to the future. Reviewing a year's worth of Asia Watch dispatches we highlight the trends, the newsmakers, the current events from 2019, and what we'll be watching in Canada-Asia relations in 2020.
We hope these stories enliven your thoughts and conversations this holiday season.
1. CHINA: Clampdown in Xinjiang

A million people in detention 'graduate' . . .
China has interned over one million ethnic Uighurs and other minorities in the country's northwest since 2017 as part of its "strike against violent terrorism" campaign. In a possible response to mounting international criticism, Xinjiang's regional chairman announced in mid-December the "graduation" of those held in "re-education centres" and that future education programs will be "voluntary."  These graduations remain unverified by international sources or by the families of detainees. The announcement followed the leak of 403 pages of internal Chinese documents, called the Xinjiang Papers, exposing the extent of indoctrination camps in China. They also revealed the systematic nature of repression, with clear strategies to sensitive scenarios like explaining sudden disappearances to worried family members. Escapees from these facilities who find asylum have told stories of widespread abuse.
Global backlash over 'internal affair' . . .
The Xinjiang Papers renewed and intensified ongoing international objections to China's mass detentions, with the U.S. Congress passing the Uighur Intervention and Global Humanitarian Unified Response Act in early December. The bill forbids the sale of technology that could be used in Xinjiang, and seeks sanctions on Chinese officials involved in the repression. China's government has defended its re-education efforts as necessary to eradicate extremism, manifested in attacks within the province and in the cities of Kunming, Guangzhou, and Beijing. Authorities attribute the recent lack of violence in and outside Xinjiang to its security strategy, including the vocational camps, and increased surveillance through CCTV networks enhanced with facial recognition software. China is increasingly adamant in demanding non-interference in what it considers an internal matter, warning tough countermeasures if necessary.
Tied hands . . .
Testimony from escapees will keep the plight of detained Uighurs and other minorities alive in the global agenda in the coming year. But safely retrieving the two Michaels and ensuring stable trade relations will likely take priority in Canada's foreign policy over addressing abuses in Xinjiang. In the coming year we believe the world will remain divided on this issue, as countries will look to balance trade and economic prosperity with human rights, and international action will remain weak. Expect repression in Xinjiang to spill over to the development and deployment of artificial intelligence technologies like facial recognition worldwide, as China increasingly exports its surveillance technology and takes leadership in setting global standards.
2. INDIA: Democracy Under Threat

Goodbye autonomy, hello assimilation?
First came the army, then the curfew and communication shutdown, and finally the BJP-led Indian government abrogated Article 370 of the Indian Constitution in August, stripping the erstwhile state of Jammu & Kashmir of its degree of autonomy within India. With the curfew in place, Indian forces arrested top Kashmiri politicians and officially broke the state of Jammu & Kashmir into two new territories – Jammu and Kashmir, and Ladakh, a Buddhist majority region. The Modi government unilaterally revoked Article 370 without any public consent, clamping down on dissent, and claiming to have done so in the "best interest" of the region and its people. Protesting citizens of the Muslim-majority region have been forcibly silenced.
Identity crisis . . .
"We are Kashmiris, not Indians," is an often heard phrase in the region from the people who have long claimed a political identity distinct from the rest of India. Article 370 dates back to 1947, when the independent princely state of Jammu & Kashmir acceded to India in return for India's help in defending it from Pakistan. Caught in the middle of Pakistan and India, J & K became an area riddled with insurgency and terror attacks. Kashmiris who grew up amidst the armed conflict began demanding freedom from India for reasons that go beyond religion and are entrenched in regional geo-politics and power dynamics.
A long way from 'heaven on Earth' . . .
Mughal emperor Jahangir once marvelled at the beauty of the Kashmir valley and touted it as heaven on earth. But events over the last few decades have turned the valley into something quite the opposite. India's actions in J & K have been condemned most strongly by Pakistan and China, both of which have territorial interests in the region. In 2020 we'll be watching to see if the BJP government will use the revocation of Article 370 as a means to further assimilate the region by encouraging a non-Muslim population to move into and own property in the area. We'll also be watching to see if the two new territories benefit socio-economically, how the situation will play into India-Pakistan tensions, and if China's criticisms will turn into action to protect its interests in the region. As Canada works toward a potential free trade agreement with India, the Kashmir issue may prove an uncomfortable sticking point.
3. HONG KONG: City in Crisis

Tipping point . . .
Hong Kong looks considerably different at the close of 2019 than it did at the start of the year. Strolling through the usually-bustling Hong Kong neighbourhoods, onlookers will find no lack of protest graffiti on walls and pavement. This is ironic for a city whose main problem was said to be political apathy. How did we get to this point? It all started when hundreds of thousands of people marched peacefully in April against the government's proposed extradition bill, which would allow criminal suspects to be transferred to mainland China. Over the course of a few months, weekly standoffs between protesters and the police became increasingly violent. Public spaces, from the airport to university campuses and subway stations, have transformed into battlefields, as both sides exchange petrol bombs and tear gas canisters.
A protracted protest . . .
The Basic Law of 1990 was supposed to guarantee that Hong Kong would be given universal suffrage to elect its chief executive and legislators. But there has been very little progress since Hong Kong's handover to China in 1997, and many have grown impatient. The 2014 Umbrella Movement was the first warning sign that an increasing number of activists were ready to embrace a more radical approach to advocating for democracy. Many analysts see the protests today as a continuation of the 2014 movement.
Battleground 2020 . . .
Hong Kong's next Legislative Council election is scheduled for September 2020. Of the 70 legislators on the Council, 35 will be elected directly through five geographical constituencies, with the remaining elected under functional constituencies, such as trade and professional groups. Unlike the District Council election late 2019, the Legislative Council election carries significant political weight given the Legislature's powers, such as enacting or repealing laws and approving government budgets. In the coming year we will be paying close attention to Beijing's Hong Kong-related policies leading up this election. If Beijing continues to harden its posture, which also affects the interests of the 300,000 Canadian expatriates living in the city, the Canadian government may be pressured to respond.
4. REGIONAL: Climate Inaction

Disasters continue to hammer the Asia Pacific . . .
The Asia Pacific is one of the most vulnerable regions to climate disasters because of its extensive coastlines, low urban altitudes, and ill-equipped infrastructure. A slew of devastating typhoons, earthquakes, heatwaves, floods, droughts, fires, and pestilence in 2019 highlighted this vulnerability. And if immediate climate-related threats were not enough, rising sea levels threaten to displace hundreds of millions of people by 2100. Altogether, UNESCAP estimates that the annual cost of disasters in the Asia Pacific amounts to 2.4% of the region's GDP, or US$675 billion.
World leaders dishonor commitments . . .
COP25, the United Nations climate change conference, was held in Madrid in December, and ended in discord and frustration. COP25 is a key mechanism for the implementation of the Paris Agreement, which challenges countries to take ambitious steps to combat climate change. But recent developments have been discouraging. Not only has the U.S., the world's second largest carbon emitter, withdrawn from the Agreement, but most Asian countries, including Indonesia and the Philippines, have struggled to implement their mitigation projects due to short-term alliances and changes in administration. China, the largest global carbon emitter, has made the most progress in meeting its 2020 emission targets in advance and is on track to meet its 2030 targets. India has also made significant progress. This is due in part to the fact that both economies have made massive investments in the renewable energy sector.
Resilience at last . . .
Governments in Asia deal with the consequences of recurrent calamities. Among others to demonstrate resiliency, Japan has made significant commitments to humanitarian assistance and disaster relief operations, conducting joint maritime exercises with India. Indonesia, for its part, is strengthening housing infrastructure through its home improvement subsidy program. These achievements will be worth little, however, if carbon emissions continue to grow at their current rate and global temperatures rise by 4 C by the end of the century, as many cities would become inhabitable. We can only hope that a transition to a low-carbon economy will mitigate climate change and boost the Asia Pacific economically through the development of new technologies, particularly in the renewable energy sector.
5. PACIFIC ISLANDS: Island Shopping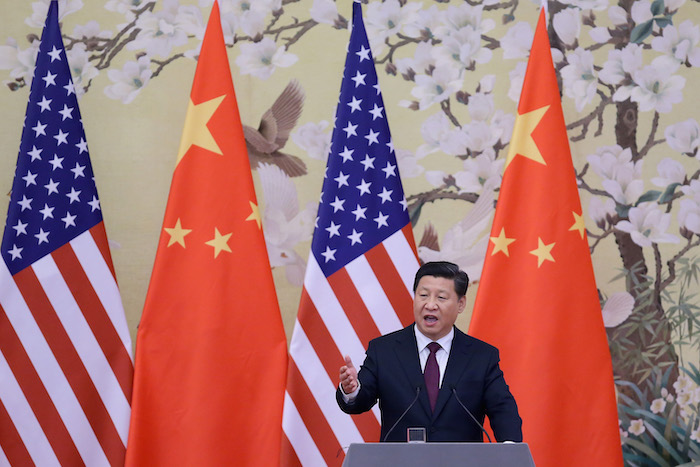 Changing tides of diplomacy . . .
A Chinese-flagged fishing vessel ran aground in the northern Marshall Islands in early 2019. By the time its crew of 24 reached the capital, rumours had spread of its potential involvement in crime, espionage, and great power politics – illustrating how international concerns have become top of mind to islanders across the Pacific. These island states now find themselves impacted by high-stakes moves being made by the U.S. and China across the Pacific at a time when other states have also sought to redefine their presence in what has effectively been an 'American lake.' With the Solomon Islands and Kiribati switching diplomatic support from Taiwan to China in 2019, Washington has begun to openly urge Taiwan's remaining allies in the Pacific not to switch sides as the region becomes the latest battleground with China and amid fears of a domino effect on other Taiwanese and U.S. allies.
Waves of international attention . . .
China has re-emerged as a diplomatic force to be reckoned with and is using the Pacific Islands Forum and economic 'carrots' as a means to counter Taiwan and establish its military and diplomatic footprints across the Pacific. These moves, and worries over the U.S.'s commitment to the region, have spurred China-cautious players to react: Australia and New Zealand are strengthening regional networks of security agreements and infrastructure and military investments; Taiwan, seeking to stave off additional diplomatic losses to China, has poured money into medical and infrastructure funds for various island states; both France and the U.K. have increased their diplomatic and multilateral presence; and, historic Pacific rivals Japan and the U.S. have sent their Foreign Minister and Secretary of State, respectively, to multiple Pacific Islands countries with promises of aid and attention as counters to China.
Is the real existential threat coming in second?
Expect the flurry of attention to continue, especially in the Marshall Islands, Micronesia, and Palau, as they all have security compacts with the U.S. set to expire in 2024. And then there is New Caledonia, a French overseas territory that will hold an independence referendum next fall. With their small populations and vast, crucial oceanic expanses, relatively small moves by regional powers can have significant impacts on the lives of Pacific Islanders, and large global repercussions. But Pacific Island states will be increasingly active in the 2020s. Already leveraging the attention, these countries have found new sources of financing for much needed infrastructure and health spending. At the same time, there are strong calls among these island states to pay less attention to the remote security concerns of Washington, Beijing, and others, and more on the existential threat these low-lying countries face: that of climate change-driven sea level rise that could wipe out their land base.
6. TAIWAN: Battle of the Ballots

A fresh start for Taiwan?
Taiwan will enter 2020 in full electoral fighting mode. Incumbent President Tsai Ing-wen along with hundreds of other political candidates across the island will be campaigning for 113 important seats in Taiwan's parliament as both the presidential and parliamentary elections are set to take place on January 11. Pro-Taiwan identity supporter Tsai is currently leading in the polls against her opponent, Chinese Nationalist Party candidate and China-friendly Han Kuo-yu. Experts predict that Tsai will be re-elected for a second term.
A turbulent term for Tsai . . .
Since her inauguration in 2016, President Tsai has navigated difficult political waters. Taiwan lost six diplomatic partners who decided to exclusively recognize the People's Republic of China in exchange for Chinese investment. On the domestic front, Tsai had to deal with several contentious issues – from pension reform to nuclear energy, and an important debate on marriage equality. Tsai has also used the momentum of the recent Hong Kong protests to boost her popularity in the polls by firmly rejecting China's proposed "one country, two systems" model.
A pivotal year ahead . . .
Whatever the 2020 election brings, Asia watchers will be paying close attention to China's statements on Taiwan's next leader, which will likely set the tone for China's future policies for the next four years. Any escalating tensions may also bring the United States into the mix. Earlier this year, the U.S. House of Representatives voiced its unanimous support for the Taiwan Assurance Act of 2019, meant to support Taiwan's defense capabilities and participation in international organizations. However, the bill is still awaiting a vote in the U.S. Senate. For Canada, 2020 may also signal a new approach to Taiwan. Over the past year, the Canadian government has been increasingly vocal about formal support for Taiwan in multilateral organizations such as the World Health Assembly and the International Civil Aviation Organization. Sectors of Canadian civil society have also expressed support for Canada to include Taiwan as a member of the Comprehensive and Progressive Agreement for Trans-Pacific Partnership.
7. THE PHILIPPINES: The War on Drugs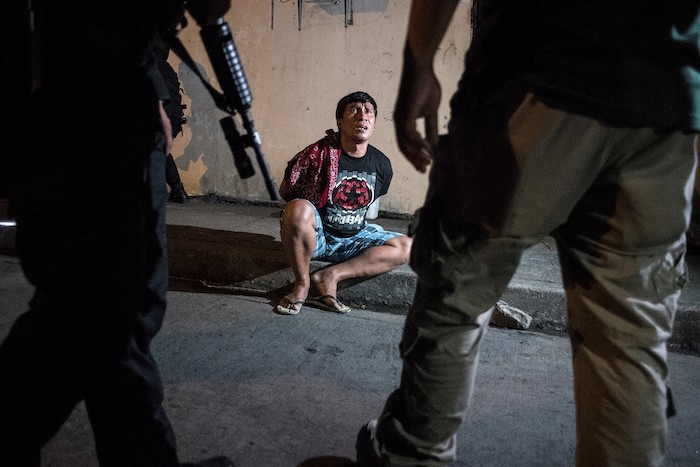 6,000 reported killed with an estimated 11,000 more dead . . . 
Since coming to power in 2016, Philippines President Rodrigo Duterte has pursued a devastating war on drugs that has resulted in 6,000 reported deaths. Activists and the Philippine Commission on Human Rights say that number could be as high as 27,000, when including unreported police and vigilante killings. The drug war is heavily criticized for its concentrated violence in Manila's slums and against poor Filipinos. Critics also stress that the drug war fails to address the socioeconomic circumstances that lead individuals to deal and use drugs.
Public support remains high . . . 
Three years into the drug war and his presidency, public support remains high for Duterte and his administration, with the polling agency Social Weather Station reporting ratings in the "very good" range. Survey results also show that the majority of Filipinos feels the drug war has made their neighbourhoods safer by decreasing the number of drug users. The data suggests, however, that Filipinos have become distrustful of police claims of 'nanlaban' cases, a Tagalog term meaning that drug users had violently resisted arrest, thus justifying police action.
A Canadian perspective
In Canada, Duterte remains popular among overseas Filipinos. However, the drug war continues to be a contested topic, and several community groups have staged protests against it. Canada-Philippines relations have also been strained partially due to concerns over human rights issues. Where relations will go could depend on developments in the International Criminal Court's (ICC) drug war investigation in 2020. ICC Prosecutor Fatou Bensouda says her team will be finalizing preliminary investigations that began in February 2018 toward establishing jurisdiction on the case. This could present the possibility of an order to arrest Duterte, depending on the outcome.
8. REGIONAL: Digital Connectivity

Huawei, 5G, and the U.S.-China tech rivalry . . .
A little over a year has passed since the U.S launched its war on China's 5G infrastructure projects around the world. 5G is not merely an extension of 4G; it promises to be smarter, more efficient, and up to 100 times faster. It will revolutionize connectivity and data flows and not only change the way we use smart phones, but disrupt sectors such as transportation, health care, security, and military technology. This is a battle neither China nor the U.S. plans to lose. In the name of national security, the U.S. has placed China's 5G giant Huawei on a list that bans U.S. companies from doing business with the telecom, and restricting Huawei's ability to access core semiconductors, chips, and updates for the Google-developed Android system. The U.S., in turn, has spent the past year pressuring countries to follow its lead and block Huawei. In response, Huawei has upped its marketing and PR and is developing its own native components and technologies, and the Chinese government has redoubled its domestic program to build advanced semiconductors.
Choosing between trust and cost . . .
Countries around the world are caught between these two battling superpowers and have to make a choice that balances trust, cost, and alliances. China and the U.S. both began their national 5G infrastructure build this year, powered by Huawei and Qualcomm, respectively. Over the course of the year New Zealand and Japan decided to keep Huawei out of their 5G networks, while most developing countries in Southeast Asia and the Middle East welcomed Huawei with open arms. Canada, the U.K., France, and Germany remain on the fence as they, partially due to domestic considerations and threats from the White House, fear they'll be excluded from U.S intelligence network sharing.
Canada's dilemma . . .  
2020 will be a pivotal year for 5G rollout as many countries, including Canada, will need to make important 5G-related decisions as other countries like the U.S., China, and those in Southeast Asia expand their 5G networks and diversify their capable devices. Canada will most likely make its decision on Huawei in 2020, as the new government is currently rolling out its 5G security review. If Ottawa chooses to ban Huawei from bidding on 5G infrastructure projects, it would generate billions of dollars in extra costs, especially for Telus and BCE's Bell Canada, which are the most heavily invested in current Huawei equipment.
9. JAPAN: Global Aspirations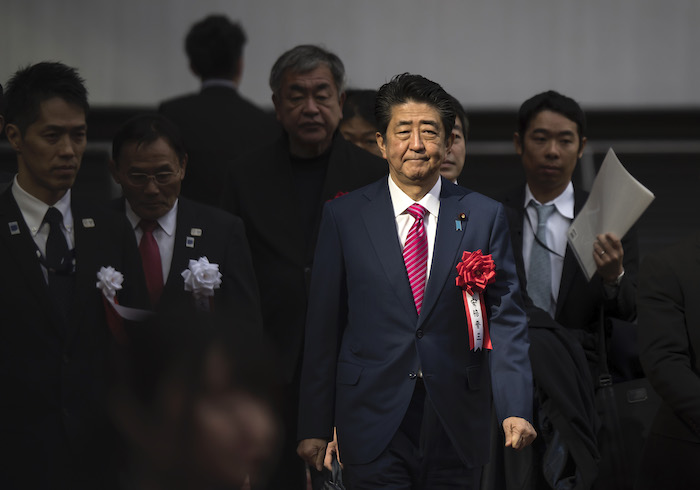 High-profile player in international diplomacy efforts
In the midst of growing U.S. isolationism and China's increasing clout in the Asia Pacific, 2019 saw Japan lead high profile diplomatic efforts to promote international trade, mediate conflicts, and contain China. At June's G20 Leadership Summit, Japan persuaded most participating countries to pledge support to trade liberalization and the rules-based multilateral system. Notably, China's President Xi Jinping  vowed at the G20 that he would open the Chinese economy and provide foreign direct investors a level playing field with domestic players. China also agreed to maintain quality infrastructure investment, focusing on openness and transparency in governance and procurement – areas where China's BRI projects have been criticized. Japanese Prime Minister Shinzō Abe travelled to Iran in September to mediate an ease between Iran and the United States. The meetings did not go quite as planned but its symbolic value cannot be discounted as this was the first time in 41 years that a sitting Japanese prime minister visited Iran. Then in November, Japan actively urged India to rescind its decision to withdraw from the Regional Comprehensive Economic Partnership (RCEP), insinuating that without India's presence Japan might consider not signing the trade agreement, of which China is a member country.
Continuation of a trend . . .
While Japan is known for often deferring to U.S. leadership, in recent years Japan has taken a more active role in the international arena. After the U.S. withdrew from the TPP in 2017, Japan took leadership over the trade negotiations, bringing them to a successful conclusion with the signing of the Comprehensive and Progressive Agreement for Trans-Pacific Partnership (CPTPP). To contain China, Japan has also enhanced its investment in Asia. Bloomberg reported that in 2019, Japanese-backed projects in Southeast Asia's six biggest economies (Indonesia, Malaysia, Philippines, Singapore, Thailand, and Vietnam) were valued at US$367 billion, well above China's tally of US$255 billion. Japan has also increased its investment in India, most notably in infrastructure projects aimed at expanding connectivity between India and Southeast Asia and countering China-sponsored BRI infrastructure projects in the region. 
Will Japan continue to ramp up its international game in 2020?
We can bet that Japan will continue to ramp up its international presence in 2020, but its international clout will depend on the strength of its leader and relations with its neighbours. Abe, who is now Japan's longest serving prime minister since World War II, has been able to formulate long-term plans in the international arena. If Abe's successor has comparable political acumen, Japan may be able to sustain its current international momentum beyond 2020, when Tokyo hosts the Summer Olympics. But as the recent spat with South Korea has shown, lingering historical legacies of Japanese colonialism and World War II may impede Japan's internationalist efforts. The summit between Japan, South Korea, and China planned for late December may not be able to quell historical traumas but we hope it will bring New Year's joy. An active Japan is nothing but beneficial for Canada, so in 2020 we should be looking for creative ways to revitalize our ties, whether it be via CPTPP, our 79 sister cities, or through our strong people-to-people ties.
10. REGIONAL: Southeast Asia Rising

Regional digital landscape . . .
A digitalization wave has been sweeping across the six largest economies in Southeast Asia: Indonesia, Malaysia, the Philippines, Singapore, Thailand, and Vietnam (ASEAN-6). E-commerce, ride-hailing, and fintech services continue to grow at an unprecedented pace, reaching US$100 billion in 2019. This growth has been fuelled by ASEAN's young, tech-savvy population and burgeoning middle class, making up more than 400 million internet users of the 650 million population with an internet penetration rate of over 63 per cent. ASEAN-6 surpassed China in 2019 as a digital economy hotspot with Thailand, Indonesia, and Singapore leading the penetration rates in mobile banking, mobile e-commerce, and ride-hailing, respectively.   
Thriving tech scene . . .
In 2019, ASEAN-6 remained a favourite destination for global venture capital with tech firms attracting the highest funding and driving the region's thriving tech startup ecosystem. In the first half of 2019, ASEAN-6 startups generated a total investment of US$8.6 billion, of which tech firms raised US$6 billion. Venture capital investment in the region was concentrated on early- and later-stage firms, including unicorns such as Grab, Gojek, Traveloka, and Tokopedia. ASEAN-6's fintech firms attracted an investment spree due to the high internet penetration rate and low access to formal banking services. Governments in Indonesia, Malaysia, Singapore, and Thailand have shown strong support by creating a fertile ground for fintech development with regulatory sandboxes. 
Immense growth to continue in 2020 . . .
With increasing individual government and regional efforts, Southeast Asia has become a hotbed for innovation. As the underlying economic conditions become increasingly favourable, investors remain optimistic and bullish on ASEAN-6's digital economy. Governments will create stronger regulations to enhance the growth of individual startup ecosystems in ASEAN-6 and the Philippines and Vietnam will establish regulatory sandboxes for fintech. Prospects for continued growth of ASEAN-6's digital economy in 2020 are promising, but navigating this regional market is a challenging feat because ASEAN-6 is culturally, politically, and socially heterogeneous.
11. CHINA: Allegations of Interference

Tales of sharp power dominate in 2019 . . .
China's engagement with the world has come under greater scrutiny in the past years and claims of Chinese interference in foreign countries have surged worldwide. Reports have emerged from various countries in Asia, Europe, the Americas detailing how China, through a complex network of agencies, has attempted to directly influence local politics and electoral processes. These accounts, which have fuelled significant concerns globally, have specifically shown how China through various means targets the media, political and economic elites, academia, and civil society organizations to build support on specific issues and to shape a positive discourse abroad regarding China.
Countries respond . . .
In response to the growing allegations of Chinese interference, various governments have begun passing legislation aimed at protecting their institutions and to prevent potential meddling in their elections. Australia, which was the first country to tackle the issue, passed legislation in 2018 and 2019 targeting lobbying practices and foreign donations. More recently, New Zealand passed legislation limiting contributions to political parties from non-citizens to NZ$50 (down from NZ$1,500) due to concerns of interference from China. In addition to Australia and New Zealand, many other countries are now contemplating tweaking existing laws to better protect themselves against Chinese interference.
An emerging debate in Canada . . .
China's influence activities now occur all around the world and a debate similar to the ones held in Australia and New Zealand is now emerging in Canada, where various allegations of Chinese interference have recently surfaced. But despite reports of Chinese subversive activities in Canada going back decades, China's influence operations have remained largely unscrutinized and absent in the discussion on Canada-China relations, until this year. While China's influence activities in Canada are  believed not to be as elaborate as elsewhere, we can bet that it will become a hot topic in 2020 and an issue that will be discussed within the new parliamentary committee on Canada-China relations.
Time Capsule: APF Canada's Earlier Year in Review Dispatches
Go back in time with APF Canada's prognosticators and read our other year-end reviews: