The Chinese market represents an enormous opportunity for Canadian businesses. Canada's share of Chinese imports, however, has not improved in nearly two decades: in 1999, Canada held 1.40 per cent; today, it holds about 1.39 per cent. Certainly, China's import market has grown, and thus 1.39 per cent today is larger in value than in 1999. However, Canada has not improved its position in the Chinese market relative to other countries. While this was a missed opportunity for Canadian businesses and workers, new technologies have made accessing consumers easier and faster than ever before.
The Chinese middle class is growing rapidly, with Diane Wang, Founder and CEO of DHgate.com, predicting it could reach 500 million by the end of the decade. Middle-class Chinese consumers want high-quality products and distrust Chinese manufacturers, Wang stated at the Asia Pacific Foundation of Canada's Asia Leaders' Speaker Series event: China's Booming Digital Economy: A Role for Women Entrepreneurs, held July 24, 2017 in Toronto. Canada can capitalize on this opportunity, Wang added, with its reputation for quality providing a competitive advantage. However, Canadian firms need access to these consumers. E-commerce provides that access.
>>> Click here for commentary from APF Canada Vice-president Dr. Eva Busza on Diane Wang's July 24, 2017 presentation <<<
According to Wang, China's e-commerce market has grown 50 per cent annually since 2011, and has already passed the U.S. to become the world's largest online market. She predicted that China may be the first country to go cashless. This transformation is not exclusive to China's wealthy cities; even in rural areas of China, entrepreneurs are using e-commerce to sell their handmade products.
DIANE'S STORY
Diane Wang is a first-generation Internet entrepreneur in China. While her experience is intertwined with the story of China's economic rise and the "Chinese Dream," which frames personal prosperity within the national context of a revitalized China, it is also a classic tale of entrepreneurial vision and risk. Wang had a promising career even before she became an independent entrepreneur. In the 1990's she worked at Microsoft in Asia. But working in a major multinational corporation could not satisfy her creative ambitions. She had a vision and she wasn't afraid to take a risk: she left the comfort of her corporate job and took the plunge into the Chinese market as an Internet entrepreneur.
Wang's vision was to connect micro, small and medium-sized enterprises (MSMEs) to the world through an online platform that eliminates the barriers to trade that so often keep small firms from reaching international customers. Wang noted that many of her peers thought this dream – her own "Chinese Dream" – was impossible.
In 1999, Wang founded joyo.com, her first e-commerce company, which focused on business-to-consumer (B2C) sales. The company was so successful that Amazon bought it in 2004, and it became the basis for Amazon China.
In 2004, Wang founded DHgate.com, the company that she leads to this day. For her, DHgate.com embodies three of her passions: digital, global, and MSMEs. The company allows MSMEs to use its e-commerce platform in order to go global – something they couldn't do without the Internet. With that vision, Wang and DHgate.com opened up the first era of business-to-business (B2B) e-commerce in China, and the company has since rocketed to be a leading Chinese Internet company.
E-COMMERCE AND BUSINESS
E-commerce has created unprecedented opportunity for MSMEs. Before the Internet, smaller firms' export ambitions were stunted by the cost of trade. Shipping products across the world, finding customers and then selling to them is much more difficult if a firm has 100 employees than if it has 100,000.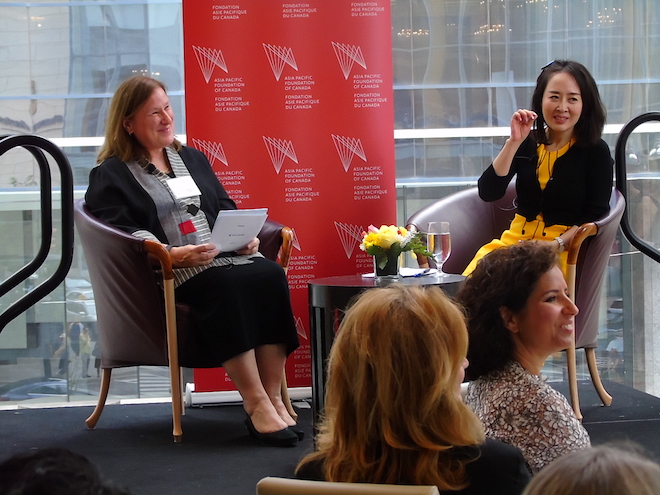 E-commerce has, in many ways, flattened the international trading system. Now, MSMEs can apply for microloans instantly, with the process streamlined. Likewise, digital payment has made it easier for MSMEs to get paid, decreasing risk and improving cash flow, which is often critical to smaller firms.
However, e-commerce is also causing disruption. Eventually, Wang predicts, more than 50 per cent of jobs will disappear or be replaced by robots. Workers across the world need to be prepared for this transformation. APEC has responded to this trend by launching Cross-Border E-Commerce Training (CBET), introducing e-commerce concepts and practices to MSMEs. An opportunity for MSMEs to learn from experienced businesses, CBET has trained over 3,000 MSMEs to date from across the APEC economies.
In her Toronto presentation, Wang said that the next frontier of e-commerce is going to be consumer-to-manufacturer (C2M) and manufacturer-to-consumer (M2C), giving consumers direct access to the companies making their products, and allowing for faster, cheaper sale of goods. This next step in e-commerce will also increase the customization options for consumers, with their products made specifically to their instructions.
Wang also discussed the role of Canada's post-secondary education sector. She stated that universities and colleges need to stay current; they often teach subject matter that is out-of-date, and students graduate without the practical skills needed to succeed in the marketplace. Practical education needs to be integrated into theoretical education, with students learning concepts and then applying them in the educational setting – they need the practical skills right away in the workplace; they cannot wait to learn the necessary skills after they are hired, she explained.
WOMEN IN BUSINESS
Diane Wang speaking with Ilse Treurnicht, CEO of MaRS Discovery District
How can a woman with two children run an international business? The answer, Wang noted, is easy: the Internet. The Internet has democratized international trade and has opened up global markets for previously marginalized business persons, including women.
One example of this phenomenon can be found at the beginning of a business venture, acquiring capital. Wang described the difficulties women face in raising capital: bias can be evident, even if it is not explicit, in how this critical seed money is distributed. Fortunately, e-commerce provides a less capital-intensive method of selling products, allowing women to avoid the bias inherent in the process, and to bring their products directly to market.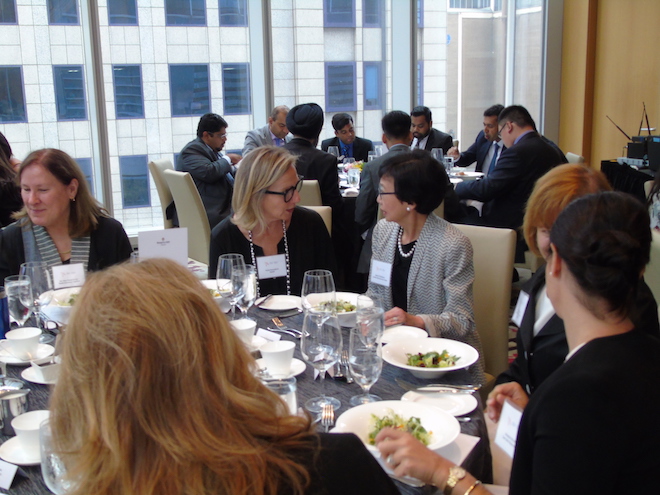 When asked what women need to succeed in business, Wang responded that they require community, a network from which they can learn and get encouragement. She claimed that women often lose from the beginning because they don't have faith in their own ability to get the job done. Mindset is the top requirement for success in business, followed by skills and networks, she said.
APEC has been making efforts to engage women entrepreneurs. Wang is involved with the APEC Women Connect program, which aims to build a support community for women to pursue their entrepreneurial dreams. The program provides opportunities for learning, sharing, and recognition of achievement.
Paraphrasing Jack Ma, the founder and executive chairman of China's Alibaba Group of Internet companies, Wang said that, "Men make a big company; women make a good company." While the challenges for women entrepreneurs can be great, Wang added, they need to start with the right mindset and say, "I can do it."
TAPPING INTO CHINA'S E-COMMERCE MARKET
Canadian businesses need to recognize that China's e-commerce boom is an enormous opportunity for international expansion with reduced risk. E-commerce makes it easier for MSMEs to enter the market and reach Chinese consumers. It can often be hard for Western MSMEs to reach Chinese consumers directly and communicate with them effectively. E-commerce platforms provide the link between foreign firms and Chinese consumers; these platforms make trading with China significantly less burdensome.
Canada can learn from other countries that have seized the China e-commerce opportunity, such as Turkey. During the 2015 G20 Summit in Antalya, Turkey, the Chinese and Turkish presidents oversaw the signing of an agreement to boost bilateral digital trade between their two countries. This agreement, the first cross-border e-commerce agreement in Chinese history, was facilitated by DHgate.com. The deal had four components: the co-development of a digital platform; Internet financing; e-commerce training for MSMEs; and, policy exchanges. The agreement has helped 10 million MSMEs reach customers and has since been replicated with other economies, including Peru and Spain.
Wang listed three things that Canada can do to more fully embrace the Chinese e-commerce opportunity:
Sign a bilateral agreement on cross-border e-commerce with China, similar to Turkey's agreement;
Work closely on training programs like CBET for Canadian entrepreneurs; and,
Work with APEC on the Women Connect Program to empower female entrepreneurs.
China's e-commerce market represents a large and fast-growing opportunity. Some countries are proactively taking advantage of this market, while others are not. Canadian businesses and governments at all levels should embrace the China e-commerce opportunity; doing so is good business for MSMEs, for women entrepreneurs, and for Canada.